AMES — These days, the kids are calling it "beast mode."
Dustin Hogue was well beyond that during Iowa State's 99-70 thrashing of Auburn in Monday evening's Big 12-SEC Challenge. Hogue was in some sort of super-human, super-hero, super-anything that you can thing of, all out FREAK mode.
After getting down 5-12 early in the contest, the Cyclones went on a 32-16 run over the final 15 minutes of the first half and with a 47-28 halftime lead, it was crystal clear to everyone in the building that the Tigers would not post much of a contest in the second half.
All eyes were then on Hogue's box score because Iowa State's Energizer Bunny was on pace to post one of the best statistical games in Cyclone basketball history.
"The ball just kept bouncing my way," Hogue said. "It just seemed like everywhere I was, the ball was bouncing my way. I tried to keep up with it and keep playing hard."
The 6-foot-6 junior who was only playing in only his sixth game in a Cyclone uniform had already notched a double-double with 8:31 to play in the first half.  Hogue ended the evening with a humble 22 points and 16 rebounds (both career-highs). He had 16 and 12 of those in the first half alone! 
"He is a beast down there," Melvin Ejim said. "Today is a perfect example of what Dustin does. He's a good player who just goes out there and battles. I need to turn my intensity up to keep up with this kid." 
Hogue only accumulated six points and four rebounds in the second period.
Slacker.
In all seriousness, Hogue's final stat line easily could have been much glossier. Due to the lopsided scoreboard, No. 22 only played 12 minutes in the second half. They weren't all garbage points either. Hogue, who buried 2-of-3 3-pointers, made 8-of-10 field goal attempts in the victory.
"He is such a good attack player," Fred Hoiberg said. "They are going to stay off him a little bit and that's what allows him to step up and shoot it. He shot the heck out of it the last two days in practice. He had a great shoot around today and when he does that, he is a rhythm guy. He rose up with confidence and knocked down those shots."
After Hogue, Ejim and freshman Matt Thomas scored 14 points a piece to help pace the Cyclones to their sixth straight win to start the season. Monte Morris and Naz Long also finished in double figures with 12 and 11 points respectively.
Quotable
Fred Hoiberg on Dustin Hogue's game…
"The thing in watching Dustin play in junior college, they played a very aggressive, pressing style and a lot of his baskets were around the rim. He posted up a lot. They used him in that way but the thing that has impressed me about him is his overall basketball IQ. He knows when to space the floor. He knows when to cut. He is a very good passer. He gets that thing off the board and makes a quick outlet pass on a break going. He just does so many things. I guess the one thing that I didn't know exactly just because of their style and their system was just how smart he is. He is a very smart basketball player."
NOTEBOOK
*** Here are two incredible statistics that I plan on writing more about on Tuesday.
Iowa State's two point guards, DeAndre Kane (7) and Monte Morris (9) combined to post a 16-0 assist-to-turnover ratio in the win.
In addition to that, Iowa State's team dished out 28 dimes on 33 field goals made.
"That's an unbelievable stat right there," Hoiberg said. "It shows the unselfishness of this group and if we continue to play like that we are going to be a pretty darn tough team to beat."
*** Hoiberg recalled only calling two plays for Hogue in the game.
"I think he got fouled on one of them," said Hoiberg.
It is also notable that Hogue didn't commit a foul in his 31 minutes of play.
***Georges Niang might have had one of the worst games of his career. The sophomore fouled out midway through the second half with four points and three rebounds. He only played 17 minutes.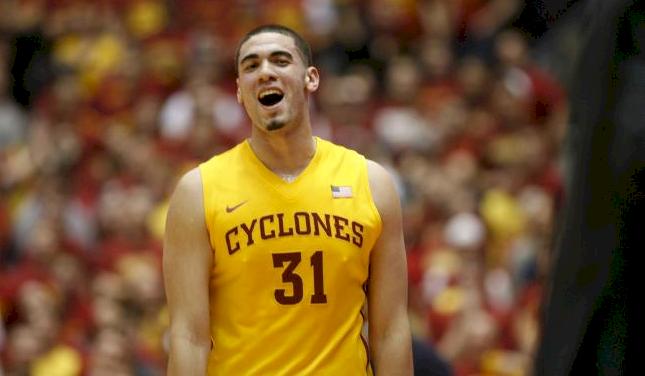 ***Naz Long has made a 3-pointer in every game this season.
*** Redshirt freshman Sherron Dorsey-Walker only scored three points, but did play 17 minutes in the win. They weren't all mop-up minutes either. Expect to see more of "SDW" in the near future.
"I was planning on playing him and getting him in the first half whether if we were down five or up 20," Hoiberg said. "He has shown me that he is a guy who deserves minutes. He will continue to get those. Tonight, I was happy to see him in there and get an impact."
Up Next
Iowa State will do battle with the Northern Iowa Panthers at 5 p.m. in Des Moines' Wells Fargo Arena as a part of the Big Four Classic. The Panthers are currently 3-3 on the season with losses to Ohio, George Mason and Maryland. UNI will next be in action on Tuesday night via a road trip to Wisconsin-Milwaukee.