AMES — It wasn't very long ago when the Big 12 attempted to fabricate a rivalry between Iowa State and one of the newest additions to what would be a 10-team league, the West Virginia Mountaineers.
Before the two schools had ever even met in football or men's basketball, the Big 12 had assigned Iowa State and West Virginia a date to tangle on one of college football's most historic timeslots, Black Friday. In this new version of the Big 12, Thanksgiving Weekend had been set aside for rivals such as Oklahoma and Oklahoma State. This is when those games were to be played. Kansas vs. Kansas State. Texas vs. TCU. 
Iowa State and West Virginia? For realz?
The move to pair these institutions made sense only when you consider that Ames is the closest Big 12 city to Morgantown (861 miles) and let's face it; neither school has a natural rival within the league. Because each school lacked a dancing partner, the suits in Dallas made Iowa State and West Virginia "rivals" by default.
There was nothing default about the energy inside of Hilton Coliseum on Wednesday evening in Iowa State's 83-66 victory over the Mountaineers, though. Regardless of how it all began; this rivalry appears to be very real these days.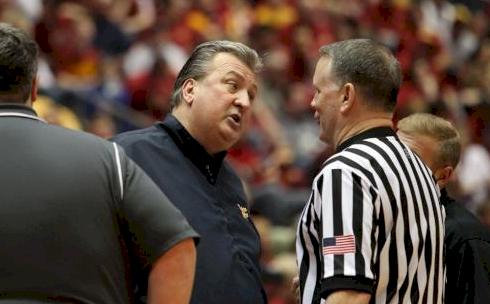 This flame initially sparked back on that frigid Black Friday when Mountaineer quarterback (current New York Jet) Geno Smith may or may not have gotten into a bit of a verbal scuffle with an Iowa State assistant coach as the teams crossed paths while heading to the locker rooms for half time.The Mountaineers won that game in Ames. A year later, the Cyclones returned the favor in this year in Morgantown but it took three wild overtimes to do so. 
Iowa State swept West Virginia in basketball last season but it was earlier this month in Morgantown when the bad blood between these hoops programs appeared to surface.
West Virginia's boisterous student section booed DeAndre Kane, a Pittsburgh native, every time that he touched the ball. This happens all over the country in college basketball and is par for the course. When you consider that Kane had spent the last three seasons playing at Marshall, an in-state rival to the Mountaineers, this was totally expected. 
The Mountaineers blitzed Iowa State via a 102-77 rout but the last five minutes of the game is when things got unruly. Iowa State forward Dustin Hogue was called for a flagrant 1 after he kicked Kevin Noreen while going for a rebound (it is notable that Hogue denied doing this on purpose). Shortly after the kick, West Virginia's Eron Harris, was given a flagrant 2 and ejected from the game for delivering a hard foul to Monte Morris.
"If you watched the game down there, they kept their starters in until what, 50 seconds left," Kane said.
The blowout loss, the final two minutes, the taunting, etc. Add it all up and Iowa State's trip out east was one that the Cyclones would like to have forgotten, but they absolutely did not. 
Wednesday night wasn't exactly a heavyweight-boxing match. I'd call it more of a UFC fight. A brutal one. Iowa State's crowd was off the charts. Both teams played with intensity. West Virginia head coach Bob Huggins and Iowa State senior Melvin Ejim were each handled technical fouls for jawing at officials.
After being humiliated in Morgantown, Iowa State stood up to the team that made it look downright awful on Feb. 10.
Was it revenge?
"That's exactly what it was," said Kane, who scored 17 points with 11 rebounds for Iowa State. "We owed those guys. They are a good team but we wanted payback. After what they did to us down there, you've got to want payback."
Iowa State's entire roster felt the pain from that loss but Kane might have taken it the most personally. In addition to the constant boos that he received, West Virginia students directed a "Pittsburgh reject," toward Kane at times during a game in which nearly 50 of his friends and family members were attending.
"When you get beat by 30, the crowd is going crazy and the papers are coming out giving us bums of the game. I was the bum of the game," Kane said. "Mel was terrible. Georges was slow. Dustin was whack. He's overrated. We wanted to get back at those guys and get a win. It was good to get a win."
All of the above now brings us to the question, are Iowa State and West Virginia rivals?
After competing against each other for only two years, that seems like a bit of a stretch. But to anyone who was in Hilton Coliseum Wednesday, the energy and borderline bad blood between those two programs was undeniable.
If you enjoyed the drama, here's some good news. If Iowa State is the 3-seed in the upcoming Big 12 Tournament, there is a very real chance that the Cyclones will meet these very Mountaineers again very soon on a neutral floor. 
A rubber match should be very, very interesting.