You know every year when no-shave November rolls around, I fire up my sometimes amusing Facebook feed and witness dozens of folks listing one thing that they are thankful for every day in the month.  
This is annoying to some but to me, I couldn't be happier with the trend. I am a glass half-full type of guy. I am a firm believer that positive thoughts (amongst other things obviously) equal positive results. Confidence breeds success in this world so when I log onto Facebook, I'd much rather see that girl who I haven't spoken to since high school telling the world about happy things (that nobody really cares about) as opposed to moaning (I used "moaning" instead of a word that starts with the letter B – this is a family site) about every minute detail in her miserable life.
In honor of all of the positivity in the air today here at the always-lively CycloneFanatic.com, this week's Monday Musings column will feature 30 things that this Iowa Stater is thankful for. 
Starting with…
1 – I am thankful that Iowa State truly does have the most loyal fan base in America. Paul Rhoads spent the majority of his press conference after Saturday's loss to TCU talking about this. Nearly 55,000 Cyclone fans turned out for last week's 11 a.m. kick vs. a below average TCU team.
A notable crowd to point out from the TCU vs. Kansas game earlier this season…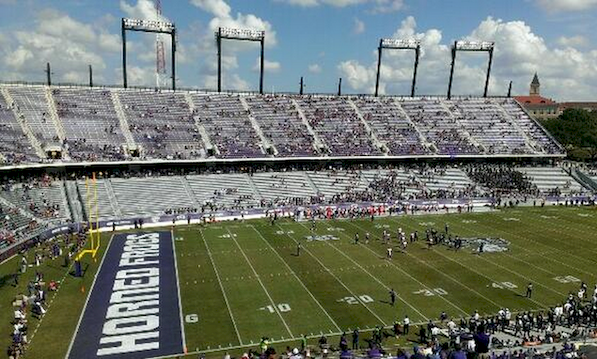 I challenge you to give me another example of a fan base that would fill up its stadium to watch a 1-7 team play. You won't find one.
2 – I am thankful that fans, even the borderline insane ones, care enough about Iowa State football to be as passionate as you all are right now. To me, that means that the future in Ames is bright. For multiple reasons, expectations are higher at Iowa State than they were 10 years ago and that's a good thing. 
3 – I am thankful for my friends and colleagues at the Cyclone Radio Network. John Walters, Eric Heft, Ben Bruns, Brent Blum, Jack Whitver, John Quinn, Rich Fellingham and Molly Parrott are all class acts and in my opinion are the best in the business.
4 – I am thankful for Iowa State's improved facilities (across the board) over the last decade. While this athletic department will never truly be on a level playing field with the Texas' and Oklahoma's of the world, the current situation could not be more opposite of the one in pace when I started covering Iowa State back in 2004.
5 – I am thankful for Clone Cones. I will never forget the first time I ordered one. I was expecting some sort of strawberry/banana combo. Idiot…
6 – I am thankful for the actor who plays the "Iowa Nice Guy," Scott Siepker, who gives our state attention on the national stage every week on ESPNU.  
7 – I am thankful for the recruiting that Bill Fennelly's coaching staff has done in recent years. The Cyclones will without question miss Hallie Christofferson next season but besides her, nearly every piece of this current puzzle puzzle will return in 2014/15. We've all become a bit spoiled with this program's success, but the cool thing is that its future might be brighter than the past.
8 – I am thankful for clonedude. We appreciate your page views, passion and always having an opinion about everything. That's what message boards are for. 
9 – I am thankful for Hickory Park and the "BBQ Dinner," a true no-brainer when visiting the legendary establishment. 
10 – I am thankful to have witnessed the awesome dog halftime show on Sunday at Hilton Coliseum.
11 – I am thankful that Paul Rhoads is every bit as passionate about Iowa State as the folks who hang out on this website.
12 – I am thankful for Es Tas tacos.
13 – I am thankful for Jamie Pollard's vision when he took over as Iowa State's Director of Athletics in 2005. That billboard in Iowa City took onions…
14 – I am thankful that Iowa State fans have an odd ability to be able to pick players up when they are down. Case and point, Anthony Booker in basketball last season. No player on the team received louder ovations than he did. Frankly, he didn't deserve that either but you all saw potential and tried to lift up his spirits. That's pretty cool.
15 – I am thankful to have spent so many evenings at Lumpy's (RIP) in my past. If I were posting this on Twitter, I'd tag it with a #QuarterDraws.
16 – I am thankful for beer pong at Chasers (RIP). My partner Jason and I once won something like 19 games in a row one FAC. We were never beaten that night, a night that will live in infamy.
17 – I am thankful the Big 12 didn't implode a few years ago. It lives! And Iowa State will benefit from it for years to come. 
18 – I am thankful that my dog Dierks fit into my Cyclone Fanatic Liberty Bowl shirt this past Saturday. What a stud…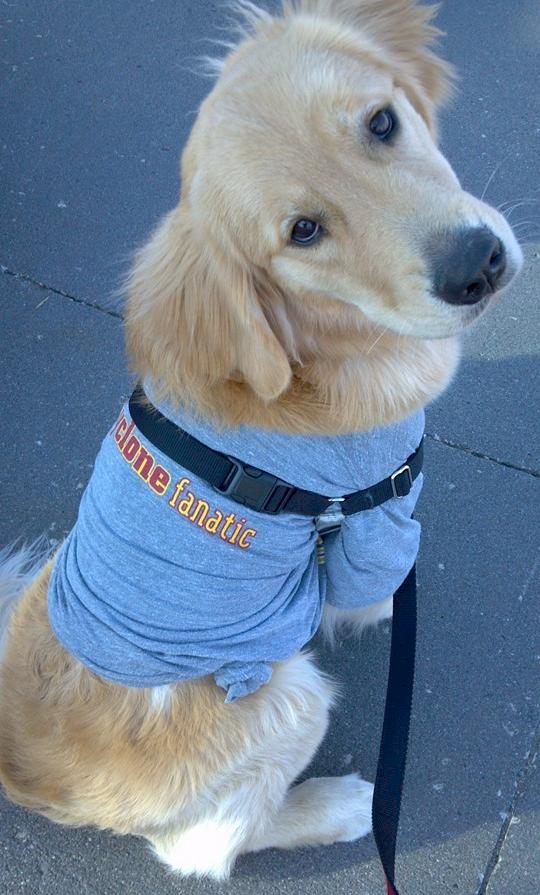 19 – I am thankful for my best friend, Brent Blum, who is the most talented sports writer in the state of Iowa. Our company wouldn't be what it is without him.
20 – I am thankful that Fred Hoiberg brought the magic back.
21 – I am thankful for Cyclone Jerry, Diamond Dave and my good pal Denny from Clear Lake. And of course, Ryan from Ames as well. That dude always brings it on Cyclone Reaction.
22 – I am thankful for Tron Smith, Danny and Denny Wilson at Wilson Toyota of Ames. I would probably be a photographer (if lucky) at Glamour Shots if they hadn't supported us from day one.
23 – I am thankful for Wide Right and Natty Light. Those guys always make me laugh.
24 – I am thankful that the "NBA – GM – cell phone contacts" line that Fred Hoiberg delivered in his opening press conference was true, and not just a line. 
25 – I am thankful for Elaine and Lancelot, even though the punk hissed at me back in 2003.
26 – I am thankful for the moderators on this website. They volunteer their time and take unnecessary beatings quite often. It is a thankless job and for that, thank you. 
27 – I am thankful for 8-second delays on postgame call-in shows.
28 – I am thankful that DeAndre Kane chose Iowa State. Very, very, very thankful as I doubt this would be a Tournament team without him. 
29 – I am thankful for "The Run."
30 – And last but certainly not least, I am thankful for Baby Shaq.