Modern day college athletics can be a fickle beast. In the click of a Twitter, a player's standing within the fan-base and across the country can undergo a complete reversal. Last Monday, Florida State met up with Pittsburgh in a prime-time Labor Day match-up. It was the only thing worthwhile on television that night. (Unless you are one of the few like myself who can't avoid the strangeness that is Under the Dome. After watching that show, I am forever fearful of stepping in the UNI Dome, catastrophe is inescapable.)
The Seminoles debuted freshman quarterback Jameis Winston on that Labor Day night. He proceeded to eviscerate the Panthers going 25-for-27 for 356 yards and four touchdowns; turning from a virtual unknown into a superstar in a three hour span.  He hadn't taken a snap prior to the game, yet the next day his odds to win the Heisman trophy sat at 10/1. Strangely enough, another quarterback's Heisman odds were also at 10/1– Johnny Manziel. 
Perhaps no athlete, professional or otherwise, has personified the social media era better than Mr. Manziel. Coverage of him has reached LeBron/Tebow/Tiger levels as he flipped from Heisman hero to a rotten heel within weeks. His actions spurred the conversion, but the velocity of change within the public was startling.
Iowa State has not been immune to the same rapid reactions. Over two years ago, a little known JUCO quarterback with a cool name stepped on campus in Ames and entered a QB battle with Jerome Tiller. After Tiller was ruled academically ineligible, Steele Jantz was named the starter. He created an instant legacy.
From 1997-2011, Iowa State had just eight wins where they had trailed at some point in the fourth quarter.  Jantz led three fourth quarter, come-from behind wins in his first three games in a Cyclone uniform. He led two separate fourth quarter touchdown drives to hold off UNI in the opener and spear-headed an equally impressive drive to edge past Connecticut in game three. However, it was his unreal performance in the middle game against Iowa that catapulted him to stardom.
The weeks and months preceding the 2011 Cy-Hawk game were dominated by controversy over the trophy of all things. (Still hilarious in retrospect. Does anyone even know what the new trophy looks like?)
Iowa State trailed for almost the entirety of the 2011 game, a Marcus Coker one yard run with six minutes left in the fourth gave the Hawkeyes a 24-17 advantage. On the ensuing drive, the Cyclones faced a 3rd and 20 at their own 45 yard line. Iowa dropped back in cover two, Jantz fired a missile to Darius Reynolds down the right sideline. He had a window the size of an iPad between the corner and the safety to make the throw; he drilled it, the Cyclones gained 40 yards and the drive continued.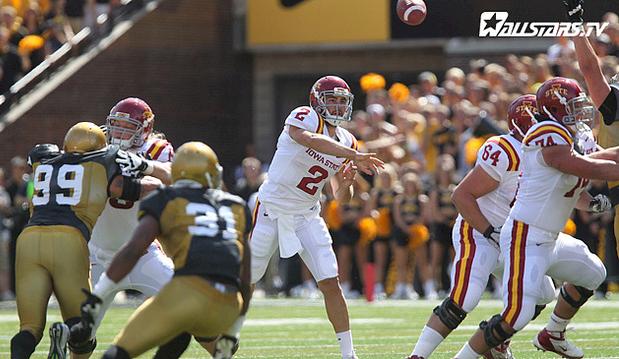 In my mind, that throw ranks right up there with the Seneca to Whitver roll-out in 2002 as most impressive pressure packed delivery by a Cyclone QB. It was an NFL caliber bullet. Jantz made every single big throw the rest of the way, converting on three fourth downs in the late stages and overtime. He looked like a combo of John Elway, Jonathan Moxon and Willie Beamen.
For the game Iowa State and Jantz were an absurd 15-for-22 on 3rd and 4th down conversions.
Iowa State won the thriller 44-41 and Jantz was the talk of the upper Midwest. Multiple fake Steele Jantz Twitter accounts arrived on the scene.  Steele "Superman" T-shirts were created. Jantz was a revelation.
Here is what I wrote after the Iowa game here at Cyclone Fanatic: "Right now Steele Jantz can do no wrong. That is going to change. It is inevitable. He can't continue to convert every fourth down. The hype will die down. The adversity will come. How he deals with that adversity will be his lasting legacy."
The adversity came immediately. Prior to the 4th quarter comeback against UConn, Jantz sprained his foot. He labored in turnover filled losses to Texas, Baylor, and Missouri. The Big 12 windows were smaller, Jantz got his bell-rung one too many times and his brashness dwindled. After a first quarter turnover against A&M, he was pulled in favor of Jared Barnett. Jantz went from icon to backup in a month.
Jantz resurfaced at the beginning of 2012 with a brilliant performance against Tulsa, followed by another win over the Hawks. He joined Sage Rosenfels, Seneca Wallace and Bret Meyer as the only Cyclone starting QB's in the last 30 years to defeat Iowa twice. But a portion of the fan-base never fully jumped back on the Jantz wagon. He alternated with Barnett during October, grabbing the spotlight one more time during a five touchdown performance against Baylor; which tied an Iowa State record. A vicious hit delivered by Kansas two weeks later sprung the ball out of his hands and knocked him out of the game. Sam Richardson entered.
Like Jantz had done a year prior, in a three hour span, Richardson became the next big thing.
Jantz got one more opportunity in a Cyclone uniform as he relieved an ill Richardson late in the Liberty Bowl. His last play in Cardinal and Gold was a fumble. Tulsa recovered. It was a cruel end to a Cyclone career that started with such dynamism.
Jantz has quietly exited the public eye. As far as I know, he didn't prepare for Iowa State's NFL pro day this spring and is not pursuing professional football in any capacity. He's just a guy trying to live a life.
Steele Jantz never sought out the spotlight. He was a quiet, unassuming college kid. Thanks to his performance against Iowa two years ago, the spotlight found him. The out-of-this-planet game against the Hawkeyes set the bar impossibly high. In our instant and visceral social media world, Jantz is a case study that things are never as good or bad as they seem in the raw emotion of the moment.
In sports especially, once one falls out of favor, it is a brutal battle to get back on the good side. Coaches, players and even administrators are all susceptible to the wrath. Unfortunately and perhaps unfairly, Jantz found that out. As the line in the Dark Knight says, "Die and be a hero or live long enough to see yourself become the villain."
For good or bad, I don't know how Steele Jantz will be remembered by most in the Cyclone Nation.  But one fact can never be changed: Steele Jantz never lost to the Hawks.