By Chris Williams, CycloneFanatic.com PublisherFollow Chris on Twitter @ChrisMWilliams  
It's that time of year…
Preseason college football magazines are on news stands and the 2012 season is within sight.
As we did last year, CycloneFanatic.com caught up with an editor from one of the industry's most popular preseason annuals, Athlon. Steven Lassan is that man. Athlon predicts Iowa State to go 4-8 in 2012. Here are five Iowa State/Big 12 related questions with Steven Lassan from Athlon.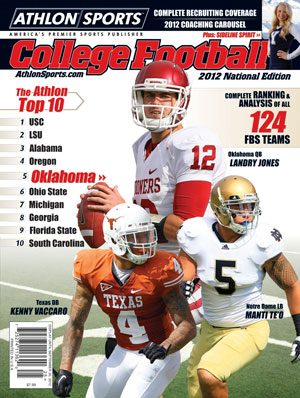 CF: In each of his three first years at Iowa State, Paul Rhoads has seemed to have surprised the preseason publications. Athlon is predicting a 4-8 season for Iowa State in 2012. Does Rhoads' history of overachieving make you guys nervous with that pick?
SL: It really does. We spent a lot of time on the Big 12 – maybe the most of any BCS conference – trying to peg our projected order of finish. There was some support to have Iowa State picked ahead of Texas Tech, but we felt the top seven in the conference were pretty set. Baylor will take a step back, but we felt they were ahead of Texas Tech, Iowa State and Kansas.
When we discussed Iowa State and our projections, we felt it was a strong possibility it could finish higher or easily have a better record than our 4-8 prediction. There's no question Paul Rhoads finds a way to get everything out of his teams, and the Cyclones are good for an upset or two every year. One of our biggest concerns about Iowa State was how the quarterback position will play out. Both Steele Jantz and Jared Barnett showed flashes of promise, but this team really needs a starter to emerge. If the Cyclones can settle on a No. 1 quarterback, finishing ahead of Texas Tech in the Big 12 standings wouldn't be a surprise.
With the nine-team schedule in the Big 12, there are no easy outs, so it will take an upset or two for Iowa State to get back into a bowl game. Western Illinois and Tulsa should be wins in non-conference play, but Iowa is a swing game. If the Cyclones can go on the road and win against the Hawkeyes, it would be a huge step toward making a bowl game in 2012.
CF: Running back might be the deepest position on the Iowa State football roster in 2012. Athlon ranked Iowa State's running backs as the second-to-worst in the Big 12. Is that due to the strength of the league at that particular position or does Athlon see some major holes in Iowa State's rushing attack?
SL: Ranking the running backs in the Big 12 was probably the most difficult position to compile when we were compiling our conference unit rankings. When we build the running back unit rankings for each conference, some of the factors we take into account are: past production, projected production for 2012, newcomers and how strong the offensive line is expected to perform.
Outside of Oklahoma State's Joseph Randle, there's really not a clear No. 1 back. Texas' Malcolm Brown showed promise last year, but may lose carries to Joe Bergeron or Johnathan Gray. Texas Tech's Eric Stephens and Oklahoma's Dominique Whaley are coming off of leg injuries, so there is no guarantee they are 100 percent by the first snap of 2012. Baylor has potential with Oregon transfer Lache Seastrunk, but no proven standouts. West Virginia could be higher if Dustin Garrison returns full strength from a torn ACL, while Kansas will be without James Sims for the first couple of games in 2012.
It was really a close call on the last few spots in the running back rankings, and I think you could flip our order of Baylor-Texas Tech-Kansas-Kansas State-Iowa State in a couple of different ways and feel pretty good about it. I thought James White showed some flashes last year, and Jeff Woody brings power and toughness to the offense. Those two should form a nice combination, while the ground attack could be even better if Shontrelle Johnson returns 100 percent or DeVondrick Nealy works his way into playing time.
I think this is a definite position of strength for Iowa State, but considering the depth of the league and potential for Stephens at Texas Tech or Whaley at Oklahoma, it was tough to rank the Cyclones' running back unit higher.
CLICK HERE to view Athlon's 2012 Big 12 predictions.
CLICK HERE to view Athlon's 2012 All-Big 12 team.
CF: Athlon ranks Iowa State's line-backing unit as the fourth best in America. Let's say you are ranking line-backing duos instead. Does the A.J. Klein – Jake Knott combo move up, stay the same or drop?
SL: That's a really good question. I think Iowa State would have to rank near the top, if not as the best duo in college football. We have Georgia as the No. 1 linebacking corps, with Jarvis Jones ranked as a first-team All-American. Outside of Jones, Georgia doesn't have a true standout, but there's potential with Alec Ogletree. Stanford might have college football's best combo, as Chase Thomas turned down the NFL for another year with the Cardinal, but Shayne Skov is coming off a torn ACL. If Skov is healthy, Stanford would rank No. 1. Michigan State is also in the mix, as it has a standout with Max Bullough, while Denicos Allen is a solid contributor and has All-Big Ten potential. An underrated duo to watch is Wisconsin's Mike Taylor and Chris Borland.
If Klein and Knott continue to produce at the level they have for the last two years, then I think Iowa State should have college football's top linebacking duo in 2012.
CF: Oklahoma appears to unanimously be America's pick to win the Big 12 this season. Athlon tabs both Texas and West Virginia as 7-2 (in the league) teams behind the Sooners. You guys have both Oklahoma State and TCU at 5-4. If it isn't Texas or West Virginia, name a third program that you feel has a legit chance to surprise the country and challenge the Sooners for that top spot?
SL: I think this is going to be a really interesting race in the Big 12 this year. Oklahoma is our preseason No. 1 team in the Big 12, but I'm not convinced they are a clear pick to win the conference. The offense should be better with a full offseason to replace receiver Ryan Broyles, but the rushing attack is a concern with Dominique Whaley recovering from a leg injury. The defense also has some losses in the front four. Texas is improving, but quarterback play is still a question mark. West Virginia has the offense to win the Big 12, but it won't be easy transitioning to a new conference.
Even though Oklahoma State loses Brandon Weeden and Justin Blackmon, I think this team has a chance to be a contender this year. Top to bottom, this might be Mike Gundy's deepest team in Stillwater, and the defense is poised for another good season after leading the nation with 44 takeaways. Although winning a conference title with a freshman quarterback is never easy, Oklahoma State has plenty of help on offense with running backs Joseph Randle and Jeremy Smith, while the receiving corps still has Tracy Moore and Josh Stewart as weapons. I don't think offensive line coach Joe Wickline gets enough credit for the job he has done throughout his tenure at Oklahoma State, and even with a few losses, this group may not miss much of a beat in production.
Another reason I like Oklahoma State as a contender is the schedule. Texas, TCU, West Virginia and Texas Tech all visit Stillwater, and the showdown against Oklahoma is late in the year, which should allow Wes Lunt plenty of time to get comfortable under center.
It may take a few games to get the offense going without Weeden and Blackmon, but Oklahoma State still has enough to push Oklahoma, Texas or West Virginia for first place.
CF: TCU joins the Big 12 from the Mountain West Conference. West Virginia is now on board from the Big East. What do you feel will be the biggest challenges the schools will face by playing their first season in the Big 12?
SL: Both teams have a shot to have a good season, but there will be a transition period. TCU's biggest obstacle has to be the upgrade in competition. The Horned Frogs played a few tough games every year in the Mountain West, but there's no New Mexico or UNLV in Big 12 play. The every week grind in conference play will be a tough test for TCU and will test its depth, especially on a defense that has some holes to address.
West Virginia is also facing a step up in competition, but I don't think it's as great as the one TCU is facing. The biggest obstacle for the Mountaineers could be the new schemes and style of play they will see in the Big 12. West Virginia's defense is moving from a 3-3-5 stack to a 3-4 look, which will give the coaching staff some early headaches. The Big East had some spread attacks, but nothing like what the Mountaineers will see in the Big 12. Having a head coach who has spent some time in the Big 12 will help the transition, but it's a difficult task to get up-to-speed and learn nuances on nine new opponents in one offseason.