As has been the case with the actual weather in the heartland this spring/early summer, the forecast for Iowa State's 2013 football season is calling for partly cloudy skies. In fact, the "experts" are predicting quite a bit of rain on your tailgate party fanatics.  
But hey, you weren't expecting anything different, were you?
If for some reason you are that guy (or gal) who is flabbergasted by the recent magazine releases and where these pundits have the Cyclones, you're either 1) a little bit delusional or 2) in your first few years of fandom when it comes to the Iowa State Cyclones.
The fact that Vegas released seven insanely early betting lines for Iowa State last week and the Cyclones were only favored in one of those (Iowa at -4), didn't surprise me in the least.
Elsewhere, here is where the big three preseason magazines (that hit newsstands last week) have the Cyclones:
Athlon – 5-7 (2-7), 57th overall and 9th in the Big 12
Lindy's – 44th overall, 7th in the Big 12
Sporting News – 8th in the Big 12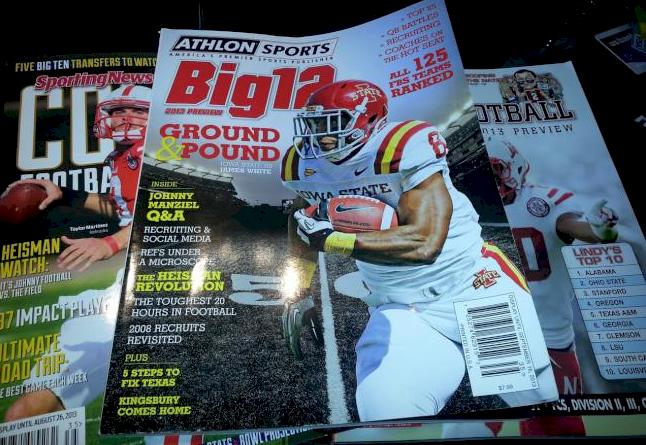 More respect than usual…
While I have yet to read these magazines cover-to-cover, one trend I have already begun to notice is that unlike most years of the past, most of these publications are leaving at least a little bit of room for the sun to sneak through the clouds for a nice day or two in Ames.
The numbers above might not be flattering, but nobody is predicting doomsday for Paul Rhoads' program either. The national guys are tired of being burned.
Year-after-year, Rhoads' program has done more than the experts said that it would. Not by an enormous amount, but enough to get thier attention. 
So a line like this from the Sporting News as Iowa State's "bottom line" doesn't really surprise me: "Look for the Cyclones to land in another bowl, but they have their work cut out for them with five league road games. Iowa State must find a way to win one or two to be a part of the race." 
Translation: We don't really think that you'll be very good but because we've had a bad read on you four years in a row now, we'll toss you a bone and hint that you might be able to make a bowl game if everything comes together. 
Can you really blame them?
In the mind of a national college football that does not reside in Iowa, a Cyclone program that has never won more than three games in the Big 12 (under Paul Rhoads) just lost its two best players, linebackers A.J. Klein and Jake Knott. Now, the Cyclones, who have never finished higher than 85th nationally in scoring offense over the last four years, enter 2013 without a proven quarterback and a defense as green as a four-leaf clover. 
*** LINK — Steve Deace's 2013 college football power rankings *** 
Add to it the fact that once again, Rhoads' program will tackle one of (if not the) toughest schedules in America with a non-conference slate of two in-state rivals and a road trip to Tulsa (a program that has won 10 games or more in four of the last six seasons).
These predictions are fair.
Iowa State has a lot to prove this season and as is usually the case, I'm sure that Paul Rhoads is fine with that.
More musings…
We've got a couple of exciting things here in the works at CF that I want to tease for you all today…
*** The first is that on Friday, I sat down and conducted an extensive interview with Iowa State's strength and conditioning coordinator Yancy McKnight. Stay tuned for that interview later this week.
*** We'll be adding a new contributor to our mix later today. If you're into historical feature writing, you'll love Joshua Kagavi. I'll leave it at that for now but stay tuned for a historical look at the 1957 Iowa State baseball team. 
*** Here's one other reminder that on Sunday night, the YMCA Capital City League will begin its 2013 regular season. Thanks to our friends at Heartland Finishes, Cyclone Fanatic will be covering the league on a nightly basis this summer. Our team of Matt Van Winkle, Matt Rhoades, Brent Blum, Ian Smith and yours truly is looking forward to taking this thing to a new level over the next few weeks.
Meet Dierks
My wife and I couldn't be dog-less for long. Our home was way too empty. Fanatics, meet my 11-week old little boy, Dierks.