Have you ever had one of those moments where something just comes to you? You know what I'm talking about right? In the back of your mind, you've known something for a long time but them BAM – just like that, the realization of a moment finally clicks with your brain.
I had a moment like this on Saturday night at our annual season kickoff party at BenchWarmers in Ankeny.
I was about to facilitate the drawing in which this website would give one lucky Fanatic a pair of season tickets to the 2013 Iowa State football campaign. Previously, I had read Iowa State's press releases about season tickets being sold out and what not. Heck, I had talked about this topic on the radio and written about it numerous times on this website. But I guess it never really clicked. 
At around 9 p.m. on Saturday, it finally happened. I looked around at the standing room only crowd at BenchWarmers and got to thinking about how 10 years ago, giving somebody a pair of Iowa State season tickets would have been a fine gesture but nothing more than that. 
But in the year 2013, giving away a pair of Iowa State season tickets is quite the coup because, you know, they are completely sold out. You cannot buy them at the ticket office. On Aug. 24, this was an exclusive gift, which is actually kind of wild to think about.
I can only imagine that this was a dream of Jamie Pollard's when he signed up to run Iowa State's athletic department in 2005. In fact, accomplishing that feat quite possibly wasn't even on his radar. To those younger Fanatics out there reading this, that is how big of a deal this season ticket deal actually is.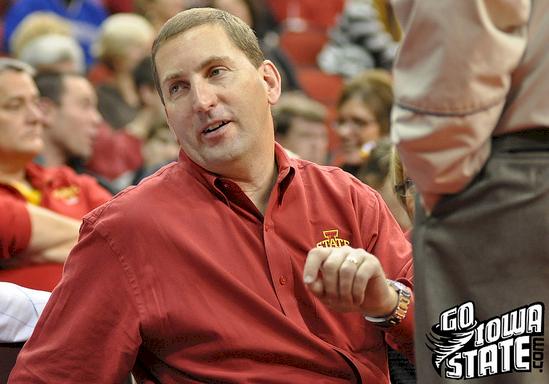 Pollard wasn't around in 2004 when Iowa State didn't even come close to filling up its own stadium with a Big 12 North title and a trip to the league championship game on the line. I was, and for those who weren't there, it was embarrassing and by golly, things have changed since then.
It wasn't easy though. Pollard had to oust the man who built the foundation that is modern day Iowa State football as we know it, Dan McCarney. That couldn't have been a simple decision and trust me, Pollard took plenty of heat for the move. There was the debacle that we all come to know as the "Mean" Gene Chizik era. The Big 12 nearly blew up – twice in fact – and throughout all of that, Iowa State was still Iowa State. I don't write that to be degrading. I write that to be realistic. There are obvious challenges that come with this job. Geography, money and lack of tradition are only a few. 
But through it all, you all sit here, five days away from kickoff 2013. Season tickets are sold out. Iowa State's football facilities now compare with some of the best in America. Take it for what it is worth, but my subjective opinion is that Paul Rhoads' 2014 recruiting class will be the best that this program has ever seen – ever. All of this is true after three 6-6 seasons with a 5-7 cherry on top. It isn't like the Cyclones have lit the world on fire. 
What's it all mean to you? Well to the casual Fanatic (which makes up the majority of every fan base), probably not much. All you want to see are wins on Saturday (or Thursday, or Friday) right? You, the Fanatic, are tired of hearing about roadblocks, obstacles and reasons why Iowa State can't ever compete for a Big 12 championship. I get it. 
But know this. Without everything (and more) that I spelled out up above, even sniffing a league title would be nearly (if not) impossible.
Will Iowa State get there in 2013? Probably not. A brutal schedule mixed with a load of inexperience will likely give the Cyclones a hiccup or two this season. Plus, Iowa State needs to win more than three games in the league before it can even think about jumping into that conversation.
But the good news is that for the first time that I can remember (keep in mind that I'm only 29-years old), the foundation is finally set up for long term success at Iowa State.
Welcome to the times that you and your buddies always talked about 20 years ago.
Welcome to the future. 
Lucky guy
Meet Cory from Ames. This is the Fanatic who won our season ticket drawing on Saturday night at BenchWarmers.