With fall camp beginning in exactly one week, I figured now is as good of a time as ever to roll out predictions for the 2013 Iowa State football season. While preparing to write this installment of Monday Musings, I came up with one very simple observation about Iowa State's upcoming football slate: the very season that I am about to attempt (key word, attempt) to predict will likely be very unpredictable.
This is life during the Paul Rhoads era in Ames. That's a good thing too because the days of chalking up an automatic loss to any team from Texas not named Baylor are pretty much gone. Year after year, you see more tweeners on Iowa State's schedule compared to back in the day, when six (or more) "sure thing" losses were stone cold locks in the month of July. 
The current state of the Big 12's football league makes predicting the upcoming season difficult as well. It's like Iowa State running back Jeff Woody said this past week in Dallas at the Big 12's media days: "If you're a betting man, do not try to predict a winner for the Big 12 this season." 
I've slotted predictions for every game that features a Big 12 team in the upcoming season. I see a three-way tie coming our way (read about it later this week). Having said that, I could possibly see four (and maybe even five) teams winning the league in 2013. With all of that balance, "upsets" are inevitable. Week-to-week, this conference should be a doozie.
Back to Iowa State… 
The picks are in. 
Game-by-game predictions
Aug. 31 vs. Northern Iowa –There is nothing fun about playing the pesky Panthers in week one. Still, this is a game that Iowa State should win by double-digits. WIN
Sept. 14 vs. Iowa –The Hawkeyes are an intriguing football team. Overall, stock is down on Kirk Ferentz' bunch but according to history, that is usually when Iowa pulls together a pretty decent season. Even so, I just don't see how Iowa will do any better than 6-6 this season based off of all the questions surrounding that team. The matchup of Iowa's offensive line vs. Iowa State's defensive line is a major concern but at home, I see Iowa State winning its third Cy-Hawk game in a row by anywhere from 7 to 14 points. WIN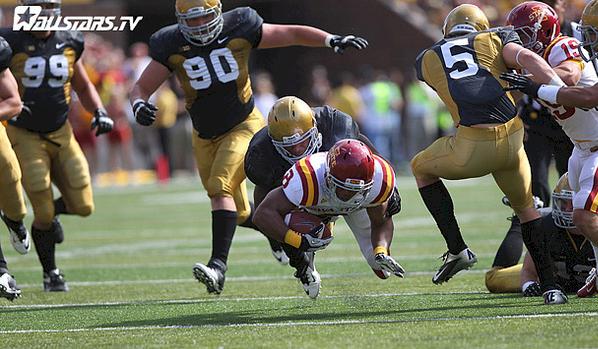 Sept. 26 at Tulsa – A critical swing game for the 2013 seaosn in my opinion. This will mark the third time in 13 months that the Cyclones and the Golden Hurricane will go toe-to-toe. If you missed it last week, I asked Paul Rhoads about the feeling surrounding this matchup in Dallas. 
"I think it will be very intense," Rhoads said. "We beat them. They didn't like it. They got a chance to gain revenge and went out and did it the right way. They physically outplayed us and beat us. Now that shoe is on our foot. We have that taste of defeat from that last game so I think it will be a very intense matchup vs. two teams that when they get in their stances and they look across and they see whatever it is, they will know who they are going up against."
Iowa State probably won't be favored in this one but I'm going with the Cyclones for one reason. It isn't a fluke that Iowa State has gone undefeated in each of its past two nonconference schedules. I credit that stat to Yancy McKnight's strength and conditioning program. This early in the season, I see a fresh Iowa State (Big 12) program going on the road and edging past a very good Tulsa team. WIN
Oct. 3 vs. Texas – An undefeated Iowa State team will begin its conference slate at home versus a team from Texas with a lot on the line. Sound familiar? This same scenario faced Paul Rhoads' squad with Texas in 2011. That didn't go well. Nor did last year's fourth game of the season at home against Texas Tech. Unfortunately, I don't see this one going any better for the Cyclones on ESPN's featured Thursday night game. I'll take the Longhorns by double-digits in what is just a bad matchup for Iowa State. LOSS 
Oct. 12 at Texas Tech – Something tells me that this Red Raider ballclub will be better than most people think in the fall. First year head coach Kliff Kingsbury will have more talent at his disposal than most seem to think, especially on the defensive side of the football. This is one of those true tweener games for Iowa State this year. Should the schedule play out like I've predicted so far, winning this game could catapult the Cyclones into the four-win (in the Big 12) conversation for the first time in the Rhoads era. However, I'm going with an undervalued Tech team in this one. LOSS
Oct. 19 at Baylor – Another undervalued Big 12 team in my opinion…I actually have the Bears going 8-1 in their first nine games. The thought of Iowa State's defensive line attempting to slow down Baylor's Lache Seastrunk is scary to me, especially at a point in the season where the Cyclones usually hit a bit of a wall. LOSS
Oct. 26 vs. Oklahoma State – Did you hear that Mike Gundy wants to play faster in 2013? Yikes. Unfortunately, I see an 0-4 start to Iowa State's Big 12 campaign, with some good news coming. LOSS
Nov. 2 at Kansas State – Every year, these two programs duke it out and the game is decided in the final 10 minutes. Every year, it seems like Iowa State is on the losing end of the tussle. Not this year for a couple of reasons. 1) Iowa State is due to beat the Wildcats. 2) I have more respect than I can put into words for Bill Snyder and while I think KSU will be fine at quarterback, this program still has to replace nine starters from a defense that only gave up 22 points per game last season. That is in addition to Heisman finalist and team leader Collin Klein at QB. Kansas State will be good in 2013 but I don't see how there won't be a significant drop-off for the team that won the league last year. Give me the Cyclones in this year's Paul Rhoads special. WIN
Nov. 9 vs. TCU – Feeling the momentum from an upset win in Manhattan, Iowa State will give my 2013 Big 12 champs all they want in more in Ames, only to come up short in the final quarter of the game. LOSS
Nov. 16 at Oklahoma – Winning in Norman is hard to do and nearly impossible. LOSS 
Nov. 23 vs. Kansas – I have Kansas surprising most people and winning a couple of league games this season. However, this will not be one of them. WIN
Nov. 30 at West Virginia – According to my picks up to here, Iowa State's bowl fate in 2013 will come down the first road trip to Morgantown in program history. This happens to be another one of those tweener games that could realistically go either way. I'm already on record picking West Virginia to place last win the league so for the sake of consistency, give me the Cyclones in their second road win in four weeks. WIN 
Schedule breakdown
Likely wins: Northern Iowa, Iowa, Kansas
Tweeners: at Tulsa, at Texas Tech, at Kansas State, at West Virginia
Likely losses: Texas, at Baylor, Oklahoma State, TCU, at Oklahoma 
More musings…
Last week, three Iowa State players told me that their goal for the season was to end up in the upper half of the Big 12. While I don't see that happening, I also don't see a major program dropoff on the horizon either. 
A few things about this Iowa State team that encourage me…
*** For the first time in what seems like a decade, a quarterback controversy won't hinder the program during the month of August.
*** Because of that, Iowa State's offense should be better in 2013 than previous seasons. How much better? Well, stay tuned and we will all find out together.
*** Entering year No. 5, the fruits of the Rhoads staff's recruiting/development game plan are really going to come into play this fall. If you're a believer of that plan, you'll probably agree that Iowa State will do better than what most experts are calling for.
*** I love, love, love, Iowa State's depth in the secondary.
A few concerns…
*** Obviously the defensive line. From the starters to the backups, it's a major concern. However, Rhoads did speak highly of this group last week in Dallas. Here's the actual quote. 
"I'd say the defensive line where we're going to have to play by committee, which is the way we've always done ‑‑ as I look at those guys, this is a group that has talent.  As we went through spring ball, we're probably the fastest, most athletic defense, if not team that we've put on the field, albeit it young.
I'd rather be coaching young talented guys than young slow guys or undersized guys.  So I think that position, where we have to replace tackles as well as ends, is a position, as the year unfolds, where we can maybe progress the quickest."
Perhaps he knows something that the rest of us do not in late July?
*** Depth at linebacker. I don't want to imagine how this season would play out if a Jeremiah George were to get injured. 
*** I need to see actual improvement out of Iowa State's offensive line before I buy in on this group.
*** Is Sam Richardson the guy? That's what it sounds like but the sophomore obviously still has a lot to prove.
Final thoughts
Rome wasn't built in a day and neither are championship football programs in Ames, Iowa. As I mentioned earlier, Iowa State's recruiting classes have gotten better and better every year since Rhoads' staff got to town. Without question, 2014 is setting up to be the best one yet. That is the year that I have circled to be a major movement year for this program. 
A 6-6 record for Iowa State in 2013 wouldn't please the unrealistic portion of the fan base and maybe not even the program itself, but with only nine starters returning from last season and the outlook of being likely underdogs in nine of 12 games, going 6-6 and playing in the postseason once again would be a major success for Iowa State football.