This summer, Cyclone Fanatic will go one-on-one with news makers in Ames, giving fans an inside look at Iowa State athletics that you won't find anywhere else. Next up is a man who you all know as the "Voice of the Cyclones." I know him as a mentor and a friend. In this installment of our "Conversation Series," I sit down with John Walters to discuss what Pete Taylor still means to the Iowa State community, his on air team on the Cyclone Radio Network and also, Walters provides insight that takes you inside Iowa State's football and basketball programs that only he can bring to the table. 
Cyclone Fanatic's "Conversation" Series
Part 1: Iowa State assistant men's basketball coach Matt Abdelmassish
Part 2: Iowa State women's basketball coach Bill Fennelly
The setting for this interview was very appropriate. Walters, who is now a full-time employee of Iowa State's Cyclones.TV, has an office inside of Hilton Coliseum. We walked around the majestic building for a good 10 minutes in attempt to find a room that was 1) unlocked and 2) would provide some privacy for the interview. The one room that we finally got into was none other than the Pete Taylor Media Room. Without chairs, Walters and I sat on the ground with large photos of the legendary Taylor hovering over us for this 30 minute conversation. 
CF: I love talking with guys who have been in this business for longer than I have. I am curious about when you started your career in the media; did you have any idea at all that at this point in your life you'd be working for an Internet TV station and have an office at Hilton Coliseum every day? I mean, Twitter didn't exist when I was in college. This is just a whole new world. Did you ever see any of this coming? 
JW: No. It would have been hard to envision an Internet-based job because there was no Internet (laughter). What I envisioned when I started my career was that I knew what I liked doing. I loved doing play-by-play. From the time that I was a high school student who was not a great athlete and the youngest kid in my class and one of the smaller kids in my class and just wasn't going to be a great athlete, I still loved sports. I played them every day after school. That's all that I did. I loved following the Chicago teams. I knew that I wanted to be involved in sports. I loved listening to play-by-play announces from the time that I was a little kid. I loved listening to Jim Durham call Chicago Bulls games and Lloyd Pettit calling the Chicago Blackhawks. Harry Caray calling the White Sox and Jack Brickhouse doing the Cubs and all of that stuff. It was just fun to listen to all of those announcers. We had great announcers in Chicago and I thought, 'That's what I want to do.' So what I envisioned was that at some point in my life, I was going to be doing play-by-play for a living. I didn't know if that was going to be at the college level, the NBA level, whatever it was going to be. But that's what I wanted to do. That was my focus going into college and when I got a part-time job at Channel 8, that was still my focus even though I was going to work for a TV station. That was the part that I really didn't plan on, was working on TV as a sports director. I had a radio and TV major at Drake so it led into that but that wasn't part of my plan necessarily. I just wanted to do play-by-play. 
It all worked out very well because in a short period of time after working at Channel 8 I was able to start doing play-by-play for the Drake women's basketball team because I worked for Pete (Taylor). Pete understood how much I loved play-by-play because he loved it so much. When I went to him and said that I had an opportunity to do 10 or 11 Drake women's basketball games a year and I asked if it would be okay if I missed a couple of days of work here and there and make them up, he said 'Absolutely.' He opened that door for me. He told me I could do the play-by-play on the side so I started with the Drake women's games. That led to the Drake men's games. That led to the Iowa State job and it is all because of Pete realizing how much I enjoyed play-by-play and allowing me that opportunity.
CF: You led me right into it and it is actually very fitting that we are sitting here doing this interview in the Pete Taylor Media Room at Hilton Coliseum. I never met Pete. I remember some of his calls but not as much as an older generation would. There is an entire generation of Iowa State fans, many of them on this website, that I don't think have forgotten about Pete but some probably don't know what he meant to this place. How would you describe Pete to a 20-year old engineering major out there who is a big Cyclone fan but missed out on those days? 
JW: I would describe him as, 'He was one of you.' He was one of us. That fan, that 20-year old fan that never got the opportunity to know Pete, would feel like you knew him for his whole life if he ever got the chance to meet him. He would immediately have recognized Pete's passion for Iowa State. He would have immediately felt comfortable talking to Pete. Pete was such a great announcer (laughter). He was such a great announcer. But he was an even better person. If you went up and talked to him, he would make you feel like a million bucks. When you were done with a conversation with Pete, you always walked away with a smile on your face. Often times because you shared some laughs about something that you brought up or he brought up. He had a great sense of humor. A tremendous sense of humor. Iowa State fans of any generation would have loved Pete. Any generation. He was just a special person. They don't come any better than him and on top of it all, he was really good at what he did. 
For the generation that did grow up with Pete, he was their eyes. These games weren't on TV anywhere near the amount that they are now. There were years when hardly any games were on TV. So farmers on their combines would listen to Pete. Every Saturday, he was their eyes watching Cyclone football and watching Cyclone basketball through his call. They felt like they knew Pete even if they had never met him because he had that kind of a personal touch and then when they did meet him, it probably exceeded what their expectations were of what a great guy he was. They could tell from the radio call that he seemed like a great guy and then when they met him, it was a slam-dunk. He was a great guy.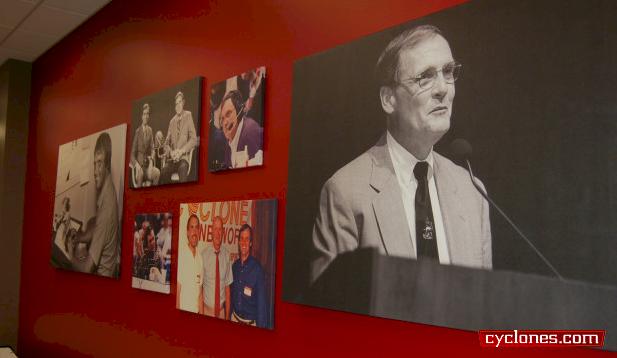 Iowa State's Pete Taylor Media Room – Photo courtesy of Iowa State Athletics 

CF: I think of "the run." Do you have a favorite Pete Taylor call or moment that comes to your mind?
JW:I don't know how it could get much more special than the JaMaine Billups punt return vs. Pittsburg because Iowa State had never won a bowl game. When you think about all of those fans that had been Iowa State fans for all of those years and had never experienced a bowl victory. To get an opportunity to go play in what was then called the Insight.com Bowl in Arizona and to see the absolute swelling of support, just like the Liberty Bowl. That's what it was like in Arizona at the Insight.com Bowl. Iowa State fans were down there in huge numbers just so hungry for that first bowl win. A great season had taken place leading up to that point but to cap it with that bowl win and for Billups to have a return that really kind of iced it. You could just hear the excitement in Pete's voice build as the play continued. He called it perfectly, as eloquently as you could possibly call it. Just to think about that moment in Iowa State history and what that led to. It led to five bowl games in six years with Dan McCarney and what we are seeing now with Jack Trice Stadium and Paul Rhoads. To me, a lot of that started that day, with that punt return with that punt return vs. Pittsburgh and Pete's called is something that I think is etched inside of every fan's memory from that game.
CF: What do you think that Pete would think about everything that is going on here now? 
JW: I think he would be extremely proud of everything that Iowa State has achieved under Jamie Pollard's direction. Pete, I think like myself, the thing that he enjoyed most about his job was Iowa State was his interaction with the coaches. He had great relationships with all of the coaches – great relationships. So for him to see people in place here like Paul Rhoads, who absolutely loves this place and Fred Hoiberg – that is self-explanatory. Bill Fennelly was here when Pete was here so he knew what kind of passion that Bill had for Iowa State. Christy-Johnson Lynch and Kevin Jackson. These are people that absolutely love being a part of this community and being a part of Iowa State athletics. Those are the kind of people who Pete loved. It would have been a natural fit. He would have been thrilled to see how far things have come. In my opinion, so much of that is directly related back to Pete. He grew a fan base during his entire 33 years of calling those games. Think of how many fans became Iowa State fans while listening to Pete. He has had as much to do with the success that Iowa State is having right now as much as any other person in our history.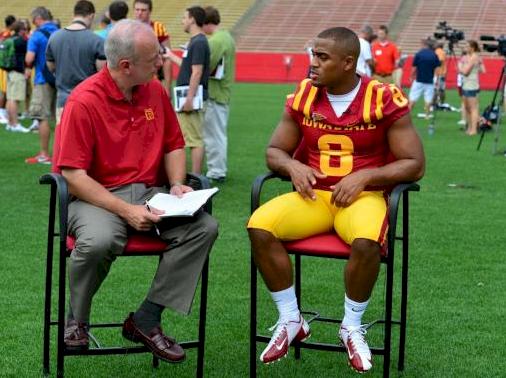 CF: Let's talk about your radio partner Eric Heft. We all know how you guys interact on the air. What is your relationship like off the air? Describe that to the fans if you will.
JW: Eric has become a very good friend. I always had a friendship with him when he and Pete were doing games and I also enjoyed his company. But we've gotten a lot closer over the last 10 years. He is a really interesting guy. You know everybody knows that Paul Rhoads was his class Valedictorian. Eric Heft was his class Valedictorian. He's a very intelligent guy. He has a great sense of humor and is a well-rounded person with a lot of different interests. It is a lot of fun to be around him on a daily basis. Especially traveling during basketball with Mike Green and during football with Tom Krochelle. We have traveled and told stories and have great memories. I have learned so much about what Iowa State was like before I got here through Pete first of all and then Eric. I feel incredibly blessed. I have gotten to work with Pete Taylor, Gary Thompson and Eric Heft. How much better does it get than that? I feel completely blessed because I have learned so much about Iowa State's history through their eyes. We have a lot of fun. We go out the night before games to grab a drink and share stories. He loves to golf. He loves reading. He loves movies. He is a very interesting guy and a very well rounded person who has a great connection with Iowa State history. He knows our history better than anybody. He is a true Iowa Stater, all the way down to the core. I think that comes through in the broadcast.
CF: I listen to your guys' broadcast every game while sitting in the press box and every Saturday, I think that Ben Bruns should be doing commentary for a living because he is that good. The insight he provides is something that nobody else can bring to the table. He just happens to be really good at his day job too. How far has he come since you started working with him?
JW:I agree about Ben. He's fantastic. He can do something that Eric and I really can't do during a play and that is really lock in on the offensive line or the defensive line if our defense is on the field. He tells us who is winning that battle. That's the biggest part of the game really is who is winning that battle? But when I'm calling a play, I have to watch the ball. I have to watch where it is going so to have a guy who has been in those trenches and understands what is going on in there and who is winning that battle on a daily basis is so helpful to our broadcast because he can assess it. He can illustrate it in a way that people can understand. We love having him involved in our broadcast and I think a lot like Eric, he is brutally honest. I think fans absolutely love that. If our broadcast team started sugarcoating things, our fan base is intelligent enough that they would see right through it. We don't do that. We try to tell it exactly like it is in our eyes. Ben is a big part of that. He will give you his honest assessment of how we are doing, good or bad. I think that Cyclone fans really appreciate that.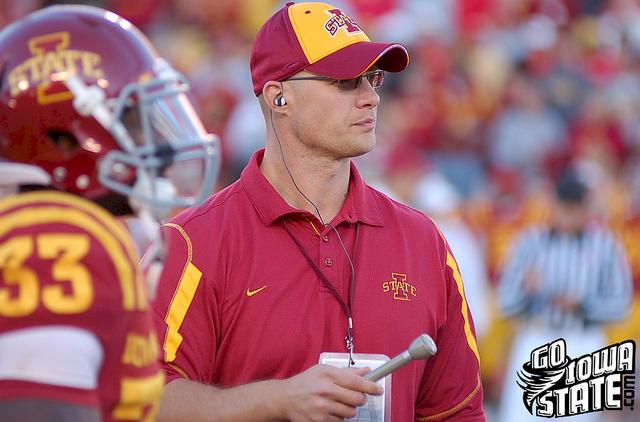 CF: Okay let's talk about the actual sports now. Big news regarding Big 12 hoops last week – Bill Self just signed the No. 1 player in the country. So you can have Kansas or Oklahoma State. Right now, who are you taking?
JW: You know what? My gut tells me to pick Oklahoma State because experience matters so much. Experience is huge but every time I pick against Bill Self, I get burned.
CF: Yep.
JW: He has won it nine straight years. He is going to have talent again and the thing that people can't underestimate is how guys in his system have grown during their time there. So you've seen players go through Kansas' system and Jeff Withey was a great example, who were just that role player coming off of the bench or hardly ever played in their early years on campus and by the time they were seniors were really good players. I think Tharpe is going to be that kind of player, who just kind of was a backup that you saw for a few minutes. He is going to develop into a really good player. We saw what Perry Ellis could do in Kansas City. I think that he will emerge as a very good player. The league is going to be fun. If you look at what teams have coming back and what teams have coming in and it makes things exciting.
I'll say this about Iowa State. We have Melvin Ejim and Georges Niang back. That's about as good of a place to start as anybody in the league as far as returning players. I know that Oklahoma State has some fantastic players back. They do and they are going to be really tough. But those two guys, George and Melvin, with their ability, their personalities, off the court and on, their leadership skills. Georges didn't act like a freshman last year. He acted like a senior. Will Clyburn told us in one of our postgame interviews early in the season when we talked about leadership on the team that Georges was one of the leaders without a doubt. That was coming from a senior. So Georges is beyond his years in the way that he plays the game and he is also beyond his years in the way that he is a leader. Melvin, you couldn't ask for a better leader. You talk about the perfect role model for kids coming into this program. To see this guy and the way that he conducts himself and the way that he handles his business. With those two guys leading the way and Fred as an established coach now, it is exciting to think about what this team can do next year in a very good Big 12 race.
CF: I haven't been doing this nearly as long as you but I feel like I've never covered a guy that I know of who wants to win as badly as Niang. Is that an overstatement? I feel like after what I saw after the Ohio State game combined with everything else, I'm onto something. Do you get that read too? 
JW: Yes. Yes. Definitely. Those are the kinds of players who become special. The ones that where winning and losing means more to them maybe than to the average player. Anybody who was in that locker room after that game and saw that reaction from Georges had no doubt in their mind how much winning and losing means to him. I am sure that part of that was his disappointment that the seniors were done and the finality to that was probably very tough for him to take because I think when you are a younger player and you have that mentality where you hate losing in the worst possible way. You hate it even more for the guys where you know they will never get a chance to wear that uniform again. I think that really set in with Georges and that's why he was really overcome like that with those six great seniors that Iowa State was bidding farewell too. But yeah, he has got a competitive edge to him. He has a love for the game. I have always wanted players on Iowa State's team where basketball is the most important thing in their lives. It's okay to have other things that are important to you in your life. But basketball is your thing. You just love the game. When you hear Georges talk about the old footage of Larry Bird…He's just old school. He absolutely loves the game of basketball and that leads to the hard work that he puts into it and his knowledge of the game and how he is able to succeed to the level that he does despite not having as great of athletic ability as a lot of guys out there. He can still beat them and that's what it is all about.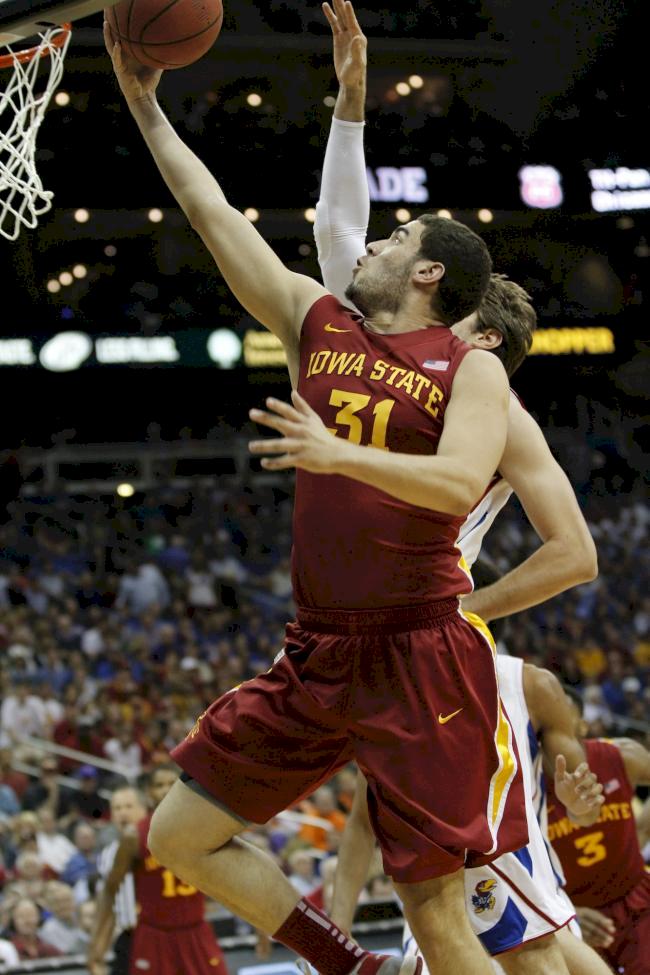 CF: I don't know if it is right or wrong but I have always been a big believer in karma you know? Good things happen to good people. Things always come back around. That kind of stuff. Last basketball season, I kept waiting and waiting for some good things to happen to Iowa State. It never seemed to come back around. Did you feel like that this season?
JW: Yeah. You know maybe it was a make up from the year before when Christopherson banked in the three against Oklahoma State? You tend to forget when your team banks one in. You know Mike Taylor banked in a lot of threes! (laughter). When you see Ben McLemore bank one in you think 'Oh gosh, he banked it in!' It does happen. But I agree with you. The thing about last season that will leave a lasting impression on me is just how entertaining our games were. Win or lose, I don't remember any game when it got boring. They were just exciting games. All the way through. Yeah, we won our share and we lost our share and we did have some bad luck but it was a great season. It was a great season that could have been a special season. It was very close to being one of the all-time special seasons at Iowa State. Yeah, maybe a little of that luck of the bounce will come our way this year. But what Fred did with those bad breaks and with those tough losses to regroup those guys every single time and get them back on task and focused on what Iowa State was trying to do, that had to be a tough chore and he did it. Those guys bought in. They handled it great. Better than most teams would have. As a result they had a really good season and a lot of teams might not have because they could have just said, 'It isn't our year.'
CF: Let's talk football to wrap things up. Iowa State has a very young team heading into 2013 with quite a few questions. I think there is a lot of talent there but there are definitely questions. If Iowa State is going to get back to the postseason, what is the one thing that they have to do? Something that has to get better or a position group that needs to play very well? What comes to the top of your head?
JW: I think continued improvement is what Paul is looking for. That is across the board. It is hard to just narrow it down to one position group or one area of the game. The thing that excites me about football is that when Paul came in his first year, we had lost 10 straight games. We were 0-8 in the Big 12 Conference the year before he arrived. He knew that he didn't have the luxury to redshirt Josh Lenz, Jeremy Reeves, A.J. Klein and Jake Knott. Those guys had to play. Now when you look at a class a year ago that he felt really good about, he was able to redshirt every one of those freshmen. It shows you how far our program has come. When you start talking about player development, you start looking at guys – Iowa State has seven guys getting NFL opportunities right now that were seniors on last year's Liberty Bowl team. Seven guys! Go back and look and see how many stars were next to those names when they were recruited. Not a lot in many cases. So obviously Paul is doing something really well in player development. To me, it is hard to just look at a small picture with our football program because I feel like I am always looking at it big picture. I think that is what Paul does. Everything that he does is focused on getting the program better every single day. It is hard to just say this specific has to happen or this specific. His broader view is what is making the program better every year. It is why he was able to redshirt an entire class. It is why you can lose seven guys who were really good players who are getting NFL opportunities and still feel like the program is in better shape than it has ever been. It is because of Paul.
Obviously they want to be a better offensive football team. I think that they took a step in that direction last year but I think they can take a bigger step in that direction this year. Defensively, they are going to have a lot of young guys out there and that is a challenge. But if they are going to have that be the case I can't imagine a better guy to be in charge of that than Wally Burnham. I will never underestimate that guy, just like we talked about with Bill Self. I will never underestimate Wally Burnham. He is going to have some young players but he will have them ready.