March 5, 2003 — That is the day that we, the Cyclone Nation lost Pete Taylor…way too soon. To honor the late Pete Taylor, CycloneFanatic.com has put together a tribute for him today. We've put together a compilation of thoughts, memories and looks back to his amazing life.
The first piece of work that we'll get to comes from a guy who truly idolized Pete from a very young age. He is one of my best friends in the world and his name is Brent Blum. Brent contributes regularly to Iowa State women's basketball broadcasts on the Cyclone Radio Network. As you'll read in his portion of this tribute, that wouldn't be possible if it wasn't for the inspiration of Pete Taylor.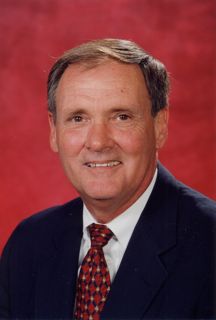 Brent Blum from the Cyclone Radio Network writes:
A couple weeks ago I was scrounging through some old stuff I had scattered around my closet. It was an odd collection of box scores, media guides and other random things I have accumulated in the past several years traveling around doing media work. One of the highlights was my poorly kept score-sheet of a high-school girls basketball game I broadcast a couple years ago. The final tally was 50-4. It must have been a long night for the Clarinda Academy on that evening.
I also found a map of Nashville, an unused meal ticket to the '07 Big 12 tourney and a hotel room key from the Manhattan Clarion Inn. If my closet became any more unorganized, I'm pretty sure my roommates would nominate me for an intervention with the people from "Hoarders."
But mixed about in that mess was several old-school cassette tapes. Each had a different date and team name labeled at the top. The first one I looked at read "ISU vs. CU 1-16-00". (I had picked these tapes up several years ago when I was interning at KASI, the Ames radio station. They were doing some re-organizing and one of the sales people came in and said, "I found these tapes in the back closet, if you don't want them, we're going to toss them." I gladly took them off their hands.)
After a mad search locating a working cassette tape player (props to anyone who still has one of these around) I popped in the tape.
The first thing that played was a commercial advertising America Online.
Then came the familiar intro music. And then came Pete.
For the next hour or so, I was transported back to the 2000 match-up with the Buffaloes. That day Marcus Fizer was too much for Jamahl Mosley, Jacquay Walls and the Ricardo Patton coached Buffs as the Cyclones rolled 86-74. You could hear the optimism in Pete and Eric's voices. This was a good day for the Cyclones. Eric even noted that Ed Hightower's crew was doing a good job letting the players bang underneath as Pete shouted another Fizer "stuff."
The post-game interview with Pete and Larry Eustachy was as classic as I remember. It was as if Pete and Larry were bellied up to the bar and the radio audience was right next to them.
Pete: "Well Coach…you've won 12 in a row, you're 3-0 in the conference, you gotta like how your team is playing."
Larry: (Long Pause with a deep breath) "Pete, we're OK, I still don't think we're tough enough. We just gave up 74 points. If we don't get tougher, it will be a long night Wednesday in Manhattan."
It was like I was a kid all over again.
*****************
Everybody remembers those assignments in 3rd grade when the teacher goes around the room and asks you to write what you want to be when you grow up. Back in my elementary school days (think early '90s) the answers were pretty standard, the girls wanted to be actresses or singers, while the boys wanted to be some combo of an athlete, firefighter or astronaut. (I'm actually curious what the go-to answer is these days, does anybody say, "I want to be Lady GaGa"?)
Well, I always had the same answer, "I want to broadcast Iowa State games like Pete Taylor."
Two things made me want to be a broadcaster more than any others. The movie "Major League" (Why my parents let me watch the R version of that film several times before the age of 10, I'll never know).
But more than anything it was Pete.
Like so many other Cyclone fans, I spent hours each week listening and watching Pete. He was a huge part of my younger years. From the radio broadcasts to the Coach's shows to the "Cyclone Replay" show that ran every Tuesday night, Pete was always around. It's easy to remember the great calls he had. The Billups punt return, the Fizer dunk on Mihm, the Seneca scramble, the Seiler streak and the cap he put on the Cyclones dismantling of the Nebraska black shirts in 2002 all come to mind. But it was listening to Pete during the many painful losses that resonate the most. From his exasperated "GOOD NIGHT" line, to the pleading with officials, to the cathartic post game shows, Pete was there with us and somehow that made it better.
***********************
Listening to the Colorado game from 2000 on that cassette tape showed Pete at his finest. In a relatively meaningless game in the middle of January, here he was living and dying with every basket and blown call. His passion for Iowa State was, and still is, on a separate level. We were lucky to call him our own.
It's hard to describe the influence Pete had on generations and generations of Cyclones. When he passed away unexpectedly seven years ago, it felt as if we ALL lost one of our best friends. The person we spent so much time with at home, in the car and at the game was gone just like that. And we didn't get a chance to say goodbye.
It was so sudden that I, and so many other Cyclone fans, never did get the chance to tell him a simple, "Thank You."

A regular CycloneFanatic.com contributor, Kirk Halland writes:
It was like getting hit by a ton of bricks. I was a freshman at Iowa State and was walking unassumingly into Hilton Coliseum for a match-up against Colorado, Wednesday March 5th, 2003. I wasn't yet a message board hound and quite honestly the opportunities weren't nearly as abundant seven years ago.
So I filed into my seat in the student section with a couple of buddies when I started to notice, or perhaps feel, a different kind of energy throughout Hilton. To say it was "buzzing" wouldn't quite be right, but I could just tell something was amiss. It was then that I saw it. A fellow student had a sign that read "We'll miss you Pete". A few moments later the PA announcer came on to ask for a moment of a silence for the sudden death of Pete Taylor. I had to sit down.
At that time I had experienced death of family members, more extended than immediate. But this one was too much. It was one of those combinations of shocking news that hit so close to home. The odd thing being that I had never in my life met Pete Taylor, yet he was a part of my family.
I don't fall into the demographic of listening to Pete while working in my tractor for countless hours; I was a "town kid". Most of his time broadcasting occurred in an era where many games were simply not televised. Generations of Cyclone fans lived the football and basketball experience through the eyes and voice of Pete Taylor. I'm proud to say that I was one of them. I just wish I had gotten to experience more of it.
We all probably have our favorite Pete memories but mine came in the fall of 2000. That football season was the first since Earle Bruce that had given Cyclone fans anything to be excited about so late in the season. I was huddled around the kitchen table with my dad, brother, and uncle for the game against Oklahoma State. The score was tied at 26 late in the 4th quarter when Atif Austin came up with an interception with just over a minute remaining on the Cyclone side of the fifty yard-line. ISU then drove down the field when jubilation happened. A 33-yard touchdown pass to a little known freshman at the time, Lane Danielsen, with next to no time remaining on the clock.
The best thing I remember about that call while listening to Pete on the radio was you could almost tell it was about to happen as he was speaking because of the crescendo in his voice. That in my mind is what Pete did superbly that is so rare. The tone of his voice was interwoven with heart-felt emotion and told the story like your eyes were seeing what he was. It would never take long when you began listening to the broadcast with Pete to realize if ISU was playing well or poorly, ahead or behind.
Pete was many things to ISU athletics and its fans. He was a loyal fan, an incomparable broadcaster, a liaison for the athletic department, and quite possibly the glue that held it all together. Two months to the exact day after Pete's sudden death, Larry Eustachy was fired from ISU. There is no doubt in my mind and many others that the situation may have been handled completely different had Pete still been with us.
It's hard to say if there will ever be another Pete Taylor. Maybe my kids will grow up to admire John Walters in the same way that so many of us did with Pete. The shoes that are always the most difficult to fill are the shoes that belong to a legend. We miss you Pete.

It is now time to see what the Fanatics are saying about the greatest Cyclone of all-time.
DaddyMac writes: I always loved listening to Pete if I couldn't make it to Ames, or it was road game -most of all because he was so genuine. If you turned on in the middle of a game, you could tell within 15 seconds on how it was going – without a score or recap -simply from listening to the tone of his voice. I recall one game where I was at home working in the yard, turned on the radio and first thing I heard was Pete saying with a rather disgustful tenor … "boy, Iowa State can't do anything right today". Obviously a shalacking in process. Not a "blinded" announcer like so many others you may pickup on the airwaves. When we stunk (which was near constant during my earlier years), he basically said it in not so direct fashion. When we did something special like in the 2000's – he was the happiest fan around.
URBCLONE writes: Some people truly are irreplaceable. Pete Taylor was one of those. Outside of Gary Thompson, I cannot think of another man who lived ISU athletics the way Pete did. As for favorite moments, as others have noted there are far too many to mention. For some odd reason, one that sticks in my mind was the way he called shots by Dedric "Three by WILLOUGHBY!!!!". Didn't hurt that Dedric was/is one of my favorite ISU players of all time. As others have mentioned, you could always tell the way a game was going by the tone in Pete's voice. "Good Night" with that exasperated tone in his voice was just classic! It was like having one of your best friends calling a game — as it is with now sugar coating. I can't help but wonder how things might have turned out had Pete lived. Maybe the LE situation would have been resolved without turning ISU BB into the nuclear wasteland that we now witness. Can you imagine had we been so lucky as to have Pete with us as long as Jim Z has been with UI?
CYdTracked writes: Pete was a true Cyclone fan. He was not a homer broadcaster but you still knew which team he was cheering for and he wasn't scared to tell you his honest thoughts as the games played out. You could always tell how the game was going within the first minute of turning on the radio without knowing the score as you could hear the excitement or disappointment in his voice pretty quickly. I think one day we'll be saying a lot of the same things about John Walters. No one could ever fill Pete's shoes but John by far has done the best job anyone could do in making it a smoother transition. John has a lot of the same characteristics Pete had IMO.
HuskyCy5 writes: I grew up in Oelwein during the 80's and a lot of time it felt like Pete Taylor was the only other Iowa State Fan I knew. 2 big moments as a clone fan I remember that weren't game related, one was Johnny's retirement and the other was Pete's passing. Can tell you exactly where I was when both happened. Amazing cyclone fan!!
CYKOFAN writes: Besides the great calls in the booth many people have described, my best memories of Pete were at the Cyclone club outings when so many fans got to talk to and get to know Pete as a friend. Then when he would be the mc at the banquet the barbs he would exchange with the coaches were priceless. Nobody had better jokes or could tell them any better than Pete.
Ca4cy writes: I've got too many memories to list, but one that always stands out for me was the end of the Michigan State Elite 8 Game in '00. I was at a friend's house watching it and after the double foul and LE getting run, I couldn't take it anymore and went out to my car with a few seconds left on the clock. I turned on the radio to listen to Pete wind it down, damn near in tears muttering to myself "we just got screwed (not my word at the time) out of a national championship." As time expired and the final horn was going off in the background, Pete said, "Michigan State is going to advance to the Final 4, but they had to work their a$$es off to do it." I knew that was probably the best shot I was going to have at seeing a national championship ISU hoops team in my lifetime and so did Pete. He was hurting right along with me and that's what I loved about him. Outstanding broadcaster, better man, ULTIMATE CYCLONE! I've got to say one more thing here, more as a coping mechanism for my idiocy than anything else. I saw and talked to Pete at a number of golf outings and other Cyclone functions. I even got to golf 18 holes with him on a day which ranks among the very best of my life. In all of that, I never once had the brains to get his autograph, or better yet, get a picture snapped with a man that was and is truly a legendary Cyclone. I've got pictures with Orr, Eustachey, McCarney, Mike Woodley, Cael, Bobby Douglas and lord knows how many other Cyclones coaches and assistants….but no Pete. Being that big of a ******* still haunts me.
ruxCYtable writes: There are so many. Billups' TD in the Insight Bowl has already been mentioned. One of my first memories of Pete was Barry Stevens' last second shot to beat Mizzou. I was a young kid at the time and was supposed to be asleep, but I stayed up to listen to the game. I remember Pete shouting,"IT'S GOOD!" followed by a loud thump from the living room, which I always assumed was my dad falling off the couch. Several years later I had to miss part of a game so I recorded it with the intention of listening to the whole thing when it was over. Sad, I know. ISU had a three point lead over KU with just a few seconds to play. With the stereo MUTED I hear Pete shouting,"STOLEN BY THIGPEN…HE'S FOULED…WITH THREE SECONDS TO PLAY!"
WalkingCy writes: For my "good feelings" one….I would have to go with the Billups return in the Insight Bowl. For my "we were getting blown out, but this was still classic Pete," – We were playing Nebraska on the road, getting blown out…one of the Troy Davis years. Anyway…the game was out of reach and early in the 4th Quarter. Davis had some monster run for like 80 yards for a touchdown and Pete finally had something to be happy about…..but right when Troy Davis crossed the Goal line, Pete just got angry…"And there is a flag on the play!" "You have got to be kidding me." And just went on and on about how horrible of a call it was…..and to have the audacity to make that call with this game so out of reach. Only at Nebraska. I just loved that one for some reason. RIP Pete
Garn91 writes: Wow, doesn't seem like it's been that long. I had the opportunity to meet Pete Taylor when I was in college in the early 90's. I was majoring in broadcasting and Pete came to speake to my group on sports broadcasting, critique our various broadcast calls, and offer various tips and the one tip that he offered I still recall, when doing games on the radio…NEVER EVER give jersey numbers. It's radio and your listeners can't tell and it's a sign you didn't do your homework to learn the roster.
Wartknight writes: I job-shadowed Pete in HS and got to sit with him in the pressbox for a FB game. He treated me like royalty. A couple years later, I was covering a Cy-club outing and he remembered me and got me interviews set up with all the coaches and players there. That fall I was covering ISUFB media day, and he spent most of the day introducing me to players and coaches that I needed to get interviews with. Those were the only 3 times I interacted with him, and each time he made me feel like his best friend that he hadn't seen in a long time.