Cyclone Fanatic's publisher Chris Williams and lead columnist Brent Blum debate current events in the world of Iowa State athletics, the Big 12 and more.
Williams: Iowa State will host its first scrimmage of spring football, 2013 on Saturday. These things are always difficult to cover as because 1) media isn't allowed to watch and 2) the coaches and players don't really tell you much about what went down afterwards anyway.
Even so, it is fun that we're back in the swing of things when it comes to writing/talking about meaningful football stories here on the site again. 
Blum, there are a handful of hot topics/big stories when it comes to this spring and the Iowa State football roster. To name a few: Is Sam Richardson a lock at quarterback? New offensive line coach Chris Klenakis and this "Pistol" formation we've all heard so much about. Youth in the defensive front seven. Newcomers all over the place, etc. 
My question to you to start this thing off is in your opinion, which of these storylines is the most important from now until the Cyclone Gridiron Club Spring Game on April 20?
Blum: Spring football snuck up on me this year like a Mike Rice basketball throw. This spring has more questions than any I can remember under Rhoads. This isn't necessarily a bad thing, it makes for an interesting dynamic. There really isn't one position group where everything is concrete. The biggest storyline is and will continue to be the QB. I find it fascinating the quiet approach Rhoads and crew are taking to the QB race this year. By listing Richardson as a starter on the initial depth-chart from the get-go, it seems to have quieted some of the extra chirping, which is a unique change over the last two years. Perhaps that is an orchestrated and purposeful decision? Or maybe Richardson has legitimate control?
Regardless, QB is still the main story in my mind, because it is the most critical position on the field. I don't believe Richardson is a lead-pipe lock and am anxious to see Grant Rohach in meaningful action in a couple weeks. No doubt we will see both this year. 
So many other uncertainties though, where do you start? Mr. Williams, do you remember such an unsettled spring? This team feels strangely naked without a Klein, Knott, McDonough, Reeves and Lenz. To quote one of the all time classics in Old School, "WE'RE GOING STREAKING!!!!"
Williams: I'm trying to decide if it is too soon to make Mike Rice jokes or not…What a jerk. 
Anyways, you are right about the quarterbacks. I always thought that Richardson would have the upper hand this spring but was a little surprised when he was the flat-out starter on the depth chart last week.
I like Sam a lot as a quarterback but I've never heard a bad thing about Rohach either. I'm knocking on wood, but I think Rhoads has two legit Big 12 quarterbacks battling it out here, which is a very, very good thing.
And I also think that the staff has learned a thing or two over the years. Even if there is a quarterback competition going on (which as you established, we really don't know at this point in time), keep it quiet. Us media folk are vultures when it comes to questions at the quarterback position. 
You brought up the defense and I think it is a no brainer that the concern is up front. The Killer K's are gone but I actually don't hate what Iowa State has at linebacker this year. Jeremiah George is a dude. The Jevohn Miller/Luke Knott combo might be a bit green but they are both smart players. Wally likes guys who are going to be in the right place, which is key. I also love the move of Jared Brackens from SS to SLB. That's a kid who is ready to play.
We've seen so much of this "bend but don't break" approach over the last few years which very well might be the case again in 2013, but with such an unproven front seven, I think that the defensive staff just might change things up completely this season. Without those two erasers at linebacker, things change in a hurry. Why not mix it up a little bit?
Having said that though, I don't see Wally as a guy who likes to change things up. He might be set in his ways and for the most part, that has worked during his time in Ames. I'll take being the 38th ranked scoring defense in America any year. 
In my opinion though, we haven't even mentioned the most important storyline this spring, which is finding playmakers on offense.
If it is Jarvis West, Quenton Bundrage, DeVondrick Nealy (pictured below) or Aaron Wimberly, somebody needs to put some fear into defensive coordinators across the Big 12.
Of those four (or feel fee to throw somebody else into the mix too), which guy do you think has the best chance to have a break out year in 2013?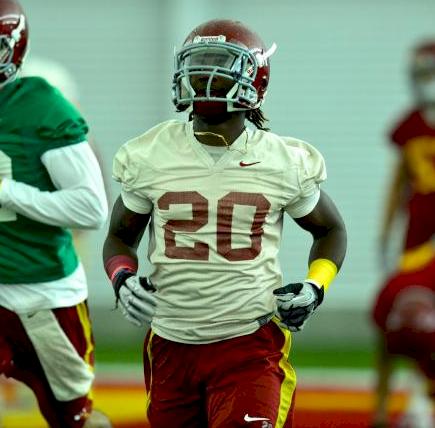 Blum: They don't call Wally Burnham the Wizard for nothing. The man doesn't get enough credit. I am comforted by his ability to get the job done…he helped turn Jesse Smith from a walk-on to a First Team All-Big 12 linebacker. It will be fun to see what he does with Brackens, Miller, Knott, Seeley and Meeks. No question these guys have the athleticism and the tools. George is a stud and I would be shocked if he doesn't get to 100 tackles.  
The secondary has potential to be a huge strength and that is obviously monumental in this pass-happy league. Iowa State has been stock-piling corners for a while now, Jansen Watson has all conference ability, Jacques Washington is steady as can be and I like Deon Broomfield sliding back to a safety role. And nobody has been turning heads more than freshman Charlie Rogers. This defense is going to have some speed. Speed is like Photoshop, it can cover many mistakes.  
You touched on Iowa State's biggest nemesis in the last dozen years – playmakers. Here are some stats for you: Iowa State hasn't had a running back drafted in the NFL since 1997 – Troy Davis. Worse than that, the Cyclones haven't had a wide receiver drafted since 1985! (Tracey Henderson). That is almost impossible for a BCS school to have such a lack of elite skill guys over a long period of time. The NFL isn't the best barometer for judging college play-making ability, but I think there is a strong correlation there. We say it every year it seems, this is the year that somebody steps up to be a legitimate threat and yet rarely have we seen banner results. No Cyclone had 40 or more catches last season. That's less than 4 per game.
I am encouraged that the Cyclones have a variety of players to choose from. Out of your list, I would lean towards Bundrage since he has the physical tools and has a year under his belt. But I am most excited to see Wimberly on the field–he appears to have, as our good pal Dan McCarney said, "A little extra juice." Wimberly reportedly has great hands and could be useful in a Percy Harvin type role. 
Somebody, anybody has to step up. I would also look for the Cyclones to attack with the dual tight-ends- Ernst Brun (below) and E.J. Bibbs aka The B Unit (I'm patenting that early). Those two may be Iowa State's best threat. Your thoughts?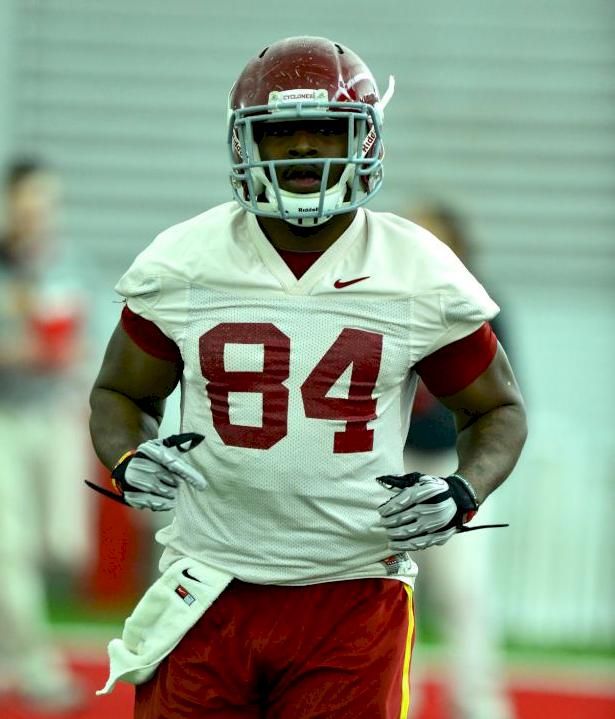 Williams: I love the twin tight end set – been talking about it a lot as of late too. I asked Sam Richardson what he thought about it last week and his eyes lit up like mine during Wrestlemania. Quarterbacks love tight ends, especially young quarterbacks. It makes their life much easier. I think that Iowa State has two tight ends that could cause some major problems for defenses down the road. We know that Brun can do. As for Bibbs, if Oklahoma wanted him that's good enough for me.
Let's look ahead to the weekend Blum.
The Final Four begins on Saturday. Let's make some picks.
We've got Wichita State vs. Louisville and Michigan vs. Syracuse.
In game one, give me Louisville. No question's asked. The Shockers time has come to an end.
I don't want to be "bracket guy," but yours truly did have Syracuse going to the Elite Eight. I'm a big fan of this team. (Full disclosure – I also had Michigan AND Wichita losing in the first round – what a genius). Give me the Orange.
Title game – This is Rick Pitino's world. The rest of us are just squirrels attempting to find nuts.
And last but not least, I've got two Wrestlemania predictions for you. John Cena avenges last year's loss to The Rock (possibly a heel turn too?) and my main man CM Punk ends the Undertakers 20-0 streak.
(Microphone dropped).
Blum: Honest question, at what age are you legally not allowed to actively follow the WWE? You are pushing 30, I think we need to have an intervention. IT'S STILL REAL TO ME DAMMIT!!!" That said, I admire your passion. 
As for the Final Four, unless Greggggggggg Marshall's glasses have some sort of x-ray intimidation power, I don't see how that game is close at all. Speaking of WWE, Marshall would make the perfect wrestling manager. He has that Scott Drew/Tom Crean used Xerox salesman look about him. Louisville 72, Wichita State 55.
I also like the  Orange over Michigan. They have so much length in the guard court which makes their zone appear to be an Octopus. The wrong team is favored here. Syracuse 71, Michigan 62.
As for the final, I know it is boring, but Louisville has already defeated Syracuse twice and is accustomed to their Octopod defense. Too much firepower for the Ville. Louisville 69 Syracuse 58. 
And somewhere Mike Rice throws a basketball in anger just because.