By Chris Williams and Brent Blum of CycloneFanatic.comFollow the guys on Twitter @ChrisWilliams and @BrentBlum 
CycloneFanatic.com's Publisher Chris Williams and Columnist Brent Blum debate an array of topics surrounding Iowa State athletics and so much more. 
Williams: Happy Friday Blum. It's been a while since we've "debated." I cannot put into words how much I'm looking forward to solving the world's problems with you today.
This weekend will be a busy one in the world of sports. Iowa State's football team will hold its first real scrimmage of the spring tomorrow. Of course there's the Final Four. Who can forget Wrestlemania coming up on Sunday?
Excited yet?
Before we touch on any of those topics, I want to get your opinion on Royce White going pro. Yes, this is a little bit delayed but you're a certified NBA nut job. You watch more NBA games in one season than I have over the last 10 years. Good move? Bad move? Please Brent, enlighten us with your thoughts?
Blum: I've missed these debates more than Chris Brown has missed Rihanna. Which I think is a lot, but you never know with those two. Never an offseason in the world of Cyclone Fanatic.
I think it was absolutely the correct move for Royce White to go pro. He is clearly an intelligent individual and had many wise advisers in the Iowa State offices to give him the best advice. His "stock" was never going to be higher than it was after the landmark weekend he had in Louisville against UConn and Kentucky. As Fred Hoiberg said during the Royce presser, he went toe to toe with the No. 1 pick (Anthony Davis) and out-played the likely No. 2 (Kidd-Gilchrist) No. 4 (Andre Drummond) and No. 11 (Terrence Jones). NBA people love to see how you do against NBA competition – brilliant strategy I realize. He also declared before anybody else, which elevated his status immediately and therefore didn't get lost in the rush of players declaring over the next 10 days.
The thought from a lot of folks is that Royce should have come back to "improve his game" and thus his draft position. It's a logical idea, but I disagree. He already has one elite NBA skill – passing and two above average NBA skills – ball handling and rebounding. His jump-shot is obviously a weakness, but there are plenty of dudes in the NBA who like to shoot. He will be a perfect fit in his first year as an energy guy who comes off the bench, spreads the floor with his driving ability, makes a good pass and rebounds. An extra year at Iowa State would not have enhanced those qualities.
Chances are he will end up in the 15-25 range, which would mean a likely playoff team from the year prior. All he will have to do is fill a role and he will be great at that. And there is plenty of down time in the NBA to work on that jump-shot of his. I can't wait to see where he ends up. NBA Draft Night is to me what Wrestlemania is to you…get out the popcorn!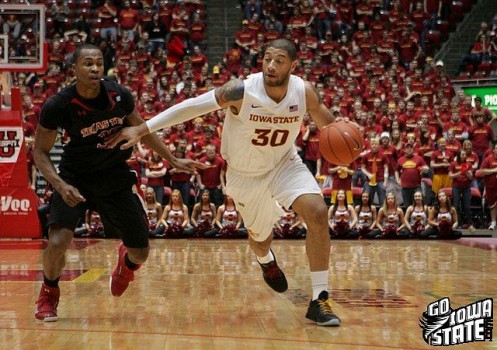 Williams: I agree with you 100 percent about Royce. If he would have come back next year, his jumper wasn't going to go 180 on us. It's a proven fact that the two statistics that translate to the NBA in generally are assists and rebounds. Royce will be fine and I can't wait to have a second favorite team to root for. In fact, there's a good chance that I'll watch where Royce ends up more than my Bulls next year.
Anywhoo, there's really no need for us to discuss this subject much more. It's been beaten worse than what The Rock will do to John Cena this Sunday in Miami. I just wanted to get your take because you're our resident NBA Draft guru here at CycloneFanatic.com.
Okay Blum. Iowa State will have its first real spring football scrimmage of the season tomorrow. I know that it is tough for some people to get into, but I LOVE spring football.
Yes – It's the same thing every year. Optimism is high. Coach speak is unavoidable. Nobody seems to say anything critical about anybody and when it's over, you really haven't learned anything about anybody. I can just about guarantee you that we won't know Iowa State's starting quarterback when April 14 rolls around…
BUT, the thing I love about it is 1) digging up who's looking good/not so good (Trust me. You have to DIG. Information is not easy to come by.) and 2) watching the two-deeps develop. We all saw last year how important depth really is. Take the offensive line for example. Iowa State's two best linemen (Kelechi Osemele and Hayworth Hicks) were banged up all season long. The right tackle (Brayden Burris) missed the majority of the season due to a broken leg. Ethan Tuftee messed up his knee and because of depth, somehow/some way, Iowa State was still able to win football games.
The geek in me gets excited over that sort of thing. It's tough to ask Paul Rhoads about a fifth string freshman running back during the season but when spring ball rolls around, it's fair game.
So there's my take on spring football. Where do you stand Blum?
Blum: It's tough for me to get overly fired up about spring football. I have been burned too many times in the past by the Jason Harris' and the Sedrick Johnson's of the world to get too jacked up about spring results. But over the years the spring game has provided a window into the future. Last year, Aaron Horne was a spring revelation and that held firm in the fall as well. I also remember seeing Seneca Wallace for the first time at a spring game and being wowed. Darren Davis also dominated spring games like a 6th grader dominates the 4th graders on the playground.
There are some things you can get from the spring and it is awesome to have football back.
The quarterback battle is going to be a story until Steele Jantz graduates I'm afraid. He's not going away. And neither is Jared Barnett. I think it is a healthy problem to have because both have their unique traits and both have proven they can win games in the Big 12. Rhoads has always been a one quarterback type of guy though, so one will emerge the starter come the Tulsa game in September. But regardless who it is, the fans eagerness for the other will not be far behind. Might as well embrace the quarterback controversy hysteria, because it is not going anywhere. Am I right?
The several guys I am most excited to see are: 1. Devondrick Nealy 2. Quenton Bundrage 3. Jansen Watson 4. T.J. Mutcherson. I will be honest, I don't know much about Mutcherson, but I can't wait for him to have a Jake Knott-type big hit and John Walters to fire up a, "That was a TJ Muthcer-Chop!!"
Make it happen Johnny Jams, we all believe in you.
Is it odd, yet refreshing to you that the majority of Iowa State fans now expect a bowl game? It's amazing the change in mentality in such a short time span.
Williams: I wrote about that in my mailbag yesterday. Somebody asked me what expectations should be for Iowa State football going forward. I think that a bowl game should be the expectation every year. If Rhoads could lead last year's team to the postseason with that schedule, anything is possible.
Your description of the spring game reminds me a lot of the Capital City League and basketball. How much can you learn?  Not a ton but I do know that Melvin Ejim looked very good the summer before his freshman season. Eric McKnight? Not so much. Despite what many want to believe, there is a parallel.
You're correct. The quarterback competition isn't going anywhere. Nothing will be decided this spring. It will go into fall camp. Rhoads will name a starter and the first time that guy throws a pick or turns the football over, our message board will light up calling for the other guy. And then Sam Richardson will enter the conversation. This isn't an "if" situation Brent. It's "when."
Every quarterback in modern day Iowa State football has been benched by the fans…
Austin Flynn…People wanted Bret Meyer…Bret Meyer, people wanted Austin Flynn and eventually Austen Arnaud. Austen Arnaud…How about Jerome Tiller? Jerome Tiller to Steele Jantz, to Jared Barnett and here we are now…
You touched on something about Jantz that intrigues me as well. He's like the guy in the old Austin Powers movie that just won't die. He's too confident. Too talented. For every play that makes you scratch your head to baldness, a brilliant Steele Jantz improvisation will put a smile on your face.
Jantz is to Jared Barnett what Tim Tebow is to Mark Sanchez for the New York Jets. He's a talented backup that isn't content with being a backup. A lot of guys are happy with that role. Not Tebow. Not Jantz. Both of those men will push the starters to the max and that's a good thing. Jared Barnett's game will have to escalate because of it.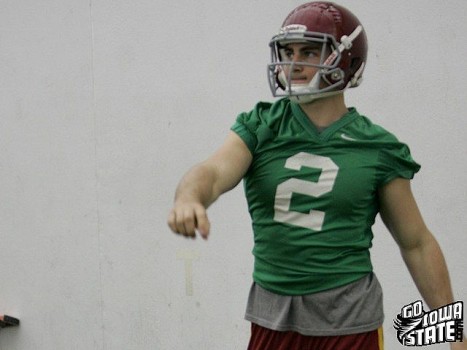 Blum: The dude (Mustafa) in Austin Powers that wouldn't die is none other than everyone's good pal Will Ferrell!
Mustafa: "I'm glad you found me. Listen. I'm very badly burned, so if you could just– [a gunshot fires] You shot me! Dr. Evil: Okay, moving on. Mustafa: You shot me right in the arm! Why did–"
What a comparison. I think we should refer to him as "Mustafa Steele Jantz: The man that will not go away." That's a compliment of course.
It just dawned on me that we are in the middle of an era that featured two of the most eclectic and dramatic players in Cyclone history with Steele Jantz and Royce White. Has there been anybody in the 10 years since Seneca Wallace that has generated more buzz and conversation than those two?
Just for kicks and giggles, here is my short list of most buzz-worthy Cyclones of my lifetime (Keep in mind: buzz worthy does not necessarily mean best.) :
1. Jamaal Tinsley
2. Seneca Wallace
3. Royce White
4. Troy Davis
5. Steele Jantz
The amount of theatrics and chatter Jantz and White created in less than a year is pretty astounding. Heck Jantz had three of the most unbelievable plays I've seen at Jack Trice in a two week span against UNI and Iowa. And we all know about Royce's theatrics. Both have/had a "hold-your-breath" quality that is rare and fascinating.
Wow, I got way off track there! My apologies.
Williams: I can't decide of the amount of research you just did regarding that Austin Powers nugget is appalling or just plain awesome?
Onto our weekend predictions. You go first.
The Final Four —
Kentucky vs. Louisville
Kansas vs. Ohio State
Wrestlemania — 
The Rock vs. John Cena
Go!
Blum: I have issues Chris, I would go with appalling.
Kentucky vs. Louisville: If Louisville wins, some are saying it'd be one of the biggest upsets in Final Four history. Whoa, whoa, whoa, slow down a little over-dramatic sports commentator guy. They played already this year and UK won a hard fought game by seven at home, not exactly a huge mismatch. Kentucky is the favorite for a reason, but Louisville is the best defensive team they've played in the tournament. They are going to have work hard on offense to get points and Anthony Davis may be nursing an injury. Kentucky still wins, but if I was in Vegas give me some Cardinals at +9. Kentucky 67 Louisville 62.
Kansas vs. Ohio State: This game rides on Mr. Tyshawn Taylor. He is as erratic as a pop star. If he plays well, I think KU pulls this off. Ohio State has been more consistent all tournament and I trust them to bring a steady effort. But gotta go with Bill Self and company to get it done in a dynamite night-cap. Kansas 72 Ohio State 68.
Wrestelmania: The Rock is still wrestling? Doesn't he have another kids movie to make? I figured he'd be making "Tooth Fairy: The Sequel" by now. I have a hard time thinking they'd let him beat Cena. But asking my predictions on wrestling is foolish. Here's my prediction: lots of cheap beer will be consumed at the Williams residence during Wrestelemania.
That's a lock right there!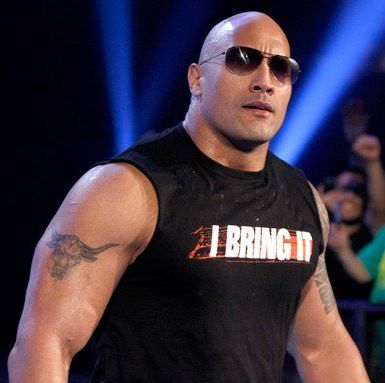 Williams: Wait a second Blum….
When you write, "I have a hard time thinking they'd let him beat Cena," you make it sound like these matches are staged or something…
I keed. I keed.
And instead of going with cheap beer, just go ahead and say Busch Light. I'm still working on getting an endorsement deal for the good stuff!
But I agree with you. No way does The Rock come in and wrestle for the first time in nearly a decade and knock off the face of the WWE. Give me Cena.
Kentucky vs. Louisville: I find it interesting that Kentucky is a 9-point favorite in this game but was only favored by 12 over Iowa State…Vegas respected Iowa State in that one. I agree with you about Louisville and because of that, I'm going with the upset here, just because it is what I want to happen. That and I think there might be something to this win the Big East Tournament/win the national title thing…For this to go down two years in a row is more than a coincidence in my opinion. Something is up. Louisville 71, Kentucky 69
Kansas vs. Ohio State: This one is a toss up. You're right about Tyshawn and Ohio State's consistency. I really don't have anything else to add. My head says go with Ohio State. Heart says Kansas. I'll go with my heart for both Final Four games. Rock. Chalk.