By Chris Williams & Brent Blum of CycloneFanatic.comFollow the guys on Twitter @ChrisMWilliams & @BrentBlum 
Every Friday during the college basketball season, our Chris Williams and Brent Blum go back and forth on a variety of Iowa State and Big 12 related topics. Enjoy.
Williams: I pose a simple question to start things off today Blum. If I would have told you that Iowa State would win one of two in the state of Oklahoma during this swing last Friday, would you have taken it?
Blum: Considering Iowa State was an "underdog" in both games, I definitely would have taken it. But it leaves a sour taste losing the 2nd part of the Oklahoma roadie. The Cyclones didn't play their best against the Cowboys. It was a game that was there for the taking–the crowd was non-existent and Oklahoma State came out flat. The fellas cruised to a 9-1 start, but then got a little lax on the defensive end for a good portion of the rest of the evening.
The Cowboys came in shooting a Big 12 worst 41 percent from the field, and Iowa State allowed them to shoot 55 percent in the second half. Give Travis Ford's club some credit, they executed and found some great looks and also made a lot of contested jump-shots. The Cyclones have the weapons on offense to make a run in March, but the defensive end of the floor is just as key. And that's what cost them on Tuesday night. Are my concerns of the defense legit? Or should I pipe down?
Williams: I think that with this team, concerns on defense will always be "legit" and I'm sure it is something that Fred and the staff preach every single day to this group of talented players. It's been this way all season long. On that end of the floor, the Cyclones are consistently inconsistent.
Like the effort a few weeks ago in Austin, Wednesday night's performance really didn't bother me though. There's something to the fact that in both games, Iowa State didn't play well at all and damn near won the thing at the end. Sure – Both were there for the taking. Both are games that when the NCAA Tournament rolls around, fans will look back as ones that "could have been." But you can also say that about Missouri and Kansas too. This happens. This Iowa State team is crazy-talented, but it also isn't up there with the Kentucky's and North Carolina's of the world.
I see it as a major positive that even when the Cyclones are playing sub-par ball on the road, they still have a shot to win games in the final seconds. That's progress. I'm not a moral victories guy, but I do understand how college basketball (specifically like on the road) works.
This team will be just fine. I caution fans to not overreact to Wednesday's loss.
So Blum – You had to know this was coming. You love officials. You also know me well enough to know that I'm not the type who rides officials very often. But those technical fouls on Wednesday night, both of them, were a joke man. Come on. You can't defend that can you?
Blum: Oh boy, you bringing up the refs was as easy to predict as a Ron Artest name change. And yes you are always very fair to the stripes. That said it is almost impossible to judge whether it was an appropriate technical or not unless you heard what either LeBryan Nash or Tyrus McGee said.
It reminds me of one of my favorite urban legends in the Big 8: Oklahoma's Billy Tubbs was upset with the officiating back in the day, so he politely asked one of the officials, "Can I get a T for something I'm thinking?" Official of course says, "No." Tubbs responds, "Good…because I think you suck." Needless to say he got "tapped."
On Tyrus' technical it appeared after he made the lay-up that he looked and said something in Cezar Guerrero's direction. It was taunting by the definition. Now, stuff like that happens all the time. But, because the arena was empty/quiet and the official was right next to the play, it almost forced his hand. Tryus' fist-pump was probably celebratory in nature, but the fact he stared at Guerrero and said something apparently was enough. It didn't help Tyrus' case that the NCAA sent out a memo to officials to clean-up some of the "unsporting" behavior within the last two weeks.
I'm not sure I make that call, but it wasn't a mysterious whistle by any means. CW, it's tough being one of the lonely defenders of officials in this world. Even my girlfriend was taunting me after the Tyrus T. A guy just can't catch a break, where's Dr. Phil when you need him?
Speaking of favorite message board topics, good to see Chris Allen carry the team for a stretch in Stillwater. Am I correct in thinking that Allen's the X factor for this team to play deep into March?
Williams: You are 100 percent correct about Chris Allen being a major key to Iowa State's postseason success. There's a reason why Hoiberg mentions this fact as often as he does. Allen's experience and ability to create his own shot (on a team where not many guys can do that) make him as valuable as any player not named Royce White down this final stretch of the season.
Having said that, Chris Babb comes to my mind. His defense is pretty darn valuable is it not?
I'm not going to elaborate any more on the Tyrus technical. I guess we can just agree to disagree on this one. But you're wrong. No, I wasn't there and no, I cannot give you a specific on what Tyrus did or did not say. There's officiating a game and there's taking over a game. Tuesday night, the officials went too far (with both technical, not just Iowa State's) in my opinion. That is all.
So Texas A&M is coming to town on Saturday Brent. The Aggies are a disappointing 3-8 in conference play but two things still scare me about this game. The first is that regardless of its opponent or venue, Texas A&M has played every team on its schedule tough (other than Iowa State really) this season. Billy Kennedy's team isn't winning, but he still has the Aggies playing hard. The second is that for the first time in weeks, Texas A&M will likely be playing with Khris Middleton and Dash Harris both in the lineup. This isn't the end of the world. Iowa State beat this team in College Station with both of those players by 24 points earlier this year. But I still think that fans need to be cautiously optimistic about every remaining game for the Cyclones, meaning that in this league, Iowa State can't just "show up" and win against anyone, other than maybe Texas Tech (that team puts a capital B on BAD).
What do you think?
Blum: Chris Babb definitely doesn't get enough props for his defensive intelligence and tenacity. But much like Tom Cruise relied on Goose, Cougar, Merlin, and Ice-Man in Top Gun, he needs some wingmen on defense. TOO CLOSE FOR MISSILES, I'M SWITCHING TO GUNS! — Can you believe that film released 25 years ago? We're all getting old.
The Texas A&M game is one of those sneaky tough affairs. The Aggies have given a good effort recently. They've lost four of their last five, but actually had the lead in the 2nd half in each of those four losses. They make you work for everything on the offensive end, holding their last five opponents to an average of 63 points–which is extremely good in the Big 12.
Their issue is trying to find any semblance of an offensive attack. They are wildly inconsistent. Elston Turner can get it going from outside and David Loubeau is still an above average post presence. Loubeau actually declared for the NBA draft last spring before returning to College Station. But lately, that's been about it. Middleton and Harris should add some punch, but trying to integrate them back into the flow after extended absences on an inconsistent offensive team will be a dicey proposition.
The Ags want to keep this a rugged half-court affair and take Hilton out of it. Iowa State is clearly the better team and an NCAA tournament team should come out on top. But as you said, unlike the Tech game, the 'fellas can't just show up and emerge victorious.
After Baylor's stink-bomb against Kansas on Wednesday, there is no reason to think Iowa State shouldn't win out at home–the Bears game included. And they have every ability to win each of the games on the road as well. Not an easy task, but like we've been saying all along, this league is very balanced. Play well and you can beat anybody.
Are you still gonna stick up for your boy Scott Drew? Or have you jumped off that flaming wagon?
Williams: Well that didn't take long.
Get ready for this Blum.
You were right. I was wrong. (massive sigh…)
I remember when I took Drivers Education back in God's Country (Clarinda, Iowa), our teacher always made the class say, "alcohol is alcohol is alcohol is alcohol."
I've got a new saying for everybody today. Say it with me now: Baylor is Baylor is Baylor is Baylor.
With Kansas' lack of umph and all of the coaching turnover in the Big 12, I really thought that this would be the year that Scott Drew and the Bears would get over the hump.
Blum – You were right. I was wrong. You happy?
Please remember one thing though. The only two teams that Baylor has lost to this year are Kansas and Missouri. That's not horrible…
P.S. – LOVE the Top Gun talk. Did you know that Top Gun 2 is set to release sometime in 2012?
Blum: Baylor is Baylor is Baylor is Baylor. Ahhhh…it rolls right off the tongue. Seriously though, how in the name of Waco do you allow KU's Jeff Withey to put up 25 points? Scott Drew said after the game, "I don't know why Withey likes playing against us so much, but he looks like an All-American when he does." I will tell you why Scott, because your disgrace for a defense  that you call a zone lets him continually catch the ball right next to the basket. The dude had a career high in the 1st half Scott, yet you stayed in the same ineffective defense while Jeff Withey torched you time and time again. Maybe that's why, just throwing out a possibility.
CW, we're reaching an interesting point in the conference with just 7 games left. Our pal Kirk Haaland mentioned this on twitter recently: if you're Iowa State, who do you want to win this weekend? A couple notable contests with Baylor @ Mizzou and K-State @ Texas. 
K-State is only a game back of the Cyclones, but has a brutal stretch of games coming up. Meanwhile, Texas is two games back but has a much easier trek over the next few weeks.
And nobody wants Mizzou to jump out to 1st in the conference in their final year in the Big 12, but a Mizzou win and an Iowa State win means the Cyclones would be tied for 3rd come Saturday night. Some interesting things to think about for sure.
Your thoughts?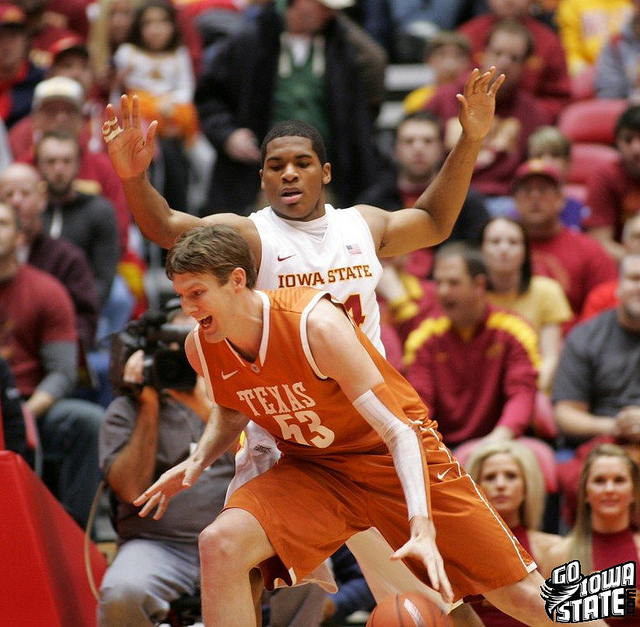 Williams: From an Iowa State perspective, Texas scares me more than Kansas State. The Horns are so young and so talented. That's a team that could get hot and make some noise when it counts. Plus, Rick Barnes is one of the best coaches in the league.
Kansas State is a tough matchup for the Cyclones but at the same time, the Wildcats don't score a ton of points.  I don't know. I just don't know.
Gun to my head: I'll pull for Kansas State to beat Texas. Iowa State still has another crack at Kansas State. That isn't the case for Texas, plus I just spelled out why the Longhorns are potentially scary down the stretch.
I'm with you on Missouri/Baylor. Really, I'm not too concerned about Mizzou winning the Big 12. Whatever. I'm more concerned about Iowa State. We saw last year that this Baylor team has the potential to CRUMBLE when things aren't going well. What have we already learned today Brent?
Baylor is Baylor is Baylor is Baylor.
Give me the Tigers and you're correct. With an ISU win over A&M, the Cyclones are a third place basketball team heading into next week.
My picks for the weekend:
Baylor @ Missouri – Mizzou
Kansas State @ Texas – Texas (goes against what I wrote above. That was with heart, this is my head)
Oklahoma State @ Kansas – Jayhawks
Oklahoma @ Texas Tech – Maybe Tech's only chance to win a game in league play. UPSET ALERT. No way Lon Kruger lets that happen though. Boomer.
Texas A&M @ Iowa State – Clones
Blum: The other outside factor here is as of today, Texas would NOT be in the NCAA tournament while K-State would be. If Iowa State limps a bit down the stretch, and the tourney has to pick between a 10-8 Iowa State team and a 9-9 Texas team….well that makes me nervous. Granted, the committee is not supposed to look at conference affiliation when deciding who's worthy, but the point remains.
Thus, we should all hope Texas doesn't win another game. As for Mizzou winning the conference, their remaining 7 games is a bit easier than Kansas'. The stretch run will be very interesting.
Onto my picks:
Mizzou 78 Baylor 71 –Steve Moore goes for 42 against the Baylor zone. (Kidding…I think.)
K-State 67 Texas 66 — K-State out-toughs Texas in a great contest.
Iowa State 69 Texas A&M 59– Cyclones will be in a battle, but too much offense for Aggies.
Kansas 81 Oklahoma State 67– Somebody posted a side-by-side of Keiton Page and a gremlin this week on CF. It was pretty spot-on.
Oklahoma 73 Texas Tech 64– Tech in serious danger of being 1st conference team to go winless since A&M in 03-04.
Bonus pick: Record of the Year at Sunday's Grammy's–Adele's "Rolling in the Deep" with a late 12-4 spurt to edge out Mumford and Son's "The Cave." And boom goes the dynamite.