Cyclone Fanatic's coverage of the 2013 Big 12 Basketball Championship in Kansas City is brought to you by Iowa Realty. Thousands of homes are for sale and Iowa Realty has you covered. To check out photo galleries, open house information and more, vsit IowaRealty.com. 

KANSAS CITY — Big time players make big time plays in big time moments. Will Clyburn is big time.
After going 1-for-4 in the first half with a measly two points to show for it, Iowa State's senior snapped out of it with 9:27 to play. That's when the soft-spoken Utah transfer hit a three to pull the ice cold Cyclones within 10. With 5:29 to play, Clyburn dropped 10 of his 17 points in a row and the rest was history as the Cyclones cruised to a 73-66 victory, their first in the Big 12 Tournament since 2005.
"He was big time," Iowa State head coach Fred Hoiberg told Cyclone Fanatic after the game. "He came to me in a timeout and said 'I'm feeling it coach.' He told me the same thing against Baylor and he doesn't say that to me much so I believed him. We gave him the ball and he made plays."
That's because as skilled as Clyburn is with a basketball in hand, he's not a boisterous individual.
Remember Royce White pumping his chest and telling America that he was the best player in the nation during last year's NCAA Tournament? That isn't how Clyburn rolls. He's a quiet guy who on Thursday, allowed the thousands of Big 12 basketball fans in Kansas City watch his game do plenty of talking – for 10 minutes at least. 
"He turned it up a notch," said fellow transfer Korie Lucious. "He got it going. He got to the bucket a couple of times and hit that big three."
In December, this wouldn't have happened. As good as Clyburn (Iowa State's leading scorer and second best rebounder) has been, he's also gotten to be known as that guy who randomly disappears – a basketball Houdini of sorts. 
It's happened all too often in 2013 but in his last three games, Clyburn has scored 20, 27 and 17. That's after he was called out by teammates for inconsistent play after Iowa State's loss to the Sooners on March 2. 
"I think it 's all about just me growing up as a person," said Clyburn. "I had a tendency of going into my shell when things weren't going right. But my teammates and coaching staff, they stayed on me. I just wanted to play hard."
During Clyburn's memorable stretch, all the Sooners could do was watch as Iowa State isolated its hot hand. It was the best 10 minutes of individual basketball that a Cyclone has played all season long. 
"We were running high ball screens and he was making plays," said Georges Niang. "He is a playmaker. That's what he does. He told us that he wasn't going to let us down and he helped us win this game."
Player of the Game
Melvin Ejim – Not a headline grabber at all, but Melvin Ejim's career-high 23 points and 12 rebounds were the reason why Iowa State was only down eight points at the half. It could have been a heck of a lot worse. 
"He is a lunch pail guy," said Niang. "Every night he brings something. He had it going on the offensive end. We were struggling early and he was keeping us in with offensive rebounds and tip backs, stuff like that."
Ejim made eight of the 13 shots he attempted. While his teammates couldn't hit a three to save their lives, Ejim's easy buckets saved the day. "Lunch pail guy" is a good way to put it when describing the undersized Ejim against Oklahoma's massive frontcourt.
"He's out there playing with a bloody lip that entire second half and swallowing blood, which can't be fun," said Hoiberg.
He wasn't the most extravagant player on the court for Iowa State, but Melvin Ejim was absolutely the most valuable.
THREE UP
Korie Lucious – It wasn't this senior point guard's best game of the season, but boy did Lucious step up in a leadership role.
"He actually came over to me – this is huge for a leader to do this – and said, 'You stay with those guys out there on the floor,'" said Hoiberg of his senior point guard. 
That's because when Bubu Palo checked into the game, Iowa State started rolling. The Cyclones held Oklahoma without a field goal for the final 7:42 of the game, outscoring the Sooners 25-6 along the way. 
"I am a team player and I am just trying to win really," said Lucious. "Bubu came in and gave us great minutes. I feel like he was a big reason why we did win the game. He played great defense. I told him that because I felt like the team that was in, they brought us back and don't put me in just because I am the starting point guard."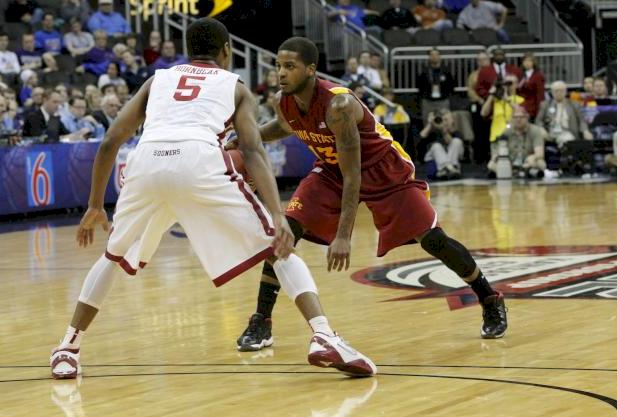 Rebounding – The Cyclones out-rebounded a much bigger Oklahoma team 43-31. Ejim led the way with 12 of them, five on the offensive end.
Second half shooting – After a disastrous 1-for-12 mark from 3-point range in the first half, Iowa State rebounded to make five threes in the second half. It wasn't perfect, but enough to get the job done along with some defensive stops. Altogether, Iowa State shot 50 percent from the field in the second period. 
"It's frustrating because we are shooters," said Tyrus McGee, who went 1-of-6 from long range. "We have a lot of confidence in ourselves."
Clyburn, Niang and Chris Babb all hit two threes a piece in the win. Iowa State ended the day by going 7-for-26 from beyond the arc. It marked only the 12thtime this season that the Cyclones have made 10 threes or less. 
THREE DOWN
First half – Everything about it stunk. Shooting. Rebounding. Energy. Name something.
The Cyclones came out of the gates a lot like they did in its loss to the Sooners in Norman two weeks ago. Making 8.3 percent of its threes in one half of basketball is very un-Iowa State-like.
To only be down eight at the break was a minor miracle in its own right.
Lon Kruger – Oklahoma's head coach is now 1-4 while going up against his good friend Fred Hoiberg.
None – You know the rule.
Up next for Iowa State is a date with either Kansas or Texas Tech (don't kid yourself – it will be Kansas) on Friday at 6:30.