After Iowa State's week in Kansas City at the Big 12 Championship, here are 10 pre Selection Sunday thoughts on Cyclone hoops.
Before I begin, does this picture taken by our Matt Van Winkle not sum up Friday night's game perfectly?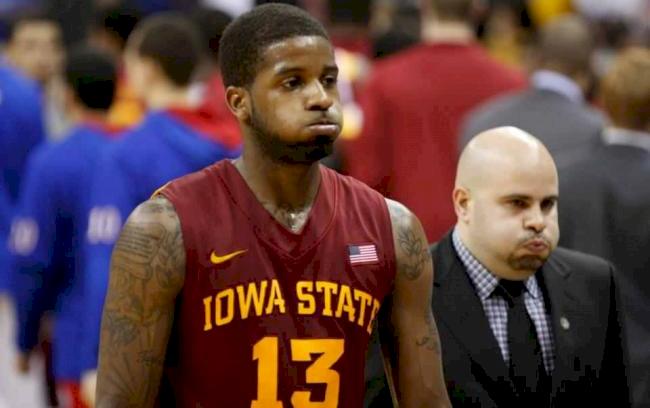 10 – I'll start with some positive. Watching Georges Niang take it to a guy who might be the best big man in the country, Kansas' Jeff Withey, was an absolute pleasure. Niang gets a lot of praise on this website and rightfully so but I'll go on record to say that he is undervalued by this fan base as a whole. On the biggest stage that Iowa State has played on all season long, it was a true freshman that stepped up the most.
Prediction: Niang will score 1,800 points or more in his career at Iowa State.
Talent, drive, IQ, you name it. Niang has it all. The "kid" is the total package.
9 – Was Kansas' Kevin Young getting injured early on Iowa State's kiss of death on Friday night?
When Young is on the floor, you really don't need to guard him. Perry Ellis? Yeah…He was a five-star out of high school. Ellis going 10-for-12 and scoring a career-high 23 points shouldn't have shocked anybody.
When you're limited on defense like Iowa State is, you have to play percentages. You've got to help on Withey and we've all see what happens when Elijah Johnson and/or Ben McLemore get hot. 
Point: If Niang and Melvin Ejim pick up fouls early, life is tough on Iowa State. Very, very tough. There's just only so much that those guys can do. 
8 – After I get done writing this blog, I'm going to go play my PS3. I can only hope that I can play whichever game I decide to fire up as well as Bill Self plays Big 12 officials. That man is pro don't you know?
7 – Even Kansas' mascot is arrogant.  
6 – A lot of talk on the boards (and rightfully so) about Korie Lucious' struggles as of late. As I tweeted during last night's second half, something appears to be "off" with the senior point guard. Maybe a nagging injury of some sort? Maybe not. Mentally, Lucious was in both games over the weekend. Physically though, he did go 2-for-18 from the field in Kansas City. Iowa State can't beat big time teams with its point guard playing like that.
5 – As of Saturday afternoon, ESPN.com's bracket man Joe Lunardi has moved Iowa State up to a 9-seed in the NCAA Tournament. Lunardi has Iowa State facing Missouri in Philadelphia and Duke in round three. Yes – Lunardi moved Iowa State up in his seeding after losing to Kansas. So if you're still flipping out about the loss to Kansas, don't. Iowa State didn't lose anything other than a game and a shot at revenge last night. It's also worth noting that Lunardi had Iowa State as a 12-seed on Wednesday afternoon. The Oklahoma win was huge to state the obvious. 
4 – Going into Friday's semifinal, my thought was that Iowa State was in a win-win situation. Win and you beat Kansas and are playing for a Big 12 Championship. Lose and be a 10 or 11 seed, which in my opinion is a way better situation than sitting on the 8-9 line, again. However a lot of those other "bubble" teams are losing this week. That's classic Iowa State luck right there. In the one scenario where losing might not be a bad thing, it might still turn out to be a bad thing. Go figure.
3 – Your good friend Jerry Palm over at CBS has Iowa State as a 10 seed meeting you know who, Mr. Greg McDermott and Creighton in the Big Dance.
No. Please God. No.
2 – While I'm asking the Big Man for favors, how about avoiding the Iowa State – Colorado State (Larry Eustachy) matchup as well?
It isn't that I fear Iowa State's two former coaches, it's more just that I don't like those matchups at all for the Cyclones. 
1 – Happy St. Paddy's Day everybody! I'm going to crack open an iced cold Busch Light to celebrate.