Cyclone Fanatic's coverage of the 2013 Big 12 Basketball Championship in Kansas City is brought to you by Iowa Realty. Thousands of homes are for sale and Iowa Realty has you covered. To check out photo galleries, open house information and more, visit IowaRealty.com. 
KANSAS CITY – Electric atmosphere. Check.
Two teams (and fan bases) that don't much care for each other. Check.
Meaningful postseason basketball on a beautiful 80-degree day in Kansas City's Power and Light District. Check.
Drama. Check.
Add a sold out Sprint Center to the mix and this one had all of the makings to be an instant classic.
And then the game started.
In the final chapter of Iowa State and Kansas' bizarre series of basketball in 2013, the Cyclones were out-hustled, out-shot and straight up out-played by the grainy seventh-ranked Jayhawks in a deflating 88-73 defeat.
"They're a big, strong team," said Melvin Ejim. "They were able to get the loose balls, loose rebounds, and that was a big part of why we lost."
One Kansas possession midway through the second told the story of this entire game. A Will Clyburn three with 9:24 to play cut Kansas' once 16-point lead to 10. A simple stop followed by a make could have put the Cyclones right back in the game. Iowa State got that stop. The Cyclones got three stops in fact. However, the Jayhawks got four offensive rebounds in that single possession.
The closest that Iowa State got from there was nine points. 
"I thought they got the loose balls tonight and that's disappointing," said Fred Hoiberg. "They just – the ball would bounce off us and they'd get it, go right up, layup, or 3-point play. You've got to have good, physical, strong cutouts against a team with that type of length because if you just try to jump with them, they'll go over your back and get it and get second-chance opportunities."
Physical is the key. Kansas was physical. Very physical. Iowa State was not. 
"They were letting us play for a little while," said Georges Niang. "They weren't calling much and that's how you like it as a basketball player. You can't complain."
The story of Iowa State's win over Oklahoma was an intense stretch of defense played over the final eight minutes of the game along with an amazing run of basketball by Clyburn. Both stories were anything but the case in this one as Kansas shot 69.2 percent from the field in the second half and Clyburn tallied only eight points on 2-of-8 shooting. 
Player of the Game
Georges Niang – Iowa State's freshman was the lone bright spot in the loss. Time after time again, Niang went hard at Kansas' Jeff Withey with no fear at all. Niang led Iowa State with 19 points while going 8-of-14 from the field.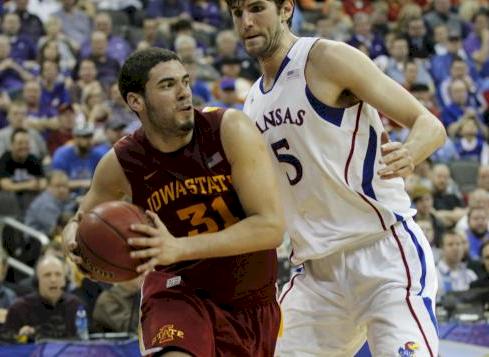 Three Up
Clones are in – Despite the loss, Iowa State still had a pretty decent weekend in Kansas City. Remember that on Thursday morning, the Cyclones were an NCAA Tournament bubble team according to most "experts." 
After a quarterfinal win over Oklahoma, that is no longer the case.  The Cyclones are in – no doubt about it.
"We took a step in the right direction for this program," said Niang. "We broke that seven-year losing streak. We expected to win this game so we're disappointed that we didn't so we expect to come back next year and make it further."
Heading into Friday, most projections had Iowa State listed as a 10 or 11 seed in the Big Dance. Come Selection Sunday, nobody should be sweating in Ames. 
Atmosphere – If there is a better conference tournament atmosphere in America then what fans saw on Friday in Kansas City, I'd like to see it. Friday's session of games packed the Sprint Center with a record 19,116 fans.
Melvin Ejim – Became the 30th 1,000-point scorer in Iowa State history with his 17 point night. 
Three Down
Seniors – Iowa State's five seniors combined to go 12-for-39. Specifically, Will Clyburn and Korie Lucous combined to go 4-for-18.
Rebounding/turnovers/no stops – Kansas out-rebounded Iowa State 40-30. The Cyclones also committed 14 turnovers to only 10 assists. Both were stats that Hoiberg was quick to point out in postgame interviews. 
"We really felt we had to win the rebound battle if we were going to have a chance to win this game," said Hoiberg. "It's what kept us in it the first couple times."
Iowa State finally got its offense rolling midway through the second half but that wasn't really the issue. Kansas scored on an amazing 15-of-18 second half possessions, making even the thought of a comeback nearly impossible. 
"You just can't allow that and still have a chance to beat a great team like this," said Hoiberg. "I think we hit eight out of nine at one point, but we just couldn't find a way to get enough stops to get over the hump. 
Perry Ellis – For the third time this season, a Kansas Jayhawk rattled off a career-high against Iowa State. Freshman Perry Ellis converted on 10-of-12 shots to score 23 points in KU's win.
"He got his confidence going," said Hoiberg. "Hit a couple of jump shots. We were going to live with those, with him and Traylor and Young shooting them, but that got him going, got his confidence up."
Kansas' starter at the four, Kevin Young, got dinged up early on and only played eight minutes in the game. Ellis obviously stepped up in a major way. 
JOTTINGS
*** Kansas picked up two technical fouls in the first half. One was on head coach Bill Self, who was furious after Ben McLemore was T'd up for taunting Iowa State's bench. 
"I was surprised that Ben McLemore got that technical," said Iowa State's Niang. "He does that every time that he makes a three."
*** Bill Self on his technical foul…
"I could have got one 10 minutes earlier' would have saved me a lot of embarrassment. I didn't agree with the technical call on Ben at all and certainly didn't agree with the explanation. But John called it, and I should live with it probably more than what I did. But the thing that – I acted like an idiot, I know."
*** Elijah Johnson on the "tension" leading up to this game…
"Of course you feel the tension. But we know that we're a big target regardless of who we play every night. And that's the type of program that we're playing for. That's what's on our chest. So we expect that from everybody, not just Iowa State." 
*** Kansas' bench outscored the Cyclones 37-16.