On National Signing Day 2012, Iowa State's defensive tackles coach Shane Burnham was flat-out giddy. Burnham saw loads of potential, nastiness (a good thing) and future victories in store with the young group of defensive linemen that Iowa State's coaching staff was able to attract to Ames.
Now that Signing Day 2013 is behind us, it is time to start looking ahead to the actual season that will kick off in August.
I come today with some good news, as well as some not so good news. The good is that this trio of defensive tackles, Pierre Aka, Collin Bevins and Devlyn Cousins (all three redshirted last season), are without a doubt going to play next season as redshirt freshmen.
The bad news is that Iowa State's interior defensive line is going to be forced to play with three redshirt freshmen heavily in its rotation. Soon-to-be senior Walter Woods and junior Brandon Jensen (neither have ever started a game) are the only returning Cyclones with any experience at all at defensive tackle. (It's worth noting that Woods and Jensen each recorded eight tackles a piece during the 2012 season.)
"The last thing I did before I walked out of the Liberty Bowl was went and found those three kids and told them that they are no longer freshmen," Shane Burnham recently told Cyclone Fanatic. "They are going to play next year whether they like it or not. They will be on the field. Whether I like it or not, they are going to be on the field. It's time to go."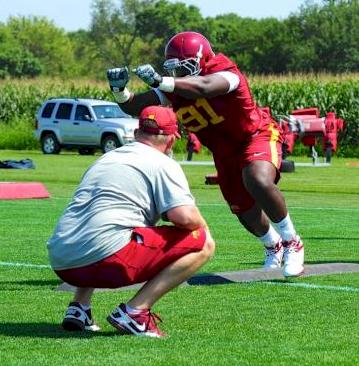 Above: Pierre Aka during the first practice of fall camp, 2012. (Photo by Luke at KL6PHOTO)
That much youth up the middle is a scary thought in the always-tough Big 12 Conference but an exciting one too. As Burnham puts it, these youngsters have a higher base-line than outgoing seniors Jake McDonough and Cleyon Laing did at that young age.
"What you see are guys who are dang near as big as what I have been playing with and I think more athletic," said Burnham. "When I started with Cleyon, he was a 260-pound defensive end coming over but had never played inside. Jake was at 240 when I got him and as it is well documented, Jake is not the most athletic kid in the world. He is better now but he was not the most athletic kid. And then there's Henry Simon, who came in at 290 pounds but he was so out of shape that first year when we got him late and he never got in shape. I think what you've got with these guys are bodies that look the same."
Development
The first time that Burnham ever saw Pierre Aka in person, he weighed 245 pounds. During his redshirt campaign, Aka transformed from a lengthy defensive end to a 285-pound athletic tackle. 
"He's lean," said Burnham. "He's starting to pop. He has muscles popping out of his shoulders."
Bevins, a Creston native, is near the 270-pound mark right now.
"Bevins reminds me body type – he is Jake McDonough – that frame," said Burnham.  He is up to 266 right now or 270. He probably won't play higher than 280." 
McDonough played his senior season at 285 pounds.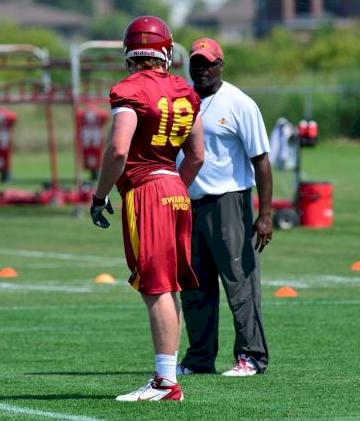 Above: Collin Bevins during the first practice of fall camp, 2012. (Photo by Luke at KL6PHOTO)
Iowa State experimented with Aka and Bevins this past fall, playing the pair at defensive end for half of the season and at tackle for the other half.
"We tried to develop a little bit in pass rush and playing out on the edge in space and spent half of the year inside letting them get beat on and banged on and thought that was the best way to go about developing their toughness and developing their ability to rush the passer by putting them on the edge some," said Burnham.
According to Burnahm, there's no doubt that Cousins, who currently weighs 290-pounds, is a nose guard.
"Devlyn is a true nose guard," said Burnham. "What you like about him is that he is 290 and soft. He has the worst looking body of the three because they other two are really lean. Devlyn is probably the most explosive off of the ball. He has the most twitch." 
Iowa State's defense is about to enter uncharted waters for the Paul Rhoads era. After fielding a defense rich in experience the last two seasons, 2013 will be a different sory. 
"We're green and we're raw as an egg inside right now. We've got to build a callus on those kids," said Burnham. "It's exciting because you don't know what you have right now. There were some knowns over the last couple of years. Go back to 2010. All of the kids that were playing this year were playing back in 2010. We're excited to see what we've got. I guess you earn your stripes as a coach when you've got young talent and you try to get them to perform."
The "knowns"
Ready or not, the pressure is on senior Walter Woods and junior Brandon Jensen.
"What Brandon is – is he has that edge to him," said Burnhanm. "What Brandon is not right now is he's not very strong." 
That means that Iowa State's new football-only facility opened up at the perfect time. 
"This has got to be the offseason of his Iowa State career," said Burnham. "He has got to make huge strides." 
Chances are, he'll do just that. Jensen, an Ankeny product, is known as one of the harder workers on Iowa State's roster.
"It's never been a work ethic thing with him. He's been growing," said Burnham. "Again, it's a kid who came in at 250 and was 300 pounds last weekend when I saw him. We've just got to keep getting him stronger."
The Coe factor
Iowa State was able to sign one reinforcement yesterday who will likely make some sort of an impact on the defensive line in 2013. That man is Rodney Coe, a 6-foot-3, 285-pound defensive end out of Iowa Western Community College. 
Coe's body is without a doubt Big 12 ready which brings me to the following question. He's listed as a defensive end, a position where Iowa State has a lot more depth than at tackle. Will Coe eventually move inside?
Stay tuned. 
The sleeper
Here's a name that you probably haven't heard of that you mentally should take note of right now. 
Austin Krick, redshirt junior walk-on out of Clinton.
"He is going to play ball for me," said an enthusiastic Burnahm. "I am excited. I can't wait."
Burhnam said that Krick is up to about 272 pounds.
"Austin Krick is undersized but he will play," said Burnham. 
JOTTINGS
*** Some good news regarding Iowa State's two returning upperclassmen at defensive tackle…
"Brandon if you flashback to 2010, he played more snaps this year than McDonough or Cleyon played as redshirt sophomores," said Burnham. "If you go back, you see he is more experienced coming out of his sophomore season than Jake or Cleyon were."
*** On redshirt freshmen Mitchell Meyers, who will be a defensive end…Think Patrick Neal but more advanced at a young age… 
"Blue-collar," said Burnham. "He's not going to wow you with his athletic ability. He has really good feet, good hands and a great motor."