AMES — Live by the three, die by the three. That is Iowa State basketball in 2013 right?
Incorrect. 
On a rare night when Iowa State couldn't seem to buy a 3-point bucket in the friendly confines of Hilton Coliseum, the Cyclones were forced to find another way to get the job done. 
Iowa State's answer was one Will Clyburn. 
The soft-spoken senior went off for 28 points and 10 rebounds as Iowa State (14-7) improved to 5-3 in the Big 12 with 79-71 win over the talented Baylor Bears (15-6, 5-3). 
"When the shots weren't going down, he said 'Give me the ball.' We gave it to him and he made plays," said Iowa State head coach Fred Hoiberg after the game. "It's a great sign. Great teams find a way when your shots aren't falling. We found a way tonight."
Iowa State entered Saturday as the Big 12's top 3-point shooting team averaging 9.3 treys per contest. The Cyclones went 0-for-10 from behind-the-arc in the first half and ended the game making only 4-of-24 from downtown. The Cyclones scored 36 points in the paint and for a span midway through the second half, everything that Clyburn touched turned to gold. 
"He just backed up," said Baylor coach Scott Drew. "We guarded him at the 3-point line and I think he went to the NBA and beyond line." 
Clyburn made three of Iowa State's four 3-pointers in the win.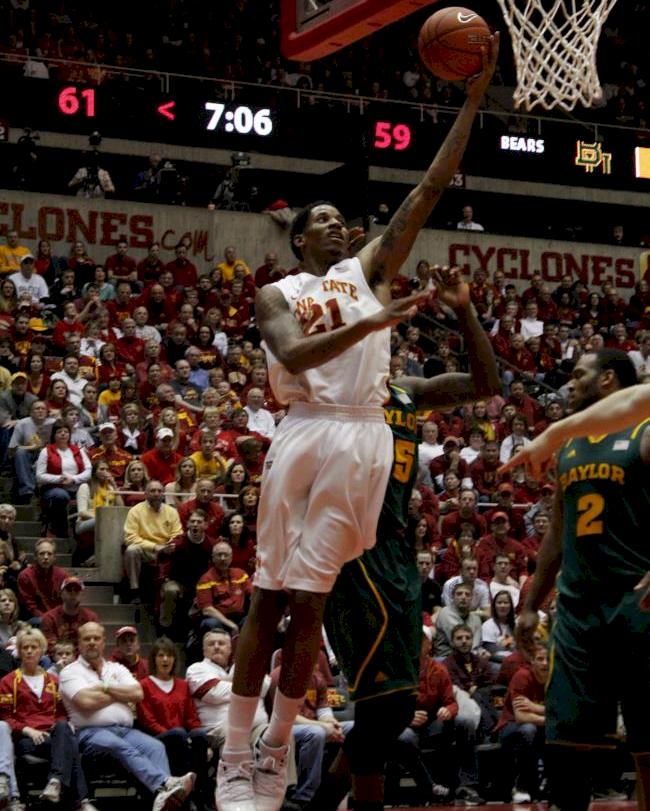 Player of the Game
Will Clyburn – If there was any question at all heading into this one, there shouldn't be now. Clyburn, who leads Iowa State in scoring at 15.0 points per game and is second on the team in rebounding at 7.6 per game, has worked himself into the first-team All-Big 12 conversation. 
"Just being aggressive and taking what the defense gave me," said Clyburn of his performance. "My teammates were trying to find me and trying to get me open. That's basically what it was."
Three Up
Versatility/rebounding – An important Fred Hoiberg quote from postgame…
"We thought if we could win the battle on the glass that we could win this game."
Iowa State did just that – with the Big 12's leading rebounder, Melvin Ejim, only playing 14 minutes due to foul trouble. Out-rebounding the lengthy Bears is one thing. Doing it by a 39-35 ratio without Ejim (who is averaging 9.4 rebounds per game this season) for well over half of the contest is another. 
The Cyclones were able to do it due to versatility. Take Clyburn (yes him again) for instance. When Ejim went out, Clyburn slid over to the four where he faced the chore of face-guarding Baylor's 7-foot-1 future lottery pick Isaiah Austin. 
"He stepped right in and guarded Austin really well," said Georges Niang, who scored 17 points in the win. "I just think that we have a bunch of guys here that are willing to grind out wins and if someone scores 30 points or someone scores four points, we all want to win really bad and we just keep on grinding wins out."
"He (Clyburn) did an excellent job on him (Austin). He's long," said Hoiberg. "I'll say this. Will, when he was sitting out last year, was a guy who actually gave Royce (White) problems by guarding him and going out and fronting him and staying in front. Will is a very lengthy player. He does a good job of slithering around in front of those guys and we've gotten some good minutes lately with Will at the four."
Twelve of Iowa State's rebounds came on the offensive end, resulting in 11 second chance points. 
In addition to Clyburn's 10 boards, Ejim somehow snagged eight in his 14 minutes. Tyrus McGee chipped in nicely with six boards, four coming on the offensive end. 
Babb – If you look at the box score, you might be able to say that the Big 12's leading scorer, Baylor's Pierre Jackson, had a great night. And he did – considering the senior scored five points more than his season average. However the shots that Jackson hit were rarely, if ever, wide-open. The Cyclones made life hard on the Big 12's preseason Player of the Year and it all started with guess who – Chris Babb. 
"I thought that our overall awareness of Pierre Jackson was great tonight," said Hoiberg. "We wanted to put a bigger, more physical defender on him. That kid is an unbelievable player."
"But I thought that our overall awareness, helping off guys – we wanted to help off of (A.J.) Walton some, even though he hit a few shots we got the ball out of Jackson's hands. That's something that we wanted to do."
Jackson went 8-for-17 in the game. 
Free throws – Iowa State went to the free throw line 30 times, sinking 25 of them. For a team that went 10-for-22 in its last home game from the charity stripe, the 83.3 percent mark was not only impressive, but critical in the victory in a night when the 3-point shot was a non-factor. 
The 25 free throws were a high in conference play this season for the Cyclones. 
Three Down
3-point shooting – In additon to Iowa State's shockingly bad 4-for-24 performance from 3-point range, two streaks ended along the way. Prior to Saturday, Chris Babb had made a 3-pointer in 18 consecutive games. Tyrus McGee had converted from downtown in 20 consecutive games. 
"It's a part of basketball," said Clyburn. "Your shots aren't always going to fall. You try to get to the free throw line and get something inside. That's the game of basketball."
The four 3-pointers tied a season-low for the Cyclones. 
Ejim, foul trouble – Iowa State's most consistent player is having issues staying out of foul trouble. Ejim, who finished the game with five points and eight rebounds, was called for four personal fouls in the game, which limited his minutes severly. Ejim only played 14 minutes in the win (however that was not a season-low, Ejim played 13 minutes and fouled out vs. Iowa). 
It marked the sixth game in a row that Ejim has commited three fouls or more (he fouled out in two of them). It didn't cost Iowa State this game but the Cyclones will need Ejim down the stretch.
None – Reverting back to the rule…No third down for league wins.  
Stay tuned to Cyclone Fanatic for more coverage of this one later this weekend.