Defense wins championships right? Well you've still got to play a little bit of offense to even make it to the playoffs.  
It seems like ever since this whole conference realignment era began a few years ago, the Big 12 has been on the defensive side of the ball. Back in the day, it was understandable. The league's revenue sharing (or lack there of – depending on how you view that sort of thing) created a major rift within the 12 schools.
Here was the status of the league back then in a nutshell: 
Texas A&M was always mad at Texas. Texas always walked around with its chest puffed out and nose in the air towards Texas A&M. Oklahoma thought that Texas had built-in competitive advantages. Nebraska was upset that it wasn't a big dog anymore. Missouri wanted to be Nebraska in football. Missouri wanted to be Kansas in basketball. Unfortunately for Missouri, Missouri was (is and always will be) Missouri in both. Colorado was that punk rock loving, skater boy tattooed cousin who never fit in with the rest of the family. Oklahoma State basically did whatever Oklahoma wanted. Texas Tech, Iowa State, Kansas, Kansas State and Baylor were all just along for the ride, although Baylor did make its presence felt a time or two along the way. 
But the biggest reason the league was always looking over its shoulder had to do with what has driven nearly every move we've seen over this historic period of time in college athletics – television revenue.  
Back in 2009, things were bad for the Big 12. Really, really bad. Back then, the Big Ten was making somewhere around $22 million per school, per year. At the same a school like Iowa State racked up anywhere from seven to $10 million per. At that point, why wouldn't any school in this league shop around?
If I made seven dollars per hour working at Wal-Mart and Target offered me 14 dollars per hour, I'd be foolish not to jump ship right? 
As much as I hate to admit it, Nebraska leaving the Big 12 made good economic sense for the 'Skerzzz. Sure, Nebraska had to essentially throw away century old rivalries but it gained peace of mind. The case was the same for Colorado. The days of those schools having to wonder what the case would be in five years were over. In their new homes, they knew that they would be rich and stable – throw a big screen television in there and that's every man's dream. 
When the Big 12 added West Virginia and TCU, it was purely a reaction to replace Missouri and Texas A&M and nothing more. Not once did I consider that playing offense. 
As I write this on a foggy central Iowa Monday morning, a group of decision makers within the Big 12 Conference are meeting down in the heart of Texas. Like you, I've read a lot of speculation on what this meeting might entail.
Expand or don't expand? Ten, 12, 14, 16 or heck, why not 20? How about some alliances with other leagues out there?
According to a recent Dallas Morning News column written by veteran Big 12 journalist Chuck Carlton, Big 12 commissioner Bob Bowlsby was recently quoted on a Texas radio station saying this:
"For us, it's all about looking at the bottom line and looking at the quality of competition," Bowlsby told "The Ticket" KTCK-AM (1310). "We feel pretty good about 10 now."
And for the most part, I agree with that. Heck, according to Forbes, the Big 12 will be the richest league in America (per school) in 2012-13. Think about where this league was three years ago and compare it to now. This group has come a long, long way. 
That brings us back to my original point. In the Dan Beebe era, the Big 12 had no choice but to play defense. The Big 12 was viewed as road kill. The predators (mainly the evil Big Ten and the SEC) were preying on the weak and the desperate. 
It's a whole different ball game now though folks. The Big 12 has a new commissioner in highly respected Bob Bowlsby. Texas is still Texas (the Longhorn brand is worth more than any other in college sports) and the league's television package going forward is top of the line.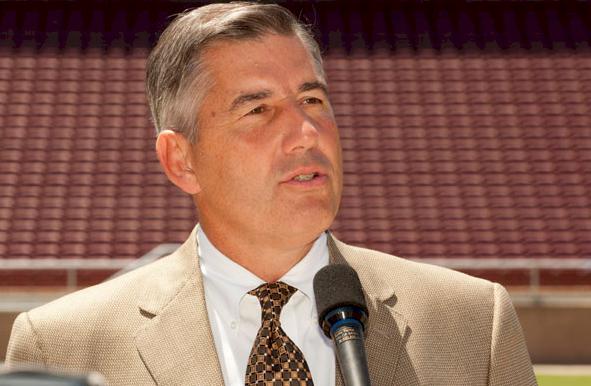 Let's make things simple and compare this situation to a football team: Three years ago, the Big 12 essentially had Travaris Jackson (sorry Vikings fans) playing quarterback with no running game, no receivers and a Marty Fine-like offensive line.
Now, while the league probably isn't playing with Tom Brady, a young, promising guy named Andrew Luck (Bowlsby) is leading the way. The offensive line (the television contract) is one of the best in the game and you've got Adrian Peterson (Texas) running the football. For wide receivers, a future bowl alliance with the SEC is as good as Calvin Johnson. 
All of the ingredients are there on the offensive side of the football to make a signifiant splash. How about after Peterson racks up, say, 50-yards in the first quarter, you throw a little play action pass downfield and get aggressive for once? 
Why expand?
I'll be the first to admit that I love this 10 team league. It actually feels like a conference. A round-robin schedule in football is grueling, but fun. In basketball, it's great for a school like Iowa State that lost to Kansas in overtime, to get another shot at the Jayhawks in only a few weeks. 
But while the Big 12 is set to make the most money per school right now, that won't be the case when the Big Ten and SEC re-adjust their deals in the coming years. I completely understand the fact that if you're the Big 12, you can't just add schools to add schools. Southern Miss and SMU won't do this league any good. 
A move like that would affect the bottom line in a negative way for everybody involved. But I'm more of a stability man than a get rich quick type of guy. I'd settle for making 10 bucks an hour now if I knew that I was paying my dues to make 30 bucks an hour in five years as opposed to only 15 or 20. 
So why not get in the game now while there are actually some fairly attractive pieces left as opposed to letting those predators pick everything over?
Why end up with Tulane and Tulsa in five years when you can at the very least make a serious run at Florida State and Clemson today? 
If the Big 12 stays put and those leagues continue to grow, I fear that this league will end up in the exact same situation that it was in three years ago. Behind the eight-ball. 
This league has been playing defense for this entire "game." I say it is time for the Big 12 to go deep, make some noise and set the tempo for once. 
Full disclosure
What you've read today are my opinions on this topic and nothing more. While I'm indeed very passionate about the topic, I also realize that men, women and more importantly lawyers who are much, much, smarter than me are the ones actually making the decisions. They have the inside scoop and information needed to make the best possible decisions for the future of this league. 
Two years ago, I didn't have a lot of faith in the Big 12. Today though, I actually do. I like where the league is at from a leadership standpoint. I truly believe that the pieces are in place for a solid run of good fortune for decades to come. 
But for now, all we can do is sit tight and hopefully enjoy the ride.