AMES — For the second year in a row during the month of November, Iowa State appears to have a bit of a point guard problem. Through the first six games of the 2012-13 season, senior Korie Lucious' assist-to-turnover ratio is a disappointing 24-to-24.
Iowa State returned home on Sunday after dropping two games to Cincinnati and UNLV in Las Vegas over the weekend. Putting together a game plan that will allow Iowa State to take care of the basketball better is a top priority for Fred Hoiberg and his coaching staff leading up to Saturday's stiff test in Hilton Coliseum vs. BYU.
"I think we are trying to hit too many home runs right now," said Hoiberg during his press conference on Monday. "I think we are trying to get a pass in a small gap when you can make a simple pass, throw it back and get the ball moving side-to-side. We've got other guys who can make plays."
Iowa State is averaging 16 turnovers per game as a team so far this season. 
"You don't have to go down there and the first little play that you see, you have to complete it," said Hoiberg. "You have to trust the process. If option one isn't there, you move on to option two and option three. If we do that, our numbers will show we are much more effective."
Iowa State's head coach spent extra time with Lucious on Sunday evening and plans do so at other times during the week too. 
"We talked for a long time," said Hoiberg. "We're going to get together again today before practice and try to talk and put together some things that can be more simple for him to get us into an offense, more guys touching the ball and get us shifted from side-to-side. It's a process. There's no doubt about it. It's something that a lot of teams are going through right now – as far as what you are going to do to put the best package together for your team to be successful."
Owning the glass
Here's a major positive to consider when discussing the month of November and the Cyclones. Iowa State is doing something extremely important that Hoiberg didn't see coming. That's dominate the glass. The Cyclones have out-rebounded their first six opponents by a combined 288-to-204. You'd expect that against low-major opponents at home, but Iowa State snagged more boards than Cincinnati and UNLV in Vegas too.
"Our rebounding numbers are something that is surprising me right now just because I thought that would be a weakness of our team," said Hoiberg. "We've really battled and gotten better in practices especially after that exhibition where we were not good on the boards. If we can be that type of a rebounding team, I'm confident that we can get it going in the other areas, which will make us a very successful team."
Senior Will Clyburn has led the way averaging 9.2 boards per game on the year. Clyburn snagged 15 on Saturday vs. UNLV.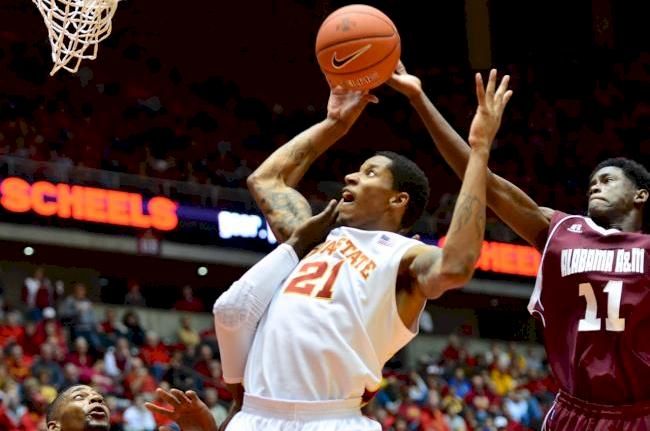 And then there's the always consistent Melvin Ejim, who is averaging 9.0 rebounds per game.
"I think he is more confident than he was," said Hoiberg. "Right now, he knows what his role is. He does a great job of making extra effort plays; extra hustle plays on the glass. He is shooting the ball with more confidence. There were a few times in the UNLV game where he was unsure and got himself stuck but overall, yeah, I've been very pleased with what Melvin has given us."
In addition to the rebounding, Ejim is fourth on the team in scoring at 10.2 points per game. 
Iowa State inks Edozie
Last but not least, Hoiberg announced the signing of Tyler Community College big man Daniel Edozie to his 2013 recruiting class on Monday. Edozie, a 6-foot-8, 235-pound power forward will have two years of eligibility at Iowa State.
"We're really excited about the addition of Daniel. He gives us a big, strong, physical player who will help with some of the guys we will lose," said Hoiberg. "We lose Anthony Booker, our most physical defensive post player. Daniel will come in and replace that. He's got a good jump-hook over the left shoulder. He can step out and hit a shot as well. We're really excited."
Cyclone Fanatic will have more on this story later in the week.