By Chris Williams, CycloneFanatic.com PublisherFollow Chris on Twitter @ChrisMWilliams
AMES — After Scott Christopherson buried a three-quarter court shot to end the first half, Hilton Coliseum was as loud as it has been in years. Fred Hoiberg didn't even crack a smile though.
"I almost broke the door down walking in (to halftime). I was furious," said Iowa State's head coach after a 76-69 loss to No. 9 Missouri on Wednesday night. "They made every hustle play in that first half. They got on the floor first. They made multiple efforts. We made one effort. That's not good enough when you play against a top 10 team that's got confidence like they do and has older players who have played together for a long time. I thought it was fools gold when he threw that three-quarter court shot in."
Two simple statistics tell the story of this one.
Missouri out-rebounded the Cyclones 38-27 on the night. That number along with a dreadful 13-for-25 performance from the free throw line was more than enough to keep Iowa State from upsetting a top 10 team at home for the first time in over a decade.
"When you play against a team like that, you can't afford to get out-rebounded by 12 in the first half," said Christopherson. "You can't afford to let them shoot 59 percent in the second half. When it came down to money time, they executed and we didn't. That was the difference in the game."
According to Hoiberg, his team executed its game plan perfectly vs. the Tigers. Chris Babb made Missouri's best offensive player, Marcus Denmon, a non-factor. Missouri struggled going 5-for-21 from 3-point range. Iowa State even got the severely depth-lacking Tigers into major foul trouble.
But the SEC-bound Tigers did the little things right in this one. Iowa State didn't.
BOX SCORE: Missouri 76, Iowa State 69
PLAYER OF THE GAME
Scott Christopherson – In addition to the prayer that he threw up at the end of the first half, Scott Christopherson was Iowa State's most consistent offensive player. The senior ended the game going 4-for-6 from 3-point range and led the Cyclones in scoring with 19 points. He was Iowa State's only source of offense during the first five minutes of the second half.
THREE UP
Chris Babb's Defense – After holding Texas A&M star Khris Middleton to a 3-of-12 performance last Saturday, Iowa State junior Chris Babb provided a defensive encore by only allowing Missouri's Marcus Denmon to fire up five shots in the game.
"We took their leading scorer out of the game but they had other guys that are roll players that came out and had field days on our big guys," said Hoiberg.
Babb ended the game with 10 points and is 11-for-21 from 3-point range since conference play began.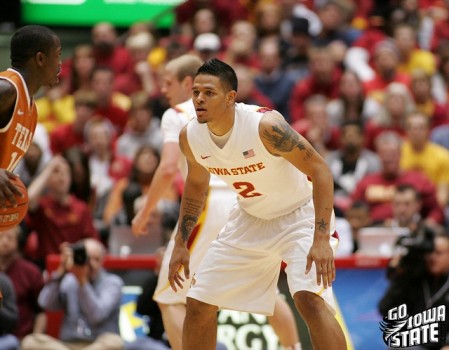 Royce White – After getting into foul trouble early (two in the first four minutes) and only playing seven first half minutes, Royce White still stuffed the stat sheet despite his team's loss. The big man scored 16 points while racking up six rebounds and six assists as well.
Potential – We all know that this team has a ton of it. I'll elaborate more in "Three Down."
THREE DOWN
Free Throws – This nagging issue has to be driving Fred Hoiberg insane. Hoiberg is Iowa State's fourth best free throw shooter of all-time at .844 percent (466-552). After the game, The Mayor didn't have much to say about Iowa State's 13-for-25 mark at the charity stripe.
"We'll get back and work on them tomorrow," said Hoiberg.
How do you coach this?
"You can work on them."
Fair enough.
Royce White went to the line eight times in this one and converted one only two opportunities, air-balling a pair as well.
"For me, it's been a frustrating year altogether just trying to find the right rhythm and right stroke and right hand placement," said White. "As a team, I would just say focus. We've just got to do better. We know that we kind of killed ourselves from the line today and that was part of the reason that we lost, along with rebounding."
After the loss, the Cyclones are now a 67 percent free throw shooting team on the season.
Toughness – Missouri is a small, guard-oriented basketball team. Iowa State clearly had the size advantage in this game, yet the Cyclones got killed on the glass and somehow, the Tigers managed to score 40 points in the paint compared to 20 by Iowa State.
Missed Opportunity – The one that got away…
If you add the free throws and rebounding stats up, it all comes together to equal one giant missed opportunity for Iowa State.
"It's disappointing because I felt that we should have won the game," said Hoiberg. "That's the hard thing. I felt that we threw this one away."
NOTEBOOK
— Why didn't freshman post Percy Gibson play? After the game, Hoiberg said that Gibson suffered a "twisted knee" in Saturday's win over Texas A&M.
"He has not practiced the last few days," said Hoiberg. "He was available if we needed him but we took the cautious approach with Percy tonight."
— Junior Anthony Booker played 13 minutes in place of Royce White (due to foul trouble) in the first half. Booker hit a three, ripped down two boards and blocked a couple of shots during his time. Booker only played a couple of seconds in the second half.
"It was a matchup thing," said Hoiberg on the decision.
— Missouri's assist-turnover ratio was 20-11. Iowa State's was 12-13.
— For the first time this season, Iowa State lost a game when it led at halftime. The Cyclones were up 38-36 at the break.
— Chris Allen's four 3-pointers matched his season high.