LAWRENCE, Kan. – If you say saw that one coming, you're a stone cold liar. 
On the surface, Iowa State's 51-23 win over Kansas on Saturday night wasn't all that surprising. After all, coming into the game, Iowa State had proven to be a good team. Kansas was 1-9. But the way that Paul Rhoads' Cyclones became bowl eligible for the third time in four years most certainly raised a few eyebrows. 
What went down during Iowa State's first three offensive possessions was critical. The Cyclones started the game with the football and drove down the field effortlessly. Iowa State ran. Iowa State passed. Iowa State got inside the redzone and after taking a punishing hit, Steele Jantz fumbled the football.
Been there, done that right? It's hard to imagine how many obscenities came out of the mouths of the Cyclone Nation at that point in time. Fast forward to Iowa State's second offensive series, when the Cyclones lost two yards on four plays before Edwin Arceo connected on a 47-yard field goal.
After a KU score, the Cyclones went down 7-3 and Rhoads made a quarterback change. However Rhoads didn't go to Jared Barnett.
Saturday night belonged to redshirt freshman Sam Richardson. The rookie wasn't good. The Floridian was brilliant. Richardson completed an unbelievable 85 percent of his passes, threw for 250 yards, and four touchdowns, while running for 43 yards and a score as well. His quarterback rating at the end of the night was a staggering 211.9. 
Welcome to the show young man. 
Here's your recap.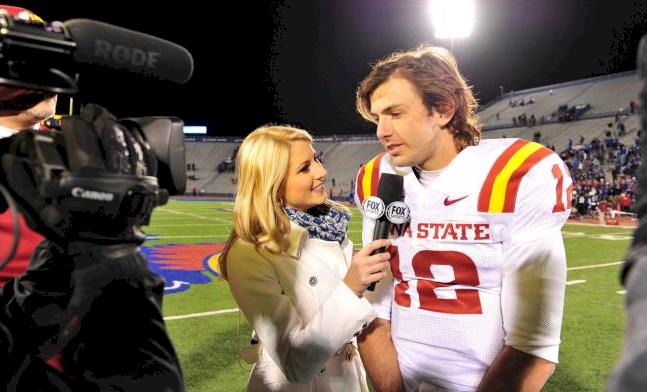 Three Up
Forget history – Rightfully so, Cyclone fans were worked up about this game all week long. Kansas has now lost its last 20 Big 12 games but Iowa State fans have been burned by situations like this before. It's hard to forget recent and distant history. But history has little to do with this program that's now in year four of the Paul Rhoads era. 
This win won't go down in history like landmark wins over Nebraska, Texas or Oklahoma State but it is definitely significant. Want to take the next step as a program? You absolutely HAVE to win this football game and Iowa State did. The Cyclones did it with style too. The thousands of Iowa State fans in attendance didn't even have to sweat it.
Heading into Saturday, Iowa State's season record for points was 38 in week one vs. Tulsa. The Cyclones led Kansas 38-17 at halftime. Iowa State's 51 points on Saturday night were the most scored by a Cyclone football team on the road since 1923 vs. The University of Washington-St. Louis. 
Offensive line – It's a group that has really taken a beating over the course of the year but Iowa State's offensive line really dominated this football game. 
"The holes there were huge," said running back Jeff Woody. "It makes it a lot easier for a running back to run when you have holes to run to."
Pass blocking was sound too. 
"Protection was amazing," said Richardson. 
As a result, Iowa State racked up 548 yards of total offense in the win. The Cyclones ran the ball for 247 of those while passing for 301. Iowa State averaged 7.2 yards per play. 
Takeaways – Iowa State's defense forced four Kansas turnovers. The Cyclones only turned the football over once. 
Three Down
Kansas State – The Wildcats entered the weekend as college football's top-ranked team but got smacked in the mouth by Baylor Saturday night in Waco. Kansas State's 52-24 loss likely means that the Wildcats won't play for a National Championship. What does this have to do with Iowa State?
Because Kansas State is out of the mix, the chances of a Big 12 team playing in the BCS Championship Game are now slim to none, meaning that everybody else will be bumped down a spot in the league's bowl lineup. 
Good and bad news here…Good because Iowa State is going bowling and this is something that we can now start investigating. Bad because of what I just outlined above. 
EVEN SO – The Big 12 can still get two teams into BCS games…So it might not matter. Confused?
Regardless, next week's game against West Virginia is that much more important now when it comes to bowl slotting. 
Rush defense – No way am I going to kill Iowa State for this…The Jayhawks ran for 252 yards but that's really all this Kansas offense tries to do. Kansas showed Iowa State looks it wasn't expecting early on. The Cyclone defense tightened up and you all know what went down from there. 
There's plenty to work on here though when you consider that West Virginia running back Tavon Austin torched Oklahoma for 395 rushing yards on Saturday night in Morgantown. 
No more – Two downs is enough for this dominating of a win is it not?
Game Ball
Sam Richardson – Hmm…Where should I go with this one?
Tough call…
In his first action since briefly seeing the field vs. Western Illinois, Richardson led Iowa State on an 89-yard touchdown drive in the first quarter. 
"The first series out there was kind of surreal, just being out there and throwing the ball around," said Richardson. "That touchdown put me in that zone and the offense in that zone. In the first half, the offense was just clicking."
I'd say…
Richardson did a lot of things very well on Saturday but what impressed me the most was his ability to complete the high percentage pass with ease. On screens to running backs, he'd hit the back in stride, allowing a guy like Shontrelle Johnson to do what he can do to gain extra yardage. 
We saw Richardson change the play at the line-of-scrimmage a couple of times, resulting in positive plays. 
It's too early to anoint Richardson as anything but give credit where it is due. The young man completed 23-of-27 passes in what was essentially his first college game ever. Not bad. Twelve Cyclones caught passes from Richardson, who will without a doubt be Iowa State's signal-caller on Black Friday vs. West Virginia. 
Helmet Stickers 
Edwin Arceo – Iowa State's kicker, who was a liability earlier in the season I might add, was magnificent in this one. Arceo, who struggled making extra points at one point in the year, made field goals from 47, 51 and 47-yards.
Jeff Woody – By far, had his best game of the season. Woody has been hindered by injuries all season long but looked great totalling 89 yards, a touchdown and an explosive 43 yard run in the win.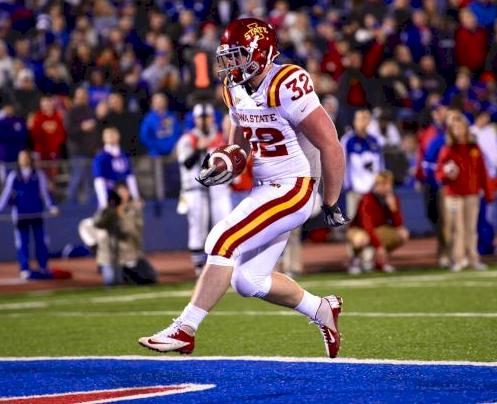 Shontrelle Johnson – He's looked better and better every week since the start of the season. "The Rabbit" averaged 5.7 yards per carry on nine carries, totaling 51 yards in the win.
James White – Like Johnson, White keeps getting healthier too. James averaged 9.5 yards per carry, gaining 57 yards in the win. He had a 44 yard burst in the first quarter. 
Josh Lenz – It's good to have this guy back. Lenz, who has been troubled with a quad injury for the last month, led Iowa State in receiving. Lenz caught six passes for 78 yards including a 30-yard touchdown reception.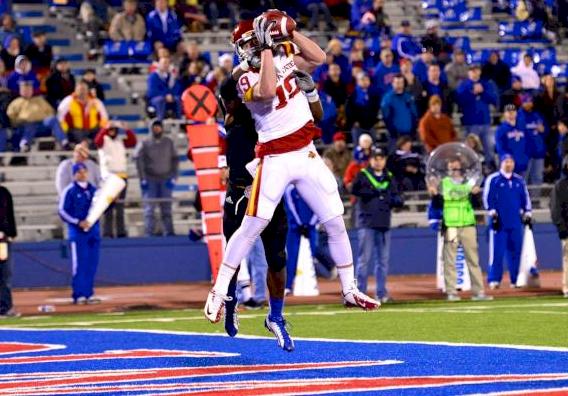 Ernst Brun – Caught his fifth touchdown pass of the season. 
Aaron Horne – He's been slumping as of late, but Horne's 30 yard touchdown reception in the second quarter was great to see. 
Albert Gary – And he caught his second touchdown reception of the season. 
Jacob Gannon – Don't listen to me. I don't know of a human being in the world who knows more about offensive line play than former Cyclone All-American and Cyclone Radio Network analyst Ben Bruns, who praised Gannon's play (while replacing an injured Brayden Burris) on postgame radio. 
Offensive line – Helmet stickers for all. Iowa State was able to run the football all night long and Richardson had all day to throw it. It's a group that has taken a lot of flack all season long but they played very well against the Jayhawks. 
Defensive coaching staff – As noted earlier, the Jayhawks showed Iowa State all sorts of unexpected looks early on. The D looked frazzled. Adjustments were made, turnovers were forced and the rest is history. 
Willie Scott – This junior defensive lineman led Iowa State with eight tackles in the win. He recorded his first takeaway of the season too, an interception at that. Scott added a pass break-up and a quarterback hurry to his box score as well. 
Jeremiah George – Seven more tackles for the junior…
Durrell Givens – The junior strong safety forced and recovered a fumble in the win. Givens leads all of college football in takeaways with nine on the season too. He left the game early with an ankle injury. 
Gage Shaeffer – When Givens left the game in the third quarter, Schaeffer, a walk-on, stepped in to record six tackles while forcing a fumble along the way. 
A.J. Klein – Six tackles and a quarterback hurry for the senior. 
Everybody – A total team victory. If you wore the Cardinal and Gold (including the thousands of Iowa State fans in attendance) Saturday night, you get a helmet sticker.