What: Iowa State (6-5, 3-5) vs. West Virginia (5-5, 2-5)
When: Friday, Nov. 23 at 2:30 p.m.
Where: Jack Trice Stadium
TV: ABC
Today's game preview is brought to you by our good friends at Fareway. 
AMES — There's no secret that Iowa State's magic number is 24. I'm sure you have all heard of this stat by now: Iowa State is 21-1 during the Paul Rhoads era when the Cyclones hold the opposition under 24 points. Iowa State is 3-24 when allowing 24 points or more.
Friday's opponent, West Virginia, is currently averaging 40.9 points per game (8th in America).  
With Jake Knott out of the lineup and multiple questions floating around regarding the health of defensive backs Durrell Givens and Jansen Watson to name a few, let me pose this question to you Cyclone Nation.
Is it possible for Iowa State's to keep West Virginia high-powered offense under that fateful number of 24 or will something have to give?
There is more to the Mountaineers than just gaudy offensive numbers. We'll touch on that and more in your preview for a Black Friday showdown in Ames. 
West Virginia will win if…
…The Mountaineers put together one of their famous scoring outbursts together. That 70-63 win over Baylor on Sept. 29 immediately comes to mind. That's the game where senior quarterback Geno Smith threw for a whopping 656 yards and eight touchdowns.
Extravagant offensive performances are a common thing for the Mountaineers. Last week, running/wide receiver/he'll do anything guy Tavon Austin ran for 344 yards (all by himself) against a very solid Oklahoma front-four (the same brick wall that Iowa State couldn't surpass 100 rushing yards as a team against).
There's Smith, a former Heisman Trophy front-runner, who is completing 70 percent of his passes on the season (with a 35-5 touchdown/INT ratio). There's Austin, who has over 1,000 receiving yards and 11 receiving touchdowns. There's also the always-dangerous Steadman Bailey, who leads the Mountaineers in receiving yards with 1,260 yards on the season with 20 touchdowns!
West Virginia's offense has an abundance of artillery folks.
This week, Iowa State's focus has been on Austin. West Virginia head coach Dana Holgerson threw a nasty, Justin Verlander-like slider to Oklahoma a week ago and it rightfully caught the attention of Iowa State.  
"That was the first time they had put him back there at running back," said Iowa State's All-Big 12 linebacker A.J. Klein. "I don't think OU was prepared. I kind of saw some of the OU game and some interviews. Coach Stoops even said that they weren't prepared for that. Now that we saw that, it gives us a little heads up so we can adjust and prepare for it."
Austin's performance has received all sorts of praise over the last week.
Wally Burnham called him the best football player in the Big 12, "by far."
"If he gets the football, you better watch your britches," said Burnahm.
Rhoads called him one of the best players he's ever seen during his coaching career.
Want more information and perspective on Austin's big night last Saturday? One of the Big 12's most respected columnists, Berry Tramel of The Oklahoman, wrote two columns about Austin's performance over the last few days.
CLICK HERE to read Tramel's piece on Dana Holgerson out-scheming Bob Stoops.
CLICK HERE to read why Tramel compared Austin to the great Gale Sayers.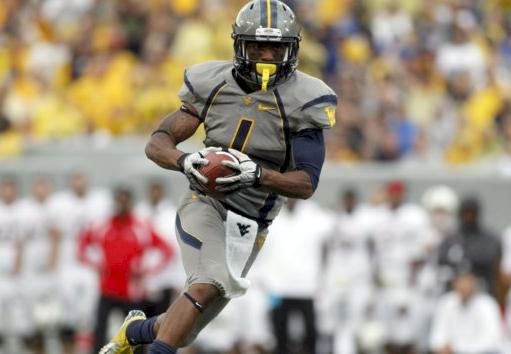 Here's the good news for Iowa State fans. Holgerson played that card a week ago. As Klein noted, Iowa State can and will prepare for Austin at the running back position and everywhere else on the field too.
Burnham, who I think is one of college football's top defensive coordinators, will have the Cyclones ready. But the question remains – will the Cyclones be able to stop it?
Stay tuned. 
Iowa State will win if…
…It's offense can produce at a high level for the second week in a row – because you really don't want to have to rely on holding West Virginia's offense to fewer than 24 points do you?
I'll begin this segment of the preview with the burning question – a question that even Paul Rhoads brought up during his weekly press conference. After watching freshman quarterback Sam Richardson complete 23-of-27 passes for 250 yards and four touchdowns in a 51-23 win over Kansas, why in the world didn't the coaching staff put this kid in sooner?
"He obviously hasn't given us that kind of performance in practice or we probably would have given him an opportunity," said Rhoads. "I'm sure glad that he did it on Saturday night and it gives you a glimpse of what he is capable of under the lights."
Richardson's performance was borderline flawless. What's that say you Mr. Pessimist?
"Yeah but it was against Kansas' defense."
This is true. But over the course of the season, Kansas' defense has actually been better than West Virginia's. The lowest scoring total a Big 12 team has posted against West Virginia is 39 points by TCU. Kansas' defense held Texas to 21 points and Oklahoma State to 20. 
While the Mountaineers do currently rank 29th nationally in rush defense, they are 117th or worse in pass defense, total defense, pass efficiency defense and scoring defense. Of course teams aren't going to run the ball against the Mountaineers when they've been so awful at defending the pass. Why would you?
By no means does this theory mean that Richardson is going to go out there on Friday and give us an encore of last Saturday's rout of the Jayhawks. But all signs point to Iowa State's offense putting up points in this one. The Cyclones have consistently scored points against the Big 12's "bad" defenses this season (Baylor, 35 and Kansas, 51). Now that this unit actually has some confidence, what makes you think that Friday will be any different?
Key Match-Up: Iowa State's offensive line vs. West Virginia's defensive line
Regardless of how well Iowa State's defense plays on Friday, I fully expect the Cyclones to give up 600 yards or more to this team. That's why I'm putting Iowa State's offensive line vs. West Virginia's defensive line as my key match-up.
We have already covered this – the Cyclones have to score points to win right?
Iowa State's offense is at its best – especially with a rookie quarterback at the helm – when it is running the football consistently. It's also a way to keep West Virginia's offense off of the field. 
Run the ball early and then slay that secondary through the air after you're established on the ground. That should be Iowa State's primary concern.
3 Keys to a Cyclone Victory 
Execution – On both sides of the ball…I'm comfortable with whatever game plan Wally Burnham throws together for this one. He'll have a solid scheme ready for the Mountaineers. But at some point, players have to execute. That means being in the right spot and most importantly, tackling well.
On offense, there are going to be holes in West Virginia's defense. There always are. Making correct reads, consistent throws, and catching passes will be especially important if Iowa State finds itself in a track meet come the third quarter of pay.
Red zone – On both sides of the ball. Holding West Virginia to a field goal is a victory. Kicking a field goal on offense is not. You get the picture.
Sunshine – That was one hell of a debut Sam Richardson. Now, we need you to do it all over again kid. No pressure.
Prediction
For Iowa State fans, West Virginia's offense is downright scary.
For West Virginia fans, West Virginia's defense is downright scary.
I haven't been high on West Virginia all season long. What concerned me about this team in July turned out to be true. 
"Talk to me in week 12," I liked to say about this team early in the season. How would West Virginia adjust to a full season of playing Big 12 competition compared to the Big East?
West Virginia has currently lost five straight football games. It's a team that put forth a valiant effort last week against Oklahoma only to come up just short. The Mountaineers have been outscored 104-48 in their last two road games. 
Match-up wise, this isn't a great one for Iowa State. Kansas was what I considered a good match-up. Iowa State knew what the Jayhawks were going to do. That's not the case with West Virginia. It's a scary football game and I could come away from this prediction looking like a total idiot.
But I'm not so sure how interested the Mountaineers will be on Friday. Emotionally, where are they at right now considering what went down last week and the losing streak to boot?
As I mentioned earlier, I fully expect Iowa State's defense to give up 600 yards or more. But I also like Iowa State's defense to buckle down in the redzone and cause a few turnovers as well. I like Iowa State's offense to score at a high rate for the second week in a row. 
Give me the Cyclones to finish 7-5 on the season.  
The Pick
Iowa State 41, West Virginia 31