Author's note: If you are of sound mind and weren't around a couple years back or just didn't read my ponderings like 99.8 percent of this community, you are probably questioning the title of this column. Well, long story short when I started contributing to Cyclone Fanatic way back when I typically wrote about the "goings on" in the world of Iowa State in the fashion that would usually be titled about discussions at work standing around the water cooler. 
My contention was that not only does this never really happen but that these discussions actually take place outside the men's restroom door where daily paths intersect and discussions are quick to start and slow to end. Hence the "Outside the Men's Room" title so there, feel dumber?
First and foremost, while the win in Lawrence was great on Saturday, I'd first like to tip my cap to Betsy Saina who won the women's individual cross country NCAA title. That is some rarified air. 
But beyond that everyone saw what happened in Lawrence coming from at least a mile away, right? I was as terrified for that game as a whole as I was the opening wishbone play that Texas was planning to run a week and a half ago. Both fears were perhaps rooted in a lack of rationale but only one proved to be true. And I'm glad it worked out the way it did.
Many clamored for Sam Richardson a few weeks back in the, "throw him out there, what could it hurt?" vein that I disagreed with strongly. Should you form that opinion based on some analysis, practice watching, or by hacking Paul Rhoads emails, then I would have potentially bought off on the thought.  If you were in the S.B. Richardson camp because of any of those reasons listed, I applaud you and you may now gloat accordingly. If you were in his camp "just because" you have earned no bragging rights. 
The extent of the Jantz "injury" that force Richardson into action is mostly unknown but I think it is safe to say it wasn't performance related. If it was he would've been yanked right after the frustrating fumble. Jantz may be one of the most bipolar quarterbacks I can ever remember watching. The only way I can characterize his game and how he plays is to say that he has the opposite of the "it" factor. Some guys just seem to have all of the correct intangibles and difficult to pinpoint facets in their game that give them the edge and we call that the "it" factor—sometimes…some people do. Jantz just seems to have the opposite of that, whether it be bad luck, tipped balls or slippery fingers on rushing/scrambling plays. 
The emergence of Richardson was not only refreshing it was something that we have seen in a long time in regards to how accurate 25ish of his 27 pass attempts were. Not only was he rolling but the team as a whole was. The Cyclones reeled off 28 unanswered points in the 2nd quarter to catapult to a 38-14 lead prior to the Kansas field goal at the end of the half (by the way, you kick a field goal there, Charlie Weis, with a 1-9 team desperate for anything positive to try and maybe salvage a win?).
Without considering straight up routs there are two games that jump to mind as 28 point outbursts for Iowa State and they both required non-offensive scores. The most recent was the 28 point barrage against Texas Tech in 2010 capped off by a Jeremy Reeves onside kick return for a touchdown that cemented the 52-38 Iowa State win. That, for the record, was not 28 unanswered points though.
The other happened in Manhattan in 2004. They Cyclones trailed 23-9 when they escalated things quickly by scoring 28 points in the 4th quarter that was given the exclamation point by a LaMarcus Hicks pick six. The funny thing is that not only was that a road game in Kansas but it also got the Cyclones eligible for a bowl game AND before Saturday that was the last November road win for the Iowa State football team. 
Now an interesting situation presents itself for the West Virginia game. Not only is it senior night where whacky stuff happens all the time but has many interesting intangibles. The first use of the new tunnel, the first game against the Mountaineers, Paul Rhoads and Wally Burnham having plenty of experience with West Virginia, Mountaineer bowl eligibility, and one other thing…
This is the third time that Paul Rhoads has gotten to bowl eligibility but every other time the sixth win found was the last game in Ames for that year, never before under Rhoads have the Cyclones gone for win number seven at home. In 2009, they traveled to Columbia and lost a hard fought game and in 2011 they travelled to Norman and Manhattan. Prior to the season plenty was made about this football program wanting more than three conference wins and a 6-6 record. While the hopes and dreams may not get achieved this year they can take a step that has yet to be taken for Rhoads. Get to seven wins.
Typically for game preview type articles on my site I post these charts as a quick breakdown and comparison, but because nobody reads my site I'll put them here for your analysis. I pick out the major stats that I deem most important and then display how each team is doing and how they rank nationally. 
First is the West Virginia offense versus the Cyclones defense: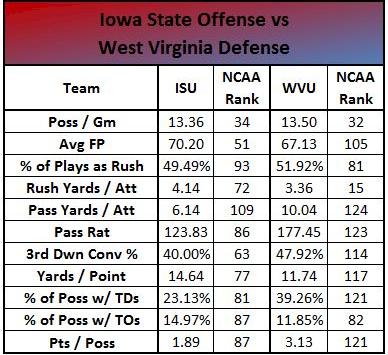 They've cooled off a bit since being fully exposed to Big 12 level play full time but at 3.01 points per possession and 38.24 percent of possessions ending in touchdowns they are still top 15 in the NCAA. It is the same story for their team passer rating of 157 that is the 14thbest in the NCAA. They score one point for every 12.47 yards gained which is the 20th best compared to ISU's 9th best defense in that category giving up 19.53 yards for every point allowed. 
The Iowa State defense is 21st in forcing turnovers in the country and while the scoring defense of 1.67 points per possession is 29th in the NCAA it is the best in the Big 12.
While the Cyclone offense is 63rd or lower in many of the meaningful stats I have selected the good piece of news is that the West Virginia defense is bad…worse than Baylor and Kansas in many ways. Not that all of the NCAA rankings are out of 124 teams so being in the 120s is utterly terrible.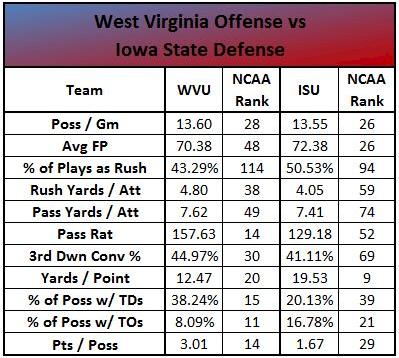 The biggest bright spot for their defense has been the 15th best rush defense at 3.36 yards per carry which is actually is much better than the typically quoted "30th best run defense in the country" (because for some asinine reason it is based off of rush yards per game instead of rush yards per carry). 
In Big 12 games the Mountaineer defense is surrendering just 3.62 yards per carry where only Texas Tech and Oklahoma State eclipsed the four yards per carry mark at 5.79 and 4.31, respectively. Texas, Kansas State, and TCU all ran the ball more than 57 percent of the time against West Virginia but none of them were able to establish much success. Of course, when you check out their passing defense you may see some reason as to why. The pass coverage leaks like a sieve so since trying to run right in to the strength of their defense all game.
On to some basketball thoughts…
For the most part, it has been so far so good for the team where they appear to be much more polished at this point than last year's team after just four games. The competition is about to step up considerably when the Cyclones take on the top 20 Bearcats on Friday and potentially either Oregon or UNLV to follow, also strong opponents.
The Cyclones haven't beaten a non-conference ranked team prior to conference play since toppling No. 12 Iowa in 2005 at home. In non-home games that hasn't happened since a win over No. 24 Mississippi on a neutral court in 2000. 
I wanted to go into some quick impressions of individuals but I've already gotten a bit too windy. But for the most part the newcomers have been impressive more than anything else and the returning players are all performing at a level that was expected by the rational fans. Will Clyburn and Korie Lucious are still the main wildcards but have proven to be on the right track while shaking off more than a year's worth of rust. 
Two wins in Vegas would be phenomenal but my main hope is to at least get a split. A win over Cincinnati coupled with a win over UNLV would vault the Cyclones in to the top 25. Either way there should be two great non-conference games added to the Iowa State resume.
That's all for now, everyone have a happy Thanksgiving and we'll see you on Friday at the Jack.