AMES — Iowa State struggled out of the gates in its opener last Friday against Southern. The Cyclones actually trailed by 11 at one point in the first half. That was absolutely not the case in round two of the 2012-13 basketball season via a 98-40 rout of Alabama A&M – the sixth largest margin of victory in Iowa State basketball history. 
Five Cyclones finished the evening in double figures against an out-manned SWAC opponent that had no chance from the opening tip. 
"We jumped on them early. That's the thing I was looking for," said Iowa State head coach Fred Hoiberg after the game. "We did not do a good job against Southern of getting on them early and making them uncomfortable. And that's what we did."
The Cyclone victory was dominating in every sense of the word. 
A lot went right. Not much went wrong. Here's your recap. 
PLAYER OF THE GAME
Georges Niang – In a game like this one, the game ball could realistically to to a number of guys. A half-dozen Cyclones were deserving of the honors but I'll go with freshman Georges Niang, considering the fact that he's been brilliant in each of the first two games of his college career. 
Niang is 13-for-18 from the field in his first two games as a college basketball player. The rookie went 7-for-8 for 17 points and five rebounds in Monday's win. 
"When you play with unselfish guards like Korie (Lucious) and Naz (Long), they just make you get easy shots," said Niang. "I am in the areas I am always in and they just provide me the ball to make easy shots that we work on all of the time."
Niang entered his freshman campaign with high expectations on his shoulders. Even Hoiberg, who was very high on Niang leading up to the season, has been impressed. 
"He's just such and efficient player. I didn't know how soon it would translate. I knew he would go out there and do well. He shows us that every day in practice," said Hoiberg. "He's a heck of a basketball player. I'm glad he's on our side."
Hoiberg also revealed Niang's nickname, given to him by assistant coach Cornell Mann. 
That's "Crafty."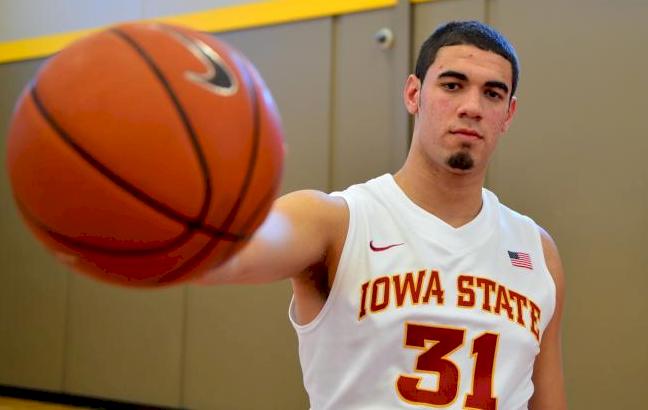 THREE UP
Korie Lucious' improvement – After Friday night's opener, I wrote that it was physically impossible for Korie Lucious to play that badly ever again. In his official debut in a Cyclone uniform, Lucious went 1-for-12 from the field while turning the ball over seven times. 
While Lucious still showed signs of rust, he also showed a world of potential in his 10 point, five assist outing on Monday night. 
"Certainley there was some rust. He hadn't played in a long time," said Hoiberg of Lucious' opener. "He went out there and he pressed I thought. He really tried to get himself going. I could see it in his face. He was much more comfortable out there tonight. He came over and was foaming at the mouth a little bit in that first game. He was panting. He played better as that game went on. He didn't make shots but he did end up with six assists."
Lucious did commit five turnovers in the win but even so, Hoiberg is still confident in his senior point man. 
"Korie is going to be fine," said Hoiberg. "I like him taking rhythm shots in transition, I really do. We saw him knock down a couple of those tonight."
Lucious was 2-of-4 form 3-point range. 
Rebounding – Big ups here. Iowa State out-rebounded Alabama A&M 46-23. The Cyclones out-rebounded Southern 59-33 on Friday. Not a math major? I'll help. Iowa State has out-rebounded its first two opponents 105-56. That's impressive regardless of who you are playing. 
"We got beat up a little bit in our exhibition game and we put an emphasis on rebounding that next week and we came out and responded," said Hoiberg. "We did what we were supposed to do. We came out and had a size advantage."
Iowa State out-scored Alabama A&M 54-14 in the paint, while doing the same to Southern 44-18 in its opener.  
"You want to use your size when you do have that advantage," said Hoiberg, who noted that things are about to get much tougher when Campbell comes to town on Sunday. 
Balance – Five Cyclones ended the night in double-figures. Along with Niang and Lucious, Tyrus McGee (18), Melvin Ejim (16) and Will Clyburn (15) all ended the night in double-figures for Iowa State.  
THREE DOWN
Turnovers – Fourteen of them are too many, especially vs. Alabama A&M. Nine of those came in the first half. Things got better though…
"In the second half, we did a much better job of floating around the perimeter and getting the ball in the paint where we had some good touches," said Hoiberg. 
Decision time – You know it was a blowout when I'm finding ways to turn positives into material for "Three Down." Chris Babb's suspension for violating team rules is officially over with after Monday night's victory. Babb will be back for Sunday evening's tussle with Campbell. So if you're Fred Hoiberg, what do you do with your starting lineup?
Heading into the season, smart money would have been on Babb being in the mix along with Lucious, Clyburn, Ejim and Anthony Booker. Tyrus McGee led the Cyclones in scoring in its exhibition win over Minnesota State. I'm told by birdies that McGee was lights out in a secret scrimmage vs. Nebraska. Of course McGee was 4-for-6 from 3-point range in this one. 
After the game, I asked McGee if he was confident in his shot right now. 
"I'm very confident," said McGee. Then Hoiberg jumped in.
"He's always confident," joked Hoiberg. 
Yes he is. It will be interesting to see what the starting five looks like on Sunday evening. 
No third down – It's the sixth largest win in school history. Let's not get too picky now. 
NOTEBOOK
*** Iowa State shot 77 percent as a team in the second half. 
"A lot of ball movement," said McGee. "That's a team thing right there. That just carried on to a lot of good things at the end."
*** The Cyclones held Alabama A&M to 27 percent shooting on the night. 
"We had steals today," said Niang. "I just felt like our pressure definitely picked up. We knew that they were going to pressure us but I don't think they were ready for us to start pressuring them. They started making bad decisions and I feel like our defense turned our offense on today."
*** Hilton Coliseum erupted when walk-on post Tyler Ellerman made the first basketball of his career late in the second half. 
"Shoot when he made it, it was louder than when Babb hit that 3 to beat Kansas last year," said Hoiberg. 
Along with Ellerman, Aaron Law and Nkereuwem Okoro also scored the first points of their college careers in the win. 
*** Anthony Booker tied his career-high with seven rebounds in the win. 
*** Tyrus McGee grabbed a career-high three steals.