AMES — Iowa State played in its first and only exhibition game on Sunday and that's exactly what the strong crowd on hand at Hilton Coliseum saw in a 90-57 win over Minnesota State. An exhibition. But the way that this one played out was odd…Even by exhibition standards. 
It was very runny…
Iowa State stormed out of the gates to a 36-12 lead in the first 12 minutes of the game. It was at that point when the Cyclones appeared to almost fall asleep for the rest of the half. A mind-numbing 27-5 Minnesota State run bled into the second half, when the Cyclones only led by four with 15:48 to play. 
"To say that we got complacent, that's an understatement," said Iowa State head coach Fred Hoiberg after the game. "We just didn't move onto the next play when a couple of bad things happened to us. We turned it over. We stopped running. We slowed down and we made some substitutions. I thought that those guys that went in there really gave us a boost."
It was at that point when a glass of cold water was apparently thrown in Iowa State's face. The Cyclones woked up and ended the contest on a 46-13 run. 
"You can't have those stretches if you want to be a really good basketball team," said Hoiberg. 
Three Up
Tyrus McGee – The senior led Iowa State in scoring with 16 points. McGee actually scored 12 in the first seven minutes of the game. 
Freshmen – The 14 points that rookie Georges Niang posted in 25 minutes shouldn't have been a surprise to anybody. But in 18 minutes, Naz Long leading Iowa State with six assists (and 12 points too) might have turned a few heads. 
"I see it every day in practice. It's just the type of kid he is," said Hoiberg of Long. "When you look at he and Georges, the energy that they bring on a daily basis not just when you're in practice but before practice, after practice, in the weight room. I'd say it's all of the freshmen. I'd put Sherron (Dorsey-Walker) and Nkereuwem (Okoro) in the same category as well. Those guys bond so well together and push everybody so hard."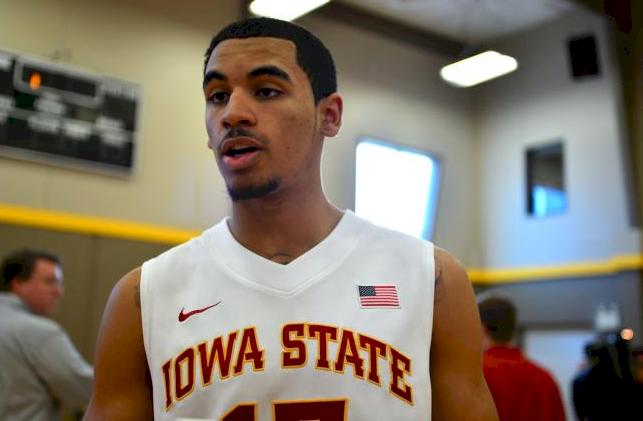 Melvin Ejim – Junior Melvin Ejim spent a lot of time at the 3-spot on Sunday and thrived, recording Iowa State's only double-double with 11 points and 12 rebounds. 
Three Down 
Turnovers – Iowa State committed 15 of them, 10 coming in the first half. 
Rebounding – Rebounding was an issue when things weren't going well for Iowa State. The D-2 Mavericks actually won the battle of the glass in the first half.  
"I told our guys that if we find a way to rebound the basketball, we're going to be a pretty darn good team," said Hoiberg. "If we don't, we're going to be very mediocre."
Will Clyburn – He's better than the nine point, three rebound performance that fans saw on Sunday. 
"Will usually gets out on the break and gets some finishes," said Hoiberg. "I felt that he got stuck in there a few times by taking an extra dribble and maybe trying to force the issue a little bit. We tried to get him the ball in the paint on a couple of occasions and just couldn't get it to him. Will is a heck of a basketball player."
Hoiberg noted that Clyburn had 16 defense rebounds in Iowa State's recent scrimmage. 
"That's where Will needs to get that thing to where he is pushing the ball down the floor and getting comfortable with the ball in his hands," said Hoiberg.
Notebook

*** A soon-to-be Iowa State men's basketball signee, Onalaska, Wisc. standout Matt Thomas was in attendance for the exhibition. 
*** Senior Chris Babb sat out the first of his three-game suspension for violating team rules. 
*** Korie Lucious scored 15 points in his Iowa State debut. The former Michigan State Spartan added five assists to his box score, turning the ball over four times in 20 minutes of action. Hoiberg said he expected Lucious and Clyburn by to be a bit rusty in their first games in over a year. 
"Korie had some very good stretches," said Hoiberg. "For the first time in playing in over a year off, he certainly has some things to build on."