By Chris Williams, CycloneFanatic.com PublisherFollow Chris on Twitter @ChrisMWilliams  
The college football encyclopedia himself, Phil Steele, recently released his preseason All-Big 12 teams for the upcoming 2012 season.
Steele tends to dig a little bit deeper than most analysts. In fact, Steele almost goes overboard with it in my opinion but that's what he's known for so more power to him. In his look ahead to 2012, Steele listed seven members of Iowa State's roster for next season's All Big 12 teams. Now I'm going to pick his analysis apart.
Whose stock is too high? Whose stock is too low? Who didn't Steele mention who I believe deserves some props?
Enjoy.
KNOTT AND KLEIN: Steele, like nearly every other analyst with a brain will do, placed Iowa State's two stud linebackers A.J. Klein and Jake Knott on his All-Big 12 first team. The dynamic duo's 231 combined tackles last season cannot be argued with. And keep in mind that Knott was injured for pretty much the entire season. No arguments from me on this one and if anybody who would question this lacks intelligence.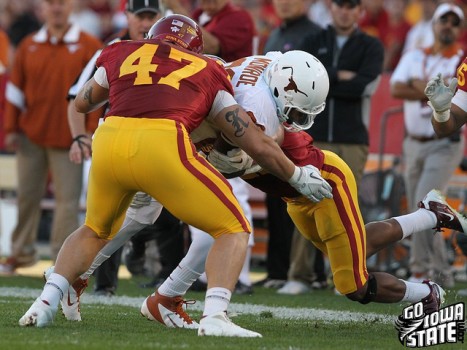 TOO HIGH: I think that Steele was a bit generous towards tight end Kurt Hammerschmidt and running back James White. Steele labeled Hammerschmidt as a fourth-team tight end and White as a third-team running back.
— Hammerschmidt, a senior, only caught 13 passes for 126 yards last season. The thing is, the Big 12 isn't what I'd call a deep league at the tight end position. So I'm sure that within this group of unknowns, a guy with experience like Hammerschmidt on a team that's offense should be better next season made sense to Steele. I'm not attempting to take anything away from Hammerschmidt here, but I really think that junior Ernst Brun will be the tight end putting up the offensive stats next year. Hammerschmidt is still a valuable player. At 271 pounds, he'll be a critical component of Iowa State's run and pass blocking. That stuff doesn't show up in box scores though and that's what a lot of these awards teams are based off of. When you factor Brun and fellow senior Ricky Howard into the mix, I think it's hard to talk awards when discussing any tight end on Iowa State's roster.
— I feel the same way about junior running back James White. When Shontrelle Johnson went down against Texas last season, White filled in admirably. His 743 yards and eight touchdowns were critical to Iowa State making a bowl game and who can forget that 25-yard wheel route touchdown reception in overtime vs. Oklahoma State. White is a solid, solid Big 12 running back. But with the fact that Johnson very well might be able to play next season, with Jeff Woody (who will score a lot of redzone touchdowns) and two redshirts hanging in the balance, I'm just not sure that White will get enough carries to put up third-team All-Big 12 type of numbers. Last year, nine other Big 12 players ran for more yards than White. Of the running backs on that list, four of those players are running backs (OSU's Joseph Randle, Texas' Malcolm Brown, Kansas' James Smith and Kansas State's John Hubert) who are returning (who didn't play for Texas A&M or Missouri) next season. Like Hammerschmidt, there's no way you can doubt the value of James White to the 2012 Cyclones. But with the other running backs on Iowa State's roster, putting up third-team numbers will be a hard thing to do.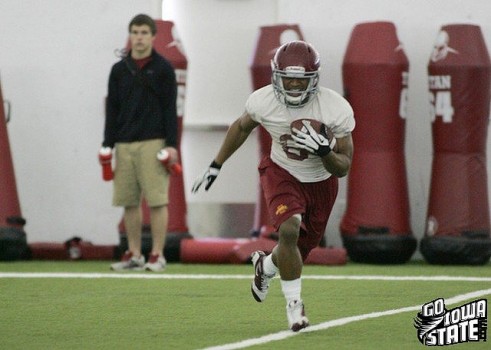 — When it comes to defensive tackle Jake McDonough's second-team honor, I'm torn. I'm torn because I really like the player that McDonough has turned himself into over the years. He's now up to 6-foot-5, 290 pounds and as a senior, should be the heart and soul of Iowa State's defensive line next season. But second-team is a lot to ask of a guy who only recorded 35 tackles and two sacks as a junior. I think that McDonough has the game to be this guy. But the depth around him has to do their part. If that happens, he can get the job done. If not, then I'm afraid Steele's stock on Jake McDonough is a bit too high.
TOO LOW: Punter Kirby Van Der Kamp didn't have a fantastic sophomore season. It wasn't bad, but Kirby clearly wasn't as sharp as he was during his rookie season in 2012. Van Der Kamp averaged 42.7 yards per punt as a sophomore, compared to 45.2 as a freshman. Van Der Kamp pinned 22 punts within the oppositions 20-yardline in 2010 on 60 punts, while only doing the same 21 times in 2011 on 68 kicks. These are damning numbers by any means and as I've been pretty vocal about over the last two years, I think that Iowa State has something special in Kirby Van Der Kamp. Phil Steele has Iowa State's punter on his fourth team. Van Der Kamp ranked fourth in the Big 12 in yards per punt last season. Both men ahead of him (not counting Missouri's punter) will be back next season. As a junior, Van Der Kamp should be better than he was as a freshman and jump up into the two-three range.
JUST RIGHT: Steele ranks sophomore center Tom Farniok as a fourth-team offensive lineman. Spot on. In fact, if you made me get off the fence, I'd say this stock is too low. Farniok has put on weight since his freshman season and in my opinion is a future pro.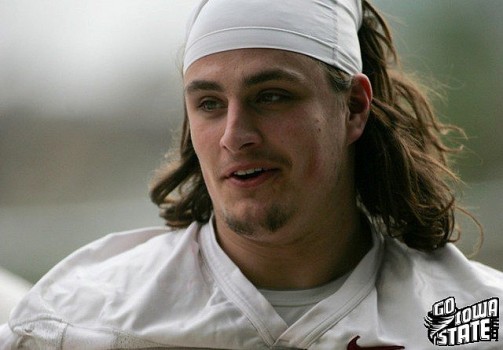 WHERE'S THE LOVE?: Five guys who Steele didn't mention but could have…
— Jacques Washington was Iowa State's third leading tackler as a sophomore last season. As a junior with inexperience surrounding him in Iowa State's secondary, Washington will be Iowa State's quarterback back there. He tied for 16th in the Big 12 in tackles last year with 90. It's not a stone cold lock by any means, but Jacques could without question be a second, third or fourth team selection next year should things go the way that Iowa State hopes.
— Both senior tackles on Iowa State's offensive line have the potential to be honored at the end of next season. Carter Bykowski is still a bit of a mystery to many who don't reside in central Iowa, but I've been told time and time again that he's a potential NFL Draft pick in 2013. And then there's Brayden Burris, a veteran who's had to fight injuries too often in his career. If he stays healthy, Burris could have a very impressive senior campaign.
— If he's cleared to play, running back Shontrelle Johnson deserves to be in the conversation. Johnson the best running back on Iowa State's roster and is a home run threat that the Cyclones lacked for much of last season.
— And last but certainly not least, there's senior wide receiver Josh Lenz. He's Iowa State's best receiver and the quarterbacks (both) feel comfortable with him. There are a lot of questions on Iowa State's offense. Josh Lenz isn't one of them. He's "Steady Eddie."
KEEP AN EYE ON: The following Cyclones who could jump into this discussion…
Aaron Horne (WR), Jarvis West (WR), Steele Jantz (QB), Durrell Givens (SS) and Roosevelt Maggitt (DE)