Today's game preview is brought to you by our good friends at Fareway. CLICK HERE for creative tailgating ideas and recipes from www.Fareway.com.



What: Iowa State (3-1, 0-1) @ No. 13/15 TCU (4-0, 1-0)
When: Saturday, Oct. 3 at 2:30 p.m.
Where: Amon G. Carter Stadium in Fort Worth, Texas
TV/Radio: Fox Sports Net — Cyclone Radio Network
"When the going gets tough, the tough get going."
My dad used to preach that saying to me all of the time when I was a kid.
It reminds me a lot of Paul Rhoads' football program over the last three years at Iowa State and I touched on this earlier this week in Monday Musings. If you look over the last three seasons, Rhoads' teams seem to always bounce back when you least expect them to.
The famous road upset of Nebraska in 2009 (without starting quarterback Austen Arnaud and running back Alexander Robinson) comes to mind. Nobody, not even the most optimist fanatic, saw that one coming.  
After Oklahoma dismantled Iowa State 52-0 in 2010, the Cyclones hit the road and defeated Texas (in Austin) for the first time in school history the next week.
In 2011, Iowa State had lost four Big 12 games in a row. In fact, I remember threads popping up on our forums that insisted Rhoads might not be the guy for this job. Iowa State traveled to Lubbock and embarrassed Texas Tech 41-7 the next week.  
Iowa State's offense only collected a grim 189 total yards in last week's 24-13 loss to Texas Tech. As our Brent Blum pointed out in his weekly column, it was the sixth worst offensive performance by a BCS conference team all season long. Yikes.  
With an offensively explosive Big 12 schedule ahead of the Clones, the going has most definitely gotten tough.
Will the tough get going this weekend in Fort Worth?
Something tells me that Rhoads' squad will be all game against a good, but not great TCU team that is now facing some major questions. Here's your preview. 
TCU will win if… 
…The Horned Frogs can overcome the loss of their starting quarterback and running back vs. one of the best defenses in the Big 12.
Across the board, depth is an issue for the Horned Frogs.
News broke on Thursday morning that TCU's starting quarterback Casey Pachall had been arrested on Wednesday with a DWI charge. Predictably, head coach Gary Patterson swiftly suspended Pachall indefinitely, meaning that he'll miss Saturday's game against Iowa State's 18th ranked defense. 
Pachall is currently the nation's fifth ranked quarterback in passing efficiency. He has completed 66 percent of his passes this season for 948 yards, 10 touchdowns and only one interception in wins over Grambling St., Kansas, Virginia and SMU.
To add insult to this injury, remember that only a few weeks ago, TCU lost its starting running back (and top rusher from last season) Waymon James to a season ender.  
"We started out with three NFL running backs and now we are down to one," said Patterson of his situation at running back. "The answer changes then. That can't be an excuse. The key to it is managing with what you have. It is about being able to score points with what you have. For us, that is what we have to do."
What will TCU do at quarterback? Redshirt freshman Trevone Boykin will get the nod in his first career start. Boyken went 9-for-10 for 75 yards and a touchdown this season, mostly in a TCU win over Grambling State.
Rivals.com ranked him as the 24th best dual-threat quarterback in college football's class of 2011.
While Boykin is still unproven at this level as a passer, he'll be a legitimate threat with his legs without question. In fact, Patterson actually joked about playing him at running back some earlier this week. Here's video from a big Boykin run vs. Virginia earlier this season.
Even before the Pachall news broke, TCU had depth issues. The Horned Frogs are playing 15 true freshmen this season compared to its 11 scholarship seniors on the roster. For a team transitioning to its first season in the Big 12 Conference, I have a hard time understanding how that is a good thing.
"Many doors were opened for them that may have been closed before," said Rhoads. "The fact that they are playing 15 true freshmen is a piece of that. They are getting a quality of athlete that can compete right away in this league and they are competing them."
Hello Defense 
Throw TCU's offensive issues to the side for a moment. 
Many folks down in Fort Worth believe that TCU has the best defense in the Big 12 this season. Let's look at the numbers shall we?
Here's where TCU is currently ranked in:
Total Defense: 7
Scoring Defense: 2
Rushing Defense: 8
Pass Defense: 17
Pass Efficiency Defense: 2
Not bad. 
Believe it or not, it's been one of those 15 true freshmen who has anchored TCU's defense so far this season. Defensive end Devonte Fields currently leads the Big 12 and all freshmen nationally with 8.5 tackles and five sacks on the season. 
"He's what everybody is looking for," said Rhoads. "To me, players can have the skills necessary to play every position. But when you get close to the football, you've got to be a man when you come in as a freshman if you're going to play. He has got the speed. He has got the strength. He has got the size. But he can get in there and compete with a fifth-year senior tackle and hold his own."
Fields and fellow defensive end Stansly Maponga (who was TCU's only preseason All-Big 12 pick) are sure to be a major challenge for an Iowa State offensive line that is struggling. 
The Horned Frog defense didn't give up its first touchdown of the season until 4:22 to go in the third quarter of its third game. 
"You've got guys in that system that thoroughly know and understand the defense," said Rhoads on why they're so good. "You've got a coaching staff that has answers because they've been doing it together for so long. It's one of the key things, especially for a play caller, to have answers. If they do this, I do that. If they do this, I do that. They have that within the system. They've recruited within the system. They have players at all positions that are ideal fits for it and they have great players playing on the defense." 
Iowa State will win if…
 …The Cyclones can find a pulse on offense and quit turning that dadgum football over. It all starts with the quarterback position. 
Steele Jantz or Jared Barnett? Jared Barnett or Steele Jantz? What's a coach to do?
While we won't officially know who will start for Iowa State until Saturday afternoon, Rhoads did shed some extra light on why Jantz won the job in the first place after Tuesday's practice.
"One of the reasons why Steele earned the job was because he can make every throw," said Rhoads. "Jared, with his arm and the velocity of it, he can't make certain throws that Steele can. That's a piece that we've been seeing in practice and one of the reasons why he was able to come in and be so efficient when he was the starter a year ago is he manages the offense very well and he throws balls on time. I've got to see him doing all of those things as we continue to prepare."
My guess is that Rhoads will approach this game much like the Texas A&M game a season ago. Start Jantz and see what happens. If he produces then great. If not, have a quick trigger to go to the bullpen with Jared Barnett waiting in the wings. But that's nothing more than a guess. As expected, Rhoads has been awfully hush-hush about the quarterback situation all week long.
Of course for your quarterback to have a chance (especially against a nasty defense like TCU's), you've got to get production in the trenches and in the run game, which brings us to…
Key Match-Up: Iowa State's offensive line vs. TCU's defensive line
Iowa State's offensive line was downright bad last week against Texas Tech. Running backs had nowhere to run. Jantz ran around Jack Trice Stadium like a chicken with its head cut off. 
Inside-out. It's basic football. Solidify your team up front and everything else will improve after that. I've already documented the task that will be protecting Jantz or Barnett or whoever from TCU's defensive front four.
This match-up is always a big deal but protecting the quarterback and most importantly, being able to run the football consistently will be critical on Saturday for Iowa State. Pressure has to be taken off of this team's signal caller no matter who it is.
3 Keys to a Cyclone Victory:
Turnovers – Turn the football over on the road in the Big 12 and you're going to lose. Period.
Third downs – The team that is most successful on third down might be the team that wins this football game. Consider this: TCU ranks first in America in third-down defense with opponents converting just 19.3 percent of the time. Iowa State's defense is ranked 23rd nationally in the same category giving up first downs just 31 percent of the time. In a game in which ball control will more than likely be a major factor, keeping your defense off of the field will be critical to both sides.  
Kicking game – Generally, this gets overblown in my opinion. It's pretty rare for a missed kick, PAT or field goal, to actually impact the score of a game. But Iowa State has missed two PAT's so far this season. This can't happen anywhere, especially on the road in the Big 12. A missed PAT deflates momentum more than any other play in football. Edwin Arceo has two stricks. If he whiffs again, it's time to pul the redshirt off of Cole Netten.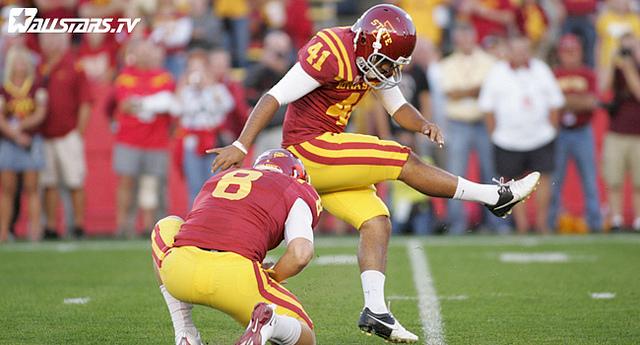 Magic Number:
This week's is 47. That's how many non-offensive touchdowns TCU has scored during Gary Patterson's 12 seasons as head coach. The Horned Frogs put points on the board in all sorts of ways.
Notebook:
*** Saturday will mark the fourth time in history that Iowa State and TCU have met on the gridiron. TCU is 3-0 historically against the Cyclones. The last time these programs tangled was the 2005 Houston Bowl, which resulted in a 27-24 Horned Frog victory.
*** TCU has won 28 of its last 29 games at Amon G. Carter Stadium. The Horned Frogs are currently on a 12-game winning streak, the longest in the nation.
*** TCU's 11 scholarship seniors equal the eighth (tie) lowest total per team in America.
*** TCU is just one of three schools (Florida, Utah) to win at least six bowl games in the last seven seasons.
Prediction:
I actually picked Iowa State to win this game back in June. I've never been high on TCU. Their depth in the Big 12 has always been a concern to me. Sure – their defense is solid. But so is Iowa State's. We all know that you have to be able to score points in this league. And that's why after watching a lackluster performance by the Cyclone offense last weekend, I was on the fence about who to pick in this one.
In fact, I actually picked TCU to win earlier in the week on WHO-TV 13. 
But the recent news of Pachall being out has pushed me over the top. I'm flip-flopping like a politician today. 
This is a future NFL quarterback we're talking about here. In fact, NFLDraftScout.com currently has Pachall ranked as the fifth best draft prospect (of quarterbacks) for the class of 2014.
This game just got fascinating.
Consider this: Iowa State has been preparing for Pachall all week long. Boykin is a curve ball. Conventional wisdom says that TCU will run the ball more. Will Iowa State go with the 4-3 base defense more often than the Nickel because of it right?
Is TCU's defense better than Texas Tech's? Probably. But it isn't possible for Iowa State's offense to play that badly two weeks in a row is it?
Both defenses are great. My guess is that it will come down to which offense is less self-destructive. 
TCU opened in Vegas as 12 point favorites in this one. That number is now down to 7.5.
Give me the Cyclones in an beautiful but still very ugly football game. 
The Pick:
Iowa State 21, TCU 20