What: Iowa State (4-3, 1-3) vs. Baylor (3-3, 0-3)
When: Saturday, Oct. 13 at 6 p.m.
Where: Jack Trice Stadium
TV: FSN
Iowa State's offense is currently ranked dead last in the Big 12 Conference averaging a measly 342.57 yards per game. Meanwhile, Baylor's defense is currently ranked dead last in the Big 12 Conference (and America I might add) giving up a whopping 604.33 yards per game.
Something has to give on Saturday night folks.
Here's your preview.
Baylor will win if…
…It's offense continues to steam roll the opposition. Baylor has scored 45 points in nine of its last 10 games (dating back to last season). The Bears are ranked third nationally in total offense at 574.2 yards per game and are scoring 48.0 points per game.
"They are loaded with players," said Iowa State head coach Paul Rhoads. "Their receivers are at the top of the league statistically speaking with one having 168 yards a game. They also have two running backs that carry the ball effectively. Nick Florence can run the ball himself and he leads the league at about 370 a game in throwing it."
Nick Florence isn't Robert Griffin III but he's filled in admirably for 2011's Heisman Trophy winner. Florence, a senior, is averaging 407.2 yards per game in total offense, which tops every other player in college football.
Here's some good news for Iowa State fans though. Below are the seven teams Iowa State has played so far, their average points scored per game and what Wally Burnham's crew held them to.
Tulsa – 23, 39.50
Iowa – 6, 20.86
Western Illinois – 3, 13.86
Texas Tech – 24, 42.86
TCU – 23, 36.00
Kansas State – 27, 42.86
Oklahoma State – 31, 45.67
As you can see, teams just aren't scoring as many points against Iowa State as they are against everybody else. So the thought of Baylor going on the road and dropping 50 on the Cyclones does not seem crazy, but a tad bit unrealistic based off of the trend listed above.
However, how gassed is Iowa State's defense after covering for a sub-par offense all season long? Stay tuned. 
For a good look as to what Iowa State might do schematically vs. Baylor's offense, just take a look at what TCU did in a 49-21 victory over the Bears two weeks ago. The Horned Frogs held Baylor to only 106 rushing yards, resulting in more pressure being put on Florence, who threw four interceptions in that contest. If somehow the Cyclones can shut down Baylor's run game, it will also eliminate a huge part of Art Briles' offensive game plan, the play action pass.
"If you take your eyes off of them for a second they will be up the field running a fly route on you and you won't have a chance to catch them," said Iowa State defensive back Deon Broomfield. "They have fast backs and when they get in the open-field, they can make a move. We've got to play smart, play with distance and make sure those guys don't get behind us."
At the end of the day though, if Baylor scores 45 points or more, it's hard to imagine Iowa State's offense winning any sort of a shootout at this point in time. 
Quotable: Art Briles scouts Iowa State's defense
"They're just good. They've got a really good defense, and they've got a lot of good people. They've had good people for a long time. The two linebackers, [A.J.] Klein and [Jake] Knott, both started 33 straight games. Really, really good football players. Up front, they're big, strong and physical. They've always had skilled people on the back end. They've got a safety, [Jacques] Washington, who's been a three-year starter. They had a corner that got drafted last year. Through that part of the league up there, it's really a big, strong defensive part of the conference. When you throw in Kansas State, Kansas and people up in that area, it's what they've kind of been built around. It's almost got a Big 10 mentality to it up there. That's definitely been a strength of their defense. Offensively, they've been a little bit hot and cold, but they have the potential to ball control you and have finesse when they need to be." 
Iowa State will win if…
…The Cyclones can find a way to take advantage of Baylor's deplorable defense. Regardless as to how bad there Bears have been though, that really means nothing. I'm writing this preview on Thursday afternoon and still, nobody has a clue as to who will start the game at quarterback at Iowa State. That's a problem.
"We've got to take care of what Iowa State does and do it more effective than we've done it for the first half of the season," said Rhoads. "At the same time I say that, in three of those games we've had 37 points or more. We've got to do the things that we do well, maybe compact the package a little bit and see if we can't be more efficient in our execution."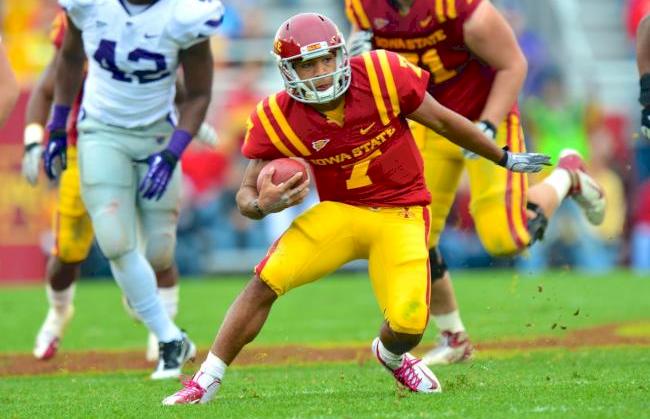 So who will be Iowa State's quarterback? Got a three-sided coin to flip?
Both Steele Jantz and Jared Barnett have had chances to secure the job. While both had success early in their runs at the top of the food chain, both faded the longer they were in the spotlight. Jantz is a turnover liability and Barnett has completed 35 of his 75 pass attempts over the last two weeks.
The fact that neither Jantz nor Barnett has been able to sustain success makes me think that redshirt freshman Sam Richardson has a legitimate shot to be the man this weekend. But has Richardson progressed to the point where Rhoads and offensive coordinator Courtney Messingham feel he is ready for the show?
We'll all find out together on Saturday evening.
Key Match-Up: Iowa State's secondary vs. Baylor's wide receivers
Iowa State's defensive line vs. Baylor's offensive line is a candidate here but I'm going to go with a match-up that actually goes hand-in-hand…Strength vs. strength.
Baylor's ridiculous wide receivers vs. Iowa State's physical secondary is the match-up I'm the most excited to keep an eye on Saturday night. Now that's assuming that Iowa State can do what TCU did and slow down Baylor's rushing attack. If Baylor is able to run the football and Nick Florence has plenty of time to throw it, toss this key match-up out the window.
But watching a fair fight between Baylor's wide outs and Iowa State's secondary could be quite the treat.
"Usually teams have a slot receiver who is really quick but their outside receivers and inside receivers move the same," said Broomfield. "The only difference is their size but they are fast. Really fast."
Terrance Williams is Baylor's headliner at wide receiver. He's recorded over 100 receiving yards in 5-of-6 games this season. Williams has nine touchdown receptions so far with three of them coming on 70-yard catches or more. He's the nation's leading receiver at 168.8 yards per game and has caught a touchdown in five straight games. 
3 Keys to a Cyclone Victory
Turnover margin – Turnovers have been an issue for the Cyclones all season long. Baylor is 11-0 when recording two or more takeaways since Phil Bennett became the program's defensive coordinator. In Baylor's 3-0 start, the Bears were +6 in turnover margin over the opposition. In Baylor's last three games (all losses), the Bears have not forced a single takeaway. 
Quotable: Art Briles on Baylor's turnover issues
"That's really the most disturbing fact – in Big 12 Conference play that we don't have a turnover. We're minus-nine in that category. It's not a good stat to have on your side if you're a stat guy. As far as forcing turnovers, creating turnovers – that's a constant thing that you're always doing. It's kind of a momentum deal to where things get rolling, you get one or two turnovers – it stops or creates the flow of the game depending on which side you're on. Our job is to protect the ball on offense and get turnovers on defense. We haven't done an extremely good job of that prior."
Defensive line – Stopping Baylor's rushing attack will be critical, as will putting pressure on Nick Florence. Read more about that by clicking the link below. 
LINK: Why stopping Baylor's rushing attack is so critical for the Cyclones 
Run the football – The Cyclones haven't had much of a passing attack at all over the the last few weeks – or a running game for that matter. This isn't breaking news to anybody hanging out at CycloneFanatic.com. What's the best way to get an offense back on track? Run the football. Run the football. Run the football. Preferably with running backs, a position group that only carried the football 11 times vs. Oklahoma State. 
It's time for Iowa State to mix it up. Don't be surprised to see more of Jeff Woody and DeVondrick Nealy in this one. 
Magic Number
This week's is 10. 
Baylor's offense has racked up 10 plays of 50 yards or more so far this season. For comparison's sake, Iowa State has half as many (five) plays at 50 yards or more.
Notebook
*** This will mark the 11th meeting between Iowa State and Baylor. The Bears have won 3-of-4 over the Cyclones and the all-time series is tied at 5-5. Iowa State is 3-2 in games played in Ames. 
*** Saturday will mark the 100th anniversary of Homecoming football for Iowa State. 
*** Iowa State running back James White likely will not play vs. Baylor due to a knee injury. However, Paul Rhoads has said that he expects wide receiver Josh Lenz to be back after missing the Oklahoma State game.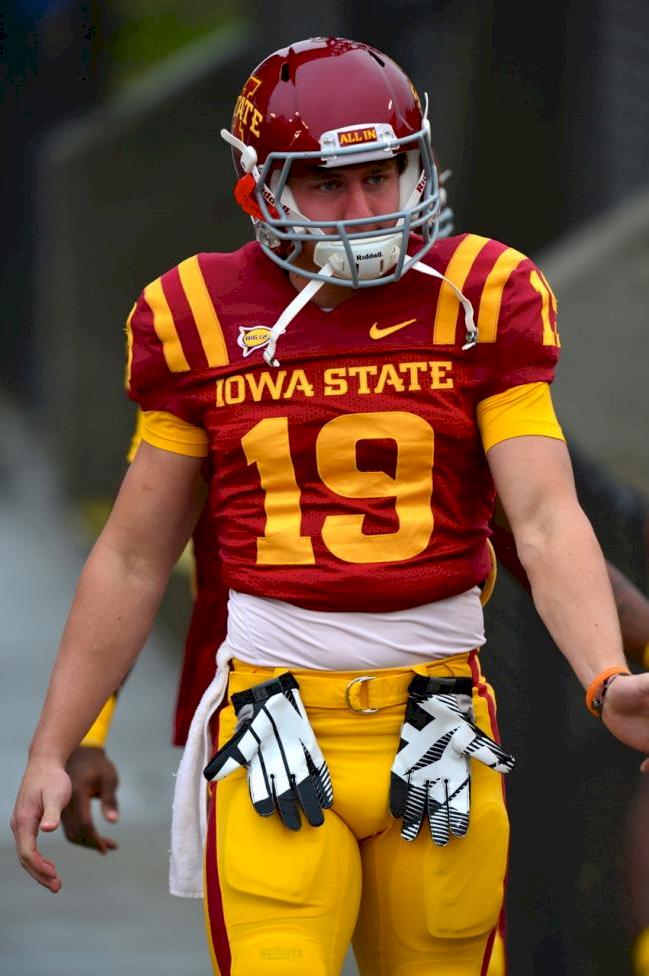 *** Nick Florence ranks eight in both Baylor's all-time career passing yards and passing touchdown's lists. 
*** On Saturday night, Baylor will wrap up a six-week stretch with only one home game, four road games and a bye. 
*** Baylor has had five offensive linemen drafted since the year 2009. 
Prediction
Like most of you, I can see this game going either way. 
It really is a crossroads game for a struggling Iowa State team. How will the Cyclones respond to their recent offensive issues and giving up over 600 yards of offense to Oklahoma State last week?
It's gut check time for Iowa State. A bowl game may or may not be on the line with this one folks. 
At a time like this, I'm glad that Paul Rhoads is in Ames. This is a Paul Rhoads type of football game. Everybody is down on your team. Pick them up and surprise a few folks. While Iowa State is indeed the favorite heading into this one, it sure doesn't feel like it.
It might not be pretty, but I think that Iowa State will find a way to pull this one out. This team is too good to lose three in a row at Jack Trice Stadium. 
The Pick
Iowa State 34, Baylor 31