Despite what many national "experts" might say, Iowa State's 37-23 win over TCU on Saturday was NOT a shocking upset. Not in my opinion at least. 
Iowa State was the better football team. Period. 
After a hiccup last week against Texas Tech, Paul Rhoads' football team snapped out of its offensive coma, went on the road and broke the longest winning streak in all of college football.
And you know what? Nobody should be surprised. In fact, the entire cast of ESPN's "College Gameday" program picked the Cyclones to win this one on Saturday morning. I picked Iowa State. During Thursday night's Cyclone Fanatic Call-In Show, former Iowa State quarterback Bret Meyer picked Iowa State. The overwhelming majority of "experts" in our weekly pick'em competition took the Cyclones. 
You'd expect guys like Meyer and me to go this way but for Kirk Herbstreit, Lee Corso and Desmond Howard to do so without flinching, that should tell everybody something.
The nation has finally caught on to Iowa State being legit. This program is for real and with a 4-1 record and a top five (I assume) team coming to town next Saturday, the sky is the limit from here. 
Here's your report card. 
Game Ball
Josh Lenz – "Where is Josh Lenz?"
I can't tell you how many times I've been asked that over the last month. Lenz entered Saturday's game with only 132 yards and one touchdown through the first four games of the season. 
Just relax. 
Lenz accounted for four touchdowns in the TCU win. Three of those were receiving scores. One came from his arm. You read that right. Courtney Messingham called a beautiful reverse-pass from Lenz to Ernst Brun early in the fourth quarter and Lenz capitalized one of the best fantasy days in all of college football (that's a joke, kinda).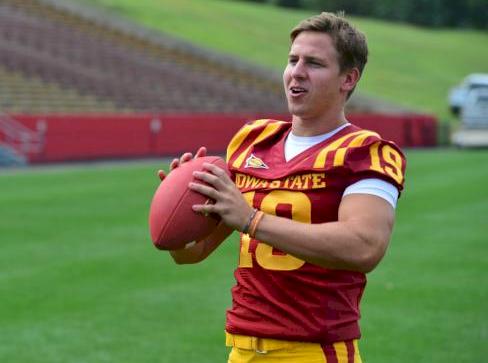 Lenz caught five passes for 147 yards on the day. He's back and should be very happy that Jared Barnett is now his quarterback. Which leads us to…
Three Up
Coaching decision – Making a quarterback change after a 3-1 start can't be easy to do. But that's exactly what Paul Rhoads did after Steele Jantz's four-turnover performance in last weekend's home loss to Texas Tech.
After a marathon quarterback controversy that began during last year's Pinstripe Bowl, Rhoads and his staff went with Jantz to begin the season. Jantz was sharp during his first three games, completing 70 percent of his passes along the way. But even so, No. 2 was a liability from a turnover standpoint. That's always been the problem with Jantz. 
A lot of coaches are stubborn. Rhoads wasn't with this decision though. He watched last week's tape, watched both men in practice all week long and made the call – the right call.
Jared Barnett was far from perfect in the win. His 12-for-21 day wasn't dazzling. But when Barnett is leading the offense, there's some sort of calming effect that goes with it. I can't explain it but this calming effect exists.
Barnett led the Cyclones to victory in what felt like a home game for the Texas native. He's now 4-2 in starts vs. Big 12 teams. Jantz is 0-5. 
Leadership – This is what you have to like about  Barnett. What he lacks in physical skills (compared to Jantz), he makes up for with leadership, decision-making and overall knowledge of the game. That was obvious time and time again on Saturday. 
Again, it goes back to that Barnett calming effect. It's very, very real. 
Took advantage of major opportunity – Iowa State let one get away last week no doubt. 
But when TCU quarterback Casey Pachall was suspended earlier in the week, it felt like a door swung wide open for the Cyclones to walk through. 
Iowa State took advantage of the situation, made TCU pay and hit the reset button on the season. That's refreshing after last week's letdown. 
Three Down
Kicking – Iowa State has missed three PAT's in five games. Spin it however you want. That is inexcusable for a Big 12 football program. Heck, that's inexcusable for a division three program.
I'm not in practice every day. I didn't monitor the kicking competition between Edwin Arceo and Cole Netten during fall camp.
But unless Netten has been a major disappointment, you have to pull his redshirt at this time do you not? Netten is on scholarship for a reason. The walk-on has botched three extra points in five games. Would redshirting Netten be nice? Absolutely. But there isn't a more deflating play in football than a missed PAT and this can't keep happening.
Pardon the cliche' but if you keep playing with fire, you're bound to get burned eventually. 
I don't expect Netten to come in and be Morten Andersen by any means but at least he gives you an option option. 
Kickoff coverage – It obviously wasn't great on this one but I thought the Cyclone Radio Network's Eric Heft put it best after the game.
"If you're kicking off that many times, that's a good thing," said the broadcasting veteran.
Darn right Mr. Heft. Darn right. 
Last week – The elephant in the room…
Oklahoma went to Lubbock and embarrassed Texas Tech by a 41-20 final on Saturday.   
After this TCU win, how nice would it be to have last week back?
I know…Woulda. Coulda. Shoulda. It just doesn't matter. But man…
Having said that, Kansas State might have beaten rival Kansas 56-16 on Saturday but the Wildcats sure look vulnerable to me. Stay tuned.  
Helmet Stickers
Jake McDonough – That has to be the best game of Jake McDonough has ever played. McDonough sacked TCU quarterback Trevone Boykin twice, was in the backfield dozens of times and ended up with seven tackles in the win. My money says that Boykin will have nightmares featuring McDonough as the Boogeyman all next week. McDonough is playing at an All-Big 12 level right now. 
Jake Knott – Note to the opposition: Do not throw the ball near No. 20 at the end of games. Knott picked off his second game-clinching interception of the season (the other was that memorable one at Iowa of course) while recording 13 tackles (10 of those solo) in the win. 
A.J. Klein – No. 47 added nine tackles to his stat line on the season. Klein was credited with a sack as well.
David Irving – That's the guy we've been waiting to see! There might not have been a bigger play in the win than David Irving's interception/touchdown in the fourth quarter. Let's hope that the sophomore can use this momentum to be more of a difference maker in Iowa State's pass rush for the rest of the season. 
Durrell Givens – He had two fumble recoveries in the win and forced one as well. 
Roosevelt Maggitt – He put a lot of pressure on Boykin all day, collecting six tackles along the way. 
Jeremy Reeves – His six tackles, a forced fumble and a pass break-up were impressive.
Deon Broomfield – This guy hits hard. Broomfield forced a fumble while recording four tackles in the game. 
Willie Scott – The junior defensive end recorded his first sack of the season.
Jacques Washington – No. 10 picked off his third pass of the season in the win. That's a team high.
Jared Barnett – I could have given the game ball to him. Maybe I should have? After all, somebody had to throw the ball to Lenz right? 
Ernst Brun – The junior tight end caught his third touchdown pass of the season and racked up 25 receiving yards on the day.
James White – His 53 total yards won't turn any heads but I thought that James White picked up some tough yards at critical times for Iowa State on Saturday.
Everybody – This was the definition of a team victory. The defense score a touchdown. The offense dropped 30 points on a very good TCU defense. Adjustments were made from last week by the coaching staff. Quality stuff.