By Chris Williams, CycloneFanatic.com PublisherFollow Chris on Twitter @ChrisMWilliams  
Chris Williams' Monday Musings are now being brought to you by Adam Gray Insurance – a Nationwide Insurance agent based out of Johnston. Did you just graduate from college? Everybody needs insurance. Why not support a Cyclone Fanatic? Give Adam Gray a call today at 515-299-0536. 

The silly season is here.
What is this silly season you ask? It's the much too long offseason on a fan-site, full of recruiting rumors, random threads (this past weekend featured cheating girlfriends and haunted houses) and of course the good folks who complain about everything just for the mere sake of complaining.
Welcome ladies and gentlemen to CycloneFanatic.com in the middle of June!
Sure – The introduction to today's musings was snarky and sarcastic but know that I appreciate each and every one of you (even the Hawkeye trolls) for logging on today. I've got quite a bit on my mind so let's start with today's hot topic, basketball recruiting.
ON IOWA STATE BASKETBALL…
— I can't report any specifics right now (I'm working on it) but based off of what I'm hearing, it was a very productive recruiting weekend for the Iowa State men's basketball program.
Matt Thomas, Dorian Finney-Smith and Monte Morris were all in town. Finney-Smith, a Virginia Tech transfer, was of course on an official visit.
I'm not going to go the route of teasing you all today with "this guy might commit in three days" types of statements because as I always write, anything can happen in college basketball recruiting. I'll just refer back to my first sentence of this segment. It sounds like Iowa State had a very productive weekend and I'll leave it at that. So stay tuned.
— Jarrod Uthoff committed to the University of Iowa last week. This came as a surprise to nobody. I'm not going to fire off any shots or anything (there's no need to do this) but I will write this: From the day that Iowa State started recruiting Uthoff to now, this might be the most bizarre recruiting story that I've ever covered.
— I've been reading some basketball threads/thinking a little bit about next season. You know who I think fans are underrating? Tyrus McGee. Of the Cyclones who attempted 30 or more 3-pointers last season, McGee was Iowa State's second best shooter from long range (at .394 percent) on the team behind Scott Christopherson. Korie Lucious and Will Clyburn will garner all sorts of offseason headlines in the coming months and rightfully so. But something tells me that after a year of playing Big 12 basketball, McGee will improve a lot and have a very productive season for Iowa State.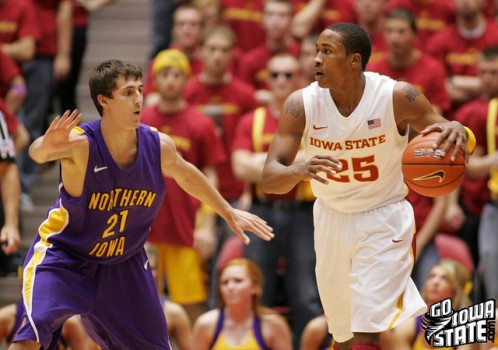 — Two years as an ops man at Maryland…A year doing the same at Northwestern…Two of the same at Iowa State (for you non-math majors, that's five years of being employed by a high-major college basketball program)…A priceless passion for Iowa State…The son of one of women's college basketball's all-time greats (coaching is in his blood)…
But Billy Fennelly was just handed an assistant coaching position last week right?
Give me a break. Have you ever watched Bill Fennelly coach a game? Better yet, have you ever talked to the man? If so, please answer this question. Does this really seem like the type of guy who just hands anything to anybody in life?
I don't have a problem with folks who have the opinion that they would have liked to have seen Bill go "outside the program" to bring in "new blood." That's an opinion. This is a fan-site. We all have them and they are all legitimate and I respect that.
But to sit here and tell me that Billy hasn't earned the right to be considered for a job is ridiculous.
Let's give the guy a chance before you rake him over the coals will you? Talk about eating your own young…
I guess my biggest problem with this negativity is the fact that Fennelly's program at Iowa State has been to six straight NCAA Tournaments and 13 in 17 years. Oh but you say the program has lost a step over the last few years?
Okay…
Last season, the Iowa State women were faced with the challenge of playing with a true freshman point guard (who is crazy-talented by the way) and playing for a head coach that couldn't even talk for half of the season. Bill Fennelly didn't make a single excuse though. With his whiteboard and all, Fennelly kept coaching. He soldiered on and led his team to yet another NCAA Tournament in the toughest league in the country under those circumstances and a few more that I didn't even mention.
Bill Fennelly is the cornerstone of the Iowa State athletic department.
McCarney. Chizik. Rhoads. Floyd. Eustachy. Morgan. McDermott. Van De Velde. Pollard. Etc.
Bill Fennelly has seen it all, had more success than most at Iowa State. And he's still at Iowa State. Bill Fennelly can hire Elmer Fudd as his third assistant for all I care.
No. Billy has never "coached" before at a high level. He's been an ops guy. But do you really think that he's just been sitting around his office surfing Facebook for the last five years (or 20 as Bill Fennelly's son for that matter).
Billy Fennelly will work his butt off for Iowa State and unlike an outsider, he can sell the university (and Ames for that matter) much better than most. It's not like he needs it but after this weekend, the guy should have plenty of motivation to succeed in his new role within the women's basketball program.
— Jodi Steyer = Class Act
ON IOWA STATE FOOTBALL…
— There's something about those California quarterbacks…Paul Rhoads loves them!
It all began with Steele Jantz two years ago…In Iowa State's class of 2012, Grant Rohach joined the program. On Friday afternoon, a new California signal caller verbally committed to Rhoads' program in Trevor Hodge. 
This was Iowa State's first commitment of 2013 but with a big camp coming up this weekend, more could be on the way.
— Speaking of camp, Iowa State held its 7-on-7 camp in Ames last night. I'm hearing that two young men with Iowa State offers made the trip: Ankeny quarterback Joel Lanning and 2014 Urbandale wide receiver Allen Lazard. 
— According to the USA Today's college football preview magazine, Iowa State will go 1-8 in the Big 12 next season (and 3-9) overall. The publication also picked Kansas to go 0-9 in league play. In other news, upsets NEVER happen in college football. EVER. Also, Iowa State will replace Kelechi Osemele and Leonard Johnson with seventh graders from nearby Roland-Story High.
— If I wrote for one of these preseason publications (which I don't because I'm only a hack blogger who lives in my parents' basement eating Doritos all day long), I'd have serious reservations about picking TCU or West Virginia to go crazy next season. Both are bowl teams who will likely finish in the 3-5 or 6 range in the league but let's not forget that each school has been participating in mid-major football leagues for quite some time (yes – that's a stone cold shot at the Big East). Both programs are talented. Both programs have the potential to finish up there in the mix. BUT the week-to-week grind of the Big 12 will be a change. We'll just have to wait and see how each program is prepared to handle it.
— The next few weeks will go a long way in dictating the future of college football. Playoff? How many teams? How will we figure which teams will participate in such a tournament?
I've always been a fan of developing some sort of selection committee but guys like former Florida State coach Bobby Bowden (who offered to be a part of such a panel last week) shouldn't be a part of it. Listen – I'm as big of a Bobby Bowden fan as you can find in central Iowa. I've always followed the Noles closely and I've read every book that Bobby has inked. But I just can't buy that having guys like that making this big of a decision is a good thing.
Now I'll tell you what I would buy. If it's a 20 person committee (just throwing that number out there) with five former coaches (Bowden included), I'm cool with that. But you can't just hand the keys to the sport over to men who were prominent in the past because that's the whole point of what the sport is attempting to do – Get away from its past. The days of crowning split national champions are over folks. Media needs to be involved in this decision. College administrators need to be involved. Everybody needs to be involved.
Regardless of how things go down, this is an exciting time. The future of the sport we love is up in the air and that doesn't happen very often.