ABOVE: Photo courtesy of Cyclones.com 
By Chris Williams, CycloneFanatic.com PublisherFollow Chris on Twitter @ChrisMWilliams  
The Iowa State athletic department made a blockbuster announcement on Friday morning with the hiring of ABC5 Sports Director/Voice of the Cyclones John Walters as a full-time employee. Walters, a three-time Iowa "Sportscaster of the Year" winner, will head up Cyclones.tv, that will launch in August.
Shortly after the announcement was made, CycloneFanatic.com caught up with Walters to discuss the next step of his career.
CF: Congratulations on what seems like just an awesome opportunity for you. What would you say excites you the most about the next step of your career?
JW: I love being around the Iowa State coaching staffs. I'll get to do more of that now and work more closely with all of those staffs. I can concentrate on something that I really love, which is Iowa State athletics. It's going to be fun to really put all of my energy into that. You see more shows on television now like on ESPN that are more specialized. There's Baseball Tonight and NFL Today instead of just Sports Center. You see specialized type shows. I've always been kind of jealous of the Tim Kurkjian's of the world that can kind of just focus on one thing and now I'll be able to do that with Iowa State. I'll hopefully provide some really good content for the website, for Cyclones.tv, so fans can feel like they are getting their money's worth. It's going to be a great product. I'll get to work with Tyler Rutherford and Dani Varley who have done a tremendous job already with the things that they've put together. Now I'll try to do that and it's going to be a blast. It will be fun to be around Iowa State athletics on a daily basis. I'll get to go to football practice way more often. Basketball practice way more often. That will be really good for me for calling the games too. There's tons of positives.
CF: One of the things that stood out to me when I watched the video of you and Jamie (Pollard) making the announcement was the fact that this should be a great opportunity for the non-revenue sports, that aren't football and men's basketball, to really gain some extra exposure. 
JW:
Absolutely. I think that is one of the best things that will come of this. I'd really like to and we've been in some talks of doing some sort of an Olympic sports show. Iowa State is blessed with a tremendous volleyball program. Christy Johnson-Lynch deserves to have people hear, read and see more about what her program is doing. It's one of the best in the nation. Corey Ihmels, it's the same deal with track and field and cross country. I can go on and on. It's going to be great to put some focus on those sports more so than in the past and really devote some time into that. Those sports are very deserving of that and I can't wait to be a part of that.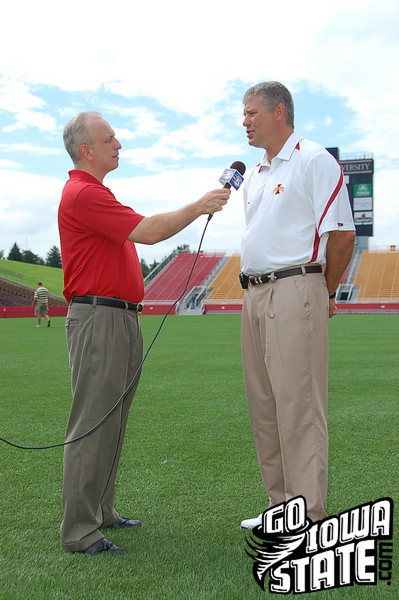 CF: Let's go back to the revenue sports, football, men's basketball and even women's basketball. I haven't done this nearly as long as you but I haven't been around when there's been this much momentum amongst the fan base. They seem to be so in love with this group of coaches right now. Is that an overstatement by me, as far as the momentum at Iowa State right now?
JW: It might be an understatement. You look at averaging 53,000 fans for football. Finishing second in the Big 12 in men's basketball. Women's basketball was third in the nation. Volleyball attendance is going through the roof. We continue to have great wrestling attendance. It's just an awesome time to be a Cyclone. There is tons and tons of positive momentum going on right now in the athletic department. I am just really excited to be a part of that. You're right. The coaches that are in place, the people really feel connected to. When you look at a Paul Rhoads, Fred Hoiberg, Bill Fennelly, you're talking about native Iowans. Guys that love being here. Guys that understand what a special place that Iowa State is. The results on the field are as good as they've ever been too. You talk about a bowl game, an NCAA Tournament in men's and women's basketball and NCAA volleyball that made the Elite Eight. It doesn't get much better than that when you get all of those programs in postseason play. There's just a lot of positive momentum going on right now for Iowa State and on top of that, the Big 12 has opened up the option to do these tier three things and Iowa State had been kind of waiting in the wings to see how it all played out last year. Now they pounced on it. They feel like this is the time to do it. The timing is right and I think that Jamie Pollard is right on the money by thinking this is the time to go with something like this.
CW: What do you think Pete Taylor would say about not only your big announcement but everything that is happening right now in general?
JW: I know he'd be happy for me. I think he'd be really pleased to see Iowa State taking off the way he has. He was a huge part of it. So many fans grew up listening to Pete and they grew their identity as Cyclone fans because of Pete. He was a huge, huge part of that. I think he'd be very proud to see the direction in which the athletic department is heading, the great success on the field, the fan base growing and nobody played a bigger role in all of that than Pete Taylor. There's no doubt in my mind.
CW: Tomorrow is the big spring game. What are you looking forward to watching the most?
JW: I just enjoy football so much, it is just fun to see the guys out there in uniform again even if it is just a game that isn't going to register in the standings. It's still good to see guys get out there and compete. It isn't like they're going halfway in this thing. They play hard. These guys are playing for positions. You get to see guys play at the highest level and a big part of it is that it is a mixed emotions game because you get really excited when you see James White bust open an 85-yard run and you also think, why didn't somebody catch him? You can never really fully enjoy it as much as you'd like to but you see those flashes of brilliance from individuals that gets you really excited about next season. That's one of the things that excites me the most about what we're going to be doing. We're going to be launching this thing in time for the football season, in time for fall camp. Fans are going to get more of an inside look at Iowa State's practices leading up to the season. People just can't get enough of that stuff. You know that as well as anybody with your website. There is no doubt that when practice rolls around, that people get so wrapped up in football that they cannot wait for that opener. Hopefully we wet their appetites a little with the practice reports that we're going to do and the features that we're going to do leading up to the season.