By Chris Williams, CycloneFanatic.com PublisherFollow Chris on Twitter @ChrisMWilliams
What: Iowa State (21-9, 11-6) vs. No. 9 Baylor (25-5, 12-5)
When: Saturday, March 3 at 6 p.m.
Where: Hilton Coliseum
TV: CTN/ESPN3
"That was about as disappointed as I've been in our guys."
Before Thursday's practice, that's how Fred Hoiberg described Iowa State's 79-64 loss to Baylor back on Feb. 13. Baylor's ridiculously long frontline threw down seven dunks against the Cyclones on that night, handing Iowa State its only double-digit loss of the season.
Since that ugly evening in Waco, Iowa State has won three out of its last four games. The 15-point defeat in which Baylor shot an astounding 72 percent from the field in the second half caused Iowa State's toughness to be questioned by many. After winning at Kansas State and giving Missouri all that they wanted and more in Columbia, one might argue now that toughness is a strength for the Cyclones.
The 3-seed in the upcoming Big 12 Tournament will be on the line Saturday night. Will the Cyclones use the energy of a sold out Hilton Coliseum and send the Bears packing?
Let's break it down.
LINK: For more on Iowa State vs. Baylor, check out this week's "Friday Debate."
Iowa State's probable starters:
G: Chris Allen, 6-3 Sr. – 12.2 PPG, 3.1 RPG
G: Scott Christopherson, 6-3 Sr. – 12.2 PPG, 3.1 RPG
G: Chris Babb, 6-5 Jr. – 8.2 PPG, 4.1 RPG
F: Melvin Ejim, 6-6 So. 9.2 PPG, 6.8 RPG
F: Royce White, 6-8 So. 13.0 PPG, 9.1 RPG
Baylor's probable starters:
G: Pierre Jackson, 5-10 Jr. – 12.7 PPG, 2.9 RPG
G: Brady Heslip, 6-2 So. 9.4 PPG, 1.3 RPG
F: Quincy  Miller, 6-9 Fr. – 11.7 PPG, 5.1 RPG
F: Quincy Acy, 6-7 Sr. – 12.3 PPG, 7.3 RPG
F: Perry Jones III, 6-11 So. – 13.2 PPG, 7.3 RPG
BREAKING DOWN THE CYCLONES
Baylor didn't just beat Iowa State in mid-February. The Bears made the Cyclones look bad.
"That's probably as bad as we've played since Christmas break," said senior Scott Christopherson. "You've got to give Baylor credit. They came out and needed that win. They were coming off of a couple of losses and came out and played extremely well. We didn't' match their level of energy or toughness."
Chris Allen echoed Christopherson's analysis of the loss…
"I feel like we could have played a lot better game there. It still really didn't hit home," said Allen. "I really can't believe that we went down there and played how we did. It's going to be a different story on Saturday."
You get the point.
It was a defeat that has stuck in the craw of this Cyclone basketball team for weeks. A couple of days after the trip to Waco, Fred Hoiberg was quoted by saying that his team played "too soft" against the Bears. Royce White is confident that will be the case in round two.
"Have more fight you know? Have more hunger," said White. "I think we do this time. I think we showed a lot of hunger last night and how we went down the first time against Missouri. You can probably expect us to show the same kind of fight on Saturday against Baylor."
"I think we're better," said Hoiberg. "I think we're a better team than where we were."
SENIOR NIGHT: Saturday will also mark the final time that Christopherson and Allen will play inside of Hilton Coliseum.
"My message to them is going to be to enjoy it. Go out and have fun with it," said Hoiberg. "Try to send off with a great performance and get a win."
After three years of playing in Ames, Christopherson will leave a legacy as one of the top 3-point shooters in Iowa State history. He's currently Iowa State's all-time leader in career 3-point percentage and is currently leading the Big 12 in 3-point percentage as well. Christopherson has made 190 threes in his career, which ties him for second with Dedrick Willoughby on Iowa State's all-time list.
"It's a huge game. It's determining of the 3-seed in the Big 12 Tournament. It's a chance for us to get another quality win on our resume," said Christopherson. "There's a lot at stake. I think right now, that's more consuming my mind than the senior night and it being my last game."
Iowa State has won nine of its last 13 Senior Day games.
LINK: Randy Peterson on Scott Christopherson's journey to Senior Night in Ames.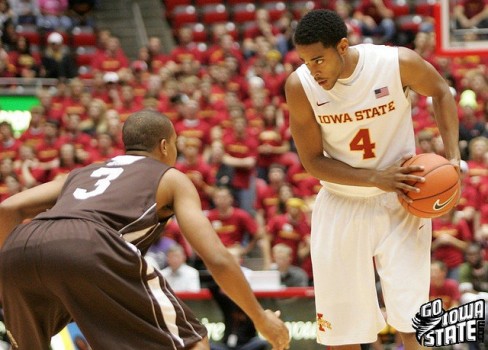 BREAKING DOWN THE BEARS
Hilton Coliseum = a house of horrors for Baylor basketball.
Since the formation of the Big 12, the Bears have taken nine road trips to Ames. They've lost all of them. Is that a sign of things to come on Saturday? Possibly.
Or maybe not. After all, a win would equal Baylor's 26th of the season, which would be a school record.
After struggling (losing three of four) in mid-February, head coach Scott Drew has his team playing some solid basketball right now. The Bears enter Saturday's game on a three game winning streak defeating Texas, Oklahoma and Texas Tech along the way (not exactly murderers row).
Baylor's win over Iowa State earlier this season might have been its most impressive of the season. The Bears shot 60 percent from the field in the game and made a ridiculous 21-of-29 shots from the field in the second half.
Iowa State's poor defensive effort had a lot to do with that.
"They hit some tough shots but those shots are easier to make when you go down the floor and get lay-ups and dunks, which is what they were doing to us," said Hoiberg. "When you get those lay-ups and dunks, your confidence goes up and it makes those 15 and 20-footers easier to make."
Perry Jones III went 8-for-13 in that game and scored 18 points with seven rebounds. Surprisingly, Iowa State actually out-rebounded the Bears 30-26.
"We did a really good job on the offensive glass," said Hoiberg. "The big thing is that we just couldn't get stops in transition. We really want to do that at home. We're best when we're getting out and running. If we get stops and can get out and push the ball up the floor, that won't allow them to sit back in that zone which is a pretty complicated system to play against."
Bear to watch: Baylor's long frontcourt gets most of the attention but the play of point guard Pierre Jackson will be critical in this one. He's the guy who really makes this offense go. Jackson only scored eight points in Baylor's win over Iowa State in February, but he also recorded nine assists and was part of the reason why life the Bears were so comfortable in the paint.
Jackson is one of 11 finalists for the 2012 Bob Cousy Collegiate Point guard of the Year Award.
Keys to a Cyclone victory: In my opinion, it's a quick start. This Baylor team has a reputation. When things are going well, confidence goes up and the Bears are as tough as any team in the country to beat. If Hilton Coliseum is half as crazy as I think it is going to be for this one, I'm not sure that the Bears have the mental toughness to make any sort of a significant comeback. Hence a fast start being critical for Iowa State.
After all, Baylor is 21-0 when leading at halftime this season.
PREDICTION
Iowa State enters Saturday's game as a 1.5 point favorite in Vegas and I understand why.
As I alluded to in "keys to victory," you never really know what you're going to get with Baylor, especially on the road.
The fact is, Iowa State has been really good at home during Big 12 play. Is this the best matchup for the Cyclones? Absolutely not, but that's the case with most teams in America and the lengthy Bears.
This game is for more than just the 3-seed. It's for the entire Cyclone Nation next Thursday. An Iowa State win means that the men's and women's basketball teams will play at opposite times at the Big 12 Tournament. Should the Cyclones lose this game, the two would play at identical times, much like what happened a year ago.
I'm banking on that not happening though.
THE PICK 
Iowa State 77, Baylor 70