By Chris Williams, CycloneFanatic.com PublisherFollow Chris on Twitter @ChrisMWilliams 
What: Iowa State (18-7, 8-4) @ Baylor (21-4, 8-4)
When: Monday, Feb. 13 at 6 p.m.
Where: The Ferrell Center in Waco, Texas
TV: ESPNU (Dave Flemming & Sean Farnham)
Third place in the Big 12 will be on the line tonight in Waco.
Here's our abbreviated Monday preview for Iowa State @ Baylor, with some graph's and information from Kirk Haaland and enCYCLONEpedia.com sprinkled in as well.
Iowa State's probable starters:
G: Chris Allen, 6-3 Sr. – 12.7 PPG, 2.4 RPG
G: Scott Christopherson, 6-3 Sr. – 10.9 PPG, 2.9 RPG
G: Chris Babb, 6-5 Jr. – 8.8 PPG, 4.3 RPG
F: Melvin Ejim, 6-6 So. 8.6 PPG, 6.4 RPG
F: Royce White, 6-8 So. 13.2 PPG, 9.4 RPG
Baylor's probable starters:
G: Pierre Jackson, 5-10 Jr. – 12.6 PPG
G: Brady Heslip, 6-2 So. – 9.1 PPG
F: Quincy Miller, 6-9 Fr. – 12.3 PPG
F: Quincy Acy, 6-7 Sr. – 12.2 PPG
F: Perry Jones III, 6-11 So. 13.8 PPG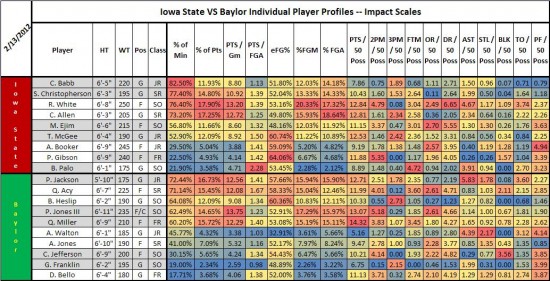 BREAKING DOWN THE BEARS 
Were last week's lopsided losses to Kansas and Missouri the start of Baylor's traditional late season slide? Or did the Bears simply hit a bump in the road against two top five basketball teams?
Baylor's recent problems go deeper than its two game losing streak in my opinion. Let's take a look at Baylor's last five games.
— A 76-71 home win over Texas.
— A 63-60 road win at Texas A&M
— A 64-60 road win at Oklahoma State
— A 14 point home loss to Kansas
— A 15 point road loss to Missouri
Give credit where it is due. Winning any road game in the Big 12 is a hard thing to do. In games at A&M and Oklahoma State, the Bears took care of their business. Iowa State couldn't win in Stillwater…
However, the Cyclones did things that Baylor couldn't do. That's beat Kansas at  home and give the Jayhawks a scare in Lawrence.
Baylor hasn't been manhandling anybody over the last two and a half weeks.
Comparing scores does nothing though. Basketball is a game of matchups.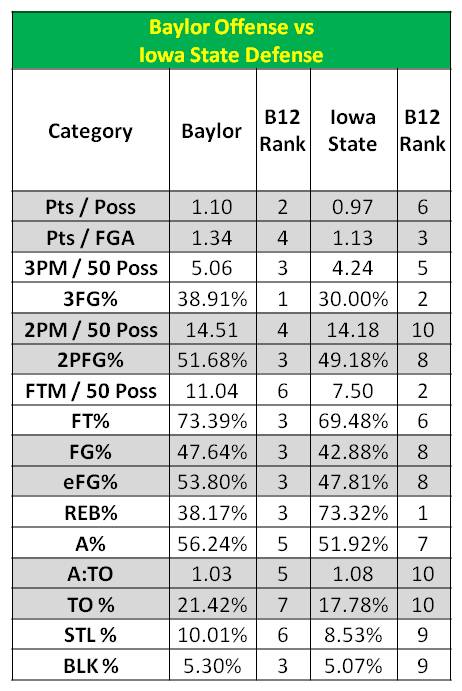 Bear to watch: Speaking of that length, how will the Cyclones choose to match up with 6-foot-11 sophomore Perry Jones? Will Chris Babb's 6-foot-5 frame get the assignment? Regardless of what Hoiberg chooses to do, Iowa State is going to give up quite a bit of length tonight, with Baylor starting three players at 6-foot-7 or taller.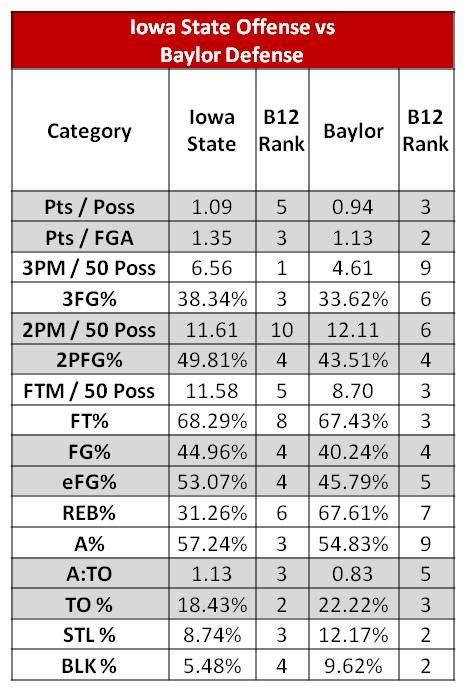 FAST START A KEY FOR BOTH TEAMS: The team that plays the best in the first 20 minutes of this game will likely win it. That's what the stats tell us at least.
Iowa State is 17-3 on the season while leading at halftime. The Bears are 19-0…
HISTORY: Iowa State leads the all-time series with Baylor 1-8. However, the Cyclones are 1-7 all-time in Waco. That one win came back in Iowa State's 2000 Big 12 Championship season. Here's enCYCLONEpedia's look at those eight Cyclone road trips to Waco.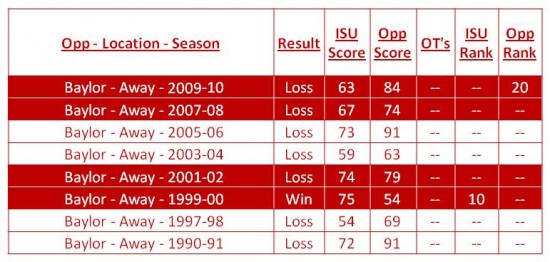 Key to a Cyclone victory: I'm curious to see how Scott Drew elects to defend Iowa State. One can only assume that Baylor will sit back in its traditional zone…If that's the case, the key to an Iowa State victory is simple.
Will the Cyclones make shots? Pretty pedestrian right? Yeah, but it's true. If Iowa State shoots like it did at Oklahoma tonight, I think the Cyclones will spit in the face of the 8.5 point spread and win on the road. However, if the Cyclones shoot like they did at Texas or Oklahoma State or Texas, it could be a long night.
Which Bear is going to keep Royce White from penetrating and dishing tonight?
With Baylor's length and Iowa State's lack of it, thinking that Baylor will get some easy looks in the paint is a safe assumption to make.
The long ball will have to be working for the Cyclones to win this thing.
PREDICTION 
I was high on Baylor at the start of the season. At that point, I thought that the Bears would get things turned around in 2011-12. But after watching that Kansas game last Wednesday, I'm starting to believe that the Bears are once again going to underachieve.
As I wrote in the key to a Cyclone victory segment of the preview, I think it will all come down to rebounding and simply making shots.
An Iowa State win on the road tonight would be an upset – no doubt. But based off of Baylor's track record and the mindset that I believe this Iowa State program has right now, I'm going to pick that upset. On a snowy central Iowa Monday, let's live a little.
THE PICK 
Iowa State 72, Baylor 70