By Chris Williams, CycloneFanatic.com PublisherFollow Chris on Twitter @ChrisMWilliams  
Part two of CycloneFanatic.com's exclusive interview with Iowa State running back's coach Kenith Pope. 
CLICK HERE to read part one that was posted yesterday.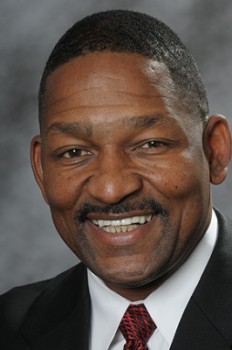 CF: Courtney Messingham is now Iowa State's offensive coordinator. How much easier is it for you as a position coach to work with a guy you are so familiar with as opposed to if Coach Rhoads would have brought somebody new in from somewhere else?
KP:This is what I've always been taught. If a guy comes in, as a coordinator you've got to call stuff the way that you know how to call it. For example right now, Todd Sturdy is adjusting to us. That's one guy. If a new guy would have come in, the whole process including the team's knowledge would have slowed down. You start all over like you're a freshman. When we first got here, boy it was a process. It was a slow process. Those guys were trying to figure out new snap counts. You run some of the same plays but you call them different. We don't have that process. Our basic understanding for what we're doing hasn't changed. Our numbering system hasn't changed. When you bring a new guy in, all of those things change and you've got 11 guys out there all trying to adjust. We're a lot farther ahead.
I may be putting my foot in my mouth but we should be a lot better this fall. I mean, really. We should be ahead of what we are trying to do. Look at last year. Look at Tom Farniok, a redshirt freshman. I mean, wow! We had some young guys up front and a young quarterback. Now all of those guys are a lot older. Last year some people got banged up and it allowed the Jacob Gannon's of the world to get some playing time. He's already seen the bright lights. He'll be a little bit of a different type of guy. We've got enough maturity I think with our offense. This will be the best group that I've had since I've been here. No doubt.
I look at the guys I've got as a corporation. I've got six different companies. However you want to express it – being Coca-Cola, Pepsi or whatever. I've got six different companies. Each guy has to understand what he's got. They have to understand that. I understand how I'm going to utilize them. No doubt.
Woody can tell you right now, the plays I like him on and the plays that I don't. He also understands too that sometimes, it's a situation where we didn't get a chance to sub out but he knows what he has to do. That's good.
When you come out in the spring and watch us practice, all I want you to do is look at the energy that those guys play with. I think a lot of it has to be what I feel. My guys are going to be physical because that's what I want them to be. I think guys are going to be what you want them to be. If you want them to be soft, they are going to be soft. If you want them to be aggressive, then they will think aggressive. There are things that you can do to make your guys physical. James White is not a big guy but he won't shy down from nothing. Any guy can be that kind of guy.
Are these guys playing championship level? That's what I talk to my guys about. We have to play championship level. I don't ever talk about who we're playing against because it doesn't really matter. I've got to get these guys to understand that they have to play their best no matter. It doesn't matter who we're playing against.
It's an attitude. It doesn't matter who you play. I think this is the new Big 12.
Oklahoma State won the Big 12. So to me, it's a different day. Don't sit there and think that these guys are going to win it or the guys with the two letters that say "OU" are going to win it. It's not like that anymore. It's no different than Baylor winning 10 ball games this year. It wasn't about that they gave up yards on defense or anything like that. Those guys believed that they were going to score points. We have to take care of our business on offense. I'm not concerned about what we do on defense. I'm worried about the offense. Our job is to score points. We just have to find ways to score one more point than our opponent. Can we do that? I think that the attitude is going to be there.
The level of this program is going to keep on rising because it's about the attitude that you give to your players. If I keep beating my guys down, that's the way that they're going to play. I spend less time talking about the negative with my guys and more time talking about the positive. I get a positive reaction and a positive response. I tell my guys that when they walk off of the field, they should be able to grade themselves with every rep. They should know if it was a plus or a minus. When they walk off of the game field, they should know if they have a passing grade. My guys do. If you ask Woody, he'll tell you. You should know if you're playing well. Most of the time you can tell by just looking in a guy's eyes. If he's ready to play, I can tell. When I start playing guys, I can tell by looking at their body language. If a guy has good body language, I can tell that it's going to be a long day for whomever we're playing.
CF: I was going over your resume before I came in here today and a few things popped out at me. You've coached under some big names at some of college football's top programs. I was curious as to if you've seen some parallels throughout your first three years here to some of those programs. The goal here is to win a Big 12 championship. Are you seeing some of the same things?
KP: The best example to use and their program is up there is when I was at TCU. We got there and they were 1-10. I look at this program the same way. That program was built the same way. Every year we improved. I think that is going to continue to happen. It doesn't happen by wishing. It starts with the head football coach. He has an unbelievable way about communicating with young men. He gets their attention. They believe in everything that he says. You can see it when you look at them. As a coach sitting back there, I get excited by the way that coach communicates with the team. Right now because of the way that coach communicates, that attitude level or I should say, the confidence level is going in the right direction. When the confidence level goes in the right direction, you start playing a lot better.
James White plays with a lot of confidence. He is comfortable at what he is doing so therefore, he plays that way. That's the way that we want this entire football program to play, with that confidence. I go back to Jeff Woody. Jeff Woody came here with a chip on his shoulder. He felt like he was a good football player. He's always felt that way. He just had to prove it to us and he has. He has one day at a time. One practice at a time and that's the way that it works. That's the reason why we have improved. We have guys who want to get better. First of all, you have to want to get better.
Our guys aren't intimidated by anybody. They really aren't. Finishing up our third year, every game that we went into and every game as a coach, I've always felt like we would win every game, believe it or not. Sure, certain things would have to happen. Nobody thought that we could do that (points to an Oklahoma State game photo on his wall), nobody. But I'm just telling you that in this game, any given day. You just have to get your team ready to play. Any given day. That's what coach does. He gets this football team up and ready to play week in and week out. That's when the grind comes in. You have to know when to take it off and know when to put it on. He's got that building block working and that's the same building block that I think is working here. I can compare it that way because look where they are right now. I can't give you stats but I think they have been in the top 25 or the top 30 for a pretty good while. That's where we have to get this program, in that top 25. That's why we have these hard hats. We are a blue-collar team. Some guys understand that and that's why they go out there every day and give us a good days work. We have to continue on doing that. We have to continue on improving our techniques and skill. I don't think that we have to be faster than everybody but we have to have great technique and skill. If you do that, it allows you to be a really good football team. We don't have to have the best talent every given Saturday. We just have to be able to play together and have the best team. That's not lip service. That's attitude. I love winning. I love preparing my guys to win. When they don't do something right, it all reflects back to me. I'll sit there and tell coach that if my guys are playing bad then I don't need to be here. It's about each week, you have to get your guys ready to play. Whatever that magic formula is, it isn't magic, it's work.
The best thing that we have going for us is being able to utilize film with our guys. When they can see themselves on film, they say, 'I got it coach. I got it.' When we go out there the next day, we see if they really have it. That's why I make a big deal out of it. When Woody made a big block on somebody, I made a big deal out of it. If you do it one time, you can do it two times. If you do it two times, you can do it all of the time, but you have to be able to do it first. It's like wishing. I don't want the guys to be wishing. They can get it done. That's what we have going for us right now. We've developed good team leadership. I think that these guys want to win as bad as anybody. We were disappointed after the bowl game. We were. We didn't play the way that we wanted to play. The other team did. But we know that we left a lot of plays out on that field that we shouldn't have. Those are the things that we have to do a better job of offensively. We can't leave plays on the field. The attention to details is there with this team and every day we process it.
We lost some offensive linemen but I think we'll be a lot better than we've been in the past. The first year we were here, we didn't have much of anything. If we got a guy hurt, we had nothing. We've finally got depth at that spot. We have depth at running back. It isn't proven but I think we'll be better. Our line isn't proven but I think we'll have more speed than we have in the past.
CF: I'm going to ask you to put your old defensive back hat on for my final question. How do you think that Leonard Johnson's game will translate to the NFL?
KP:I've been here since he was a sophomore and really each year, he's improved. I think that when those people come in and look at film, they'll see that. This season, each week he was so focused and locked in. That game (Oklahoma State) probably helped him more than any game all year. After he played well in that game, he expected to play well each week. I think he did. His confidence level is where it needs to be. He's got the talent. He's got the foot quickness. He can move his hips. I don't know what number he'll get drafted but I'll put it this way, I think that Leonard Johnson will make a football team. He can do some things that he'll get people excited about. The other thing is that he loves playing the game. He spends countless hours visiting with Coach Rhoads and visiting with Coach Elliott. When I say countless hours, he really did. He wanted to improve his skill and that's the kind of guy who I want to coach.