By Chris Williams, CycloneFanatic.com PublisherFollow Chris on Twitter @ChrisMWilliams 
Shontrelle Johnson's injury issues, two proven returners in Jeff Woody and James White and two freshmen looking to make an impact make running back one of the most intriguing positions to keep an eye on at Iowa State with spring football approaching.
How will everything play out?
CycloneFanatic.com recently sat down with Iowa State's running backs coach Kenith Pope to discuss his roster of runners. Enjoy part one of a two part interview in which CycloneFanatic.com takes you inside the Iowa State football program.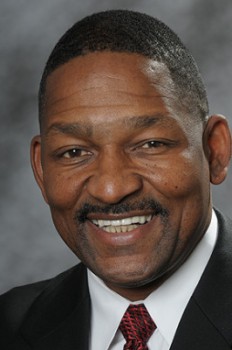 CF: We've all heard you and Coach Rhoads talk about how much depth you guys have at running back going into next season. I can't help but think back to when you guys first got here in 2009. That wasn't really the case. Can you discuss how far this position at Iowa State has come in three years?
KP:The big thing is obviously early on we had Alexander Robinson. He was a really good back. We fortunately had him for two years but we didn't have a lot of depth behind him. The depth that we had behind him, we didn't have a whole lot of speed at that position. Now that's probably the biggest change in our football program right now. We've got more speed. We've got more talent than we've ever had before since I've been here. The good thing about it is that there is a lot of competition at that position so when you have a little bit more talent, there's more competition and just like last year, we got Shontrelle Johnson hurt and James White came out of nowhere and had a good year for us. I still think that he has a lot more that he can bring to the program.
I'm really excited about the guys that I am working with. It is my job to put the best guys on the field. I have six guys going into spring practice. Shontrelle (Johnson) won't be one of those guys. He's still rehabbing right now and hopefully we get him back. We've just got to wait and see what the doctors say on that situation right there. We're excited about the way that things are going with him right now. If we get him back, we'll have a lot more talent, which is what you want to have.
All of that talent makes those guys, for example like James White, it makes him have to take another step. He can feel like, 'Okay, these guys are trying to get on the field.' Guys like DeVondrick Nealy and Rob Standard just early on in the offseason program, those guys have made a big improvement every day to get a little bit better with what Yancy (McKnight) has them doing. They are a lot tougher than they were when they first came in. Physically, they will be able to do some things that we'll all be proud of going into spring ball.
CF: What do those two freshmen bring to the table that will complement what you already have at running back?
KP:When you look at DeVondrick Nealy, he's very explosive. He's got a great burst. He's got unbelievable vision and he has the ability to make people miss in space. That's one of the things that we missed. With Shontrelle Johnson, we had that guy who could really make moves in space. I think that DeVondrick Nealy is that same type of guy. The offensive line will like him because they don't have to block all of them. If you give him a little crease, I think he can do a lot with it because he is so explosive.
I think going into the spring we will find out a lot more about DeVondrick. Each week, we have a developmental stage during the season that guys went through. He was going up against our younger guys and really looked good. It's going to be a situation going into the spring where he will be going against better competition. That will give me a better barometer as to how good of a football player he can really be. I'm excited about what I see right now. I'm not sure what kind of catching ability he has. If his catching ability is as good as his running ability then we're getting the best of both worlds. He's a guy that really pays attention to detail. He is really locked in and is really focused. If this continues at the same page, we will feel good about what happened in the fall with him. He'll give us a better indicator after 15 days of practice. If you see me again and I have a big smile on my face, you'll know why.
The problem that I want to have and I think I can have that problem is who to put in the game. That's a problem that I want to have as a coach. I think each one of the guys, just like last year, I ended up playing four guys and they all had something a little bit different. Jeff Woody brings a lot of power. I mean, a lot of physical power. For the most part, one guy is never going to bring Jeff Woody down. It's just not going to happen because when he runs, he runs behind his pads as good as anybody I have been associated with. He's that kind of guy and I just have to get him to understand, that's what I want him to be. I want him to be that physical guy and make the linebackers and guys on the third level say, "I don't know about this." I think at times last year he did that. He showed that.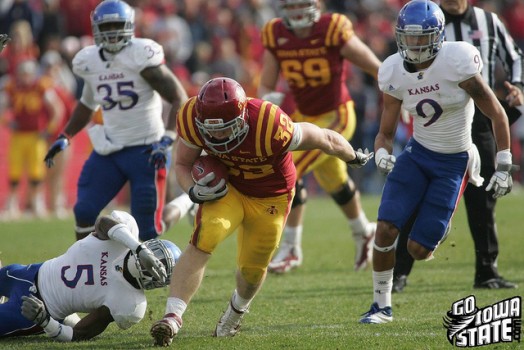 CF: It's hard to know what the stats would have looked like last year had Shontrelle not gotten injured. But when you look at how everything played out, each one of those guys had some individual big games and all of them put up some pretty decent numbers. Is this something that you think might be a trend within the program from year-to-year, playing multiple running backs consistently?
KP:I really do. I think when you look at DeVondrick Nealy and when you look at Rob Standard, we need to see what Rob can do, but I'm excited about all of those young guys. All of them have that speed and quickness that you like in a back. They can really separate in a hurry. That's what makes those three guys really unique because I think they can separate. When you look at Shontrelle, that changes the dynamics of the game. He is a guy who can make you miss and then get you 60 or 70 yards. I don't know how fast Nealy is. I don't know how fast James White is. But when you see them put the ball underneath their arms, you see them separate pretty good. I go back and look at James against Baylor. Baylor has a lot of team speed and the way that he separated from those guys – He looked like a 4.4 guy. We don't time our guys here. I really don't know how fast he is from a stopwatch standpoint but when guys are chasing him, he really seems to separate and I think he'll be really good at that.
Again, I like the fact that I have depth. Just like last year when James White had a bad game against Oklahoma. He only played four snaps. As a coach, you have to make a decision. He put us in a bad bind and all of the sudden you had others who you could go to and put in the game. Those guys could pick you up. This group of guys will bring a lot of energy every time that they get out there. When you have depth, every time that a guy is out on the field, he realizes that he has to do something. He has to be explosive because he may get one opportunity, two opportunities, and he has to take advantage of those opportunities. They realize that they have to make this play the best play they can make it. It makes them value one play that can be the difference in them playing 21 plays. It can be the difference in him playing 30 snaps.
The good thing about the guys is that they like each other. The guys in my room like each other and I think that's important. They want to see each other do well. It is my job to get those guys out on the field but they have to earn the right.
I keep on going back to James White but he earned the right. He was going to take advantage of the one opportunity. He showed me a little flash and I saw it.
Everything that DeVondrick Nealy has shown us during developmental stuff has us all excited. He is very, very quick. But the thing about him, he's a little more explosive than James White. When he sees a crease, I mean, he bursts through it. It's like a flash. He's got that two-step quickness that you like.
CF: Of all of your guys, is he the most comparable to Shontrelle?
KP:He would be the most comparable, yes. No doubt. No doubt. He's got really good speed.
CF: I can tell by the look in your eyes right now…
KP:He can separate. The thing about him that I really like is that he doesn't mind running inside the tackles. He runs inside the tackle like he is 225 pounds. He's so quick that it is hard to get a really good shot on that guy. He can turn his shoulders and make himself thin through the creases. He's so fast with his feet. He has great feet. I like that about him going into the spring.
CF: James White led you in yards and touchdowns last season. You discussed how he  took advantage of a big opportunity last year, what's something that you want James to work on this offseason and during the spring to get even better?
KP:The thing that I think we need to get better at as an entire group is understanding what the defense is doing. He realizes that. I want them to see the big picture. Sometimes you see the small picture and when I start teaching, I show them the small picture. He's been in the program for three years now. I want him to see the big picture. When he walks off of the field, he can tell me what the linebackers are doing. He can tell me what they are doing up front. He can tell me if the center or the guard didn't come off and get to their proper block scheme. But I want them to understand the big picture. If they understand the blocking concepts, it makes them a much better runner. I want them to be able to do a better job of setting up the defense. I think you can do that with a back. If you can't do that then you're handcuffing the offensive line.
The thing that I talk to James about is that we need to have more explosive runs. An explosive run for us is 12 yards or more. I would like to see about 10 explosive runs in a game. If we do that, then we can put more points on the board. The game is about points. We have to put more on the board and be more explosive in the running game. Each year that we've been here, this year has improved. That's the measuring stick that we have. The first year we had 1,300-some yards. The second year we had 1,371. This year we had over 1,500 yards rushing. That's okay but that's not enough. It's not good enough. We have to be a little bit more productive. I'd like to see some 1,000-yard rushers. We need to have that. I think we this group that we have coming, I don't know how the combination works out but we have to have some yards.
If we are more explosive with our running game, our passing game can do that much more or the other way around. We also talk about the passing game and those guys being more productive. I want them to understand that our little swing routes and our little quick routes, that's got to be like a handoff from the backfield. They have to see that as being automatic. Those four yards can turn into 44. If we can do that, we'll help the offense immensely.
The last two years we have had 31 catches. To me, that's not enough. We don't dictate that. I understand that. But our backs are going to be a lot older and they'll do a lot better job this year compared to previous years in being able to get the ball to the check downs check down. A lot of times, we become one-dimensional and stay on that one read for too long. In what we've talked about in our meetings, I think that we'll get that ball checked down and just take the completion. If it's not there, let's take what they give us. If we do that, we'll be a lot improved.
CF: Do you have a guy in your group of running backs who you would consider as your best receiver?
KP:The good thing about when you look at James White, when you look at Jeff Woody, those guys have proven that they can do that. I have to wait and see on DeVondrick and Rob. They haven't had that many touches for us throwing the ball to those guys.
CF: You used to really praise Alexander Robinson for how well he knew the game mentally. At what point can you tell if a young back has that "it" factor or not?
KP:What I'm going to be able to tell is once we get into a live scrimmage situation when we're going against the defense, that's going to give me my biggest indicator. Right now, those guys understand that they're a lot farther ahead than when we first got here with A-Rob. The freshmen right now are a lot farther ahead. The good thing that Coach Rhoads did is something that a lot of people don't do. We still want to bring the younger guys along. We prepare each week for another opponent but we still prepare those guys each week, one day a week we coach those guys like they are getting ready to play a game. They have that one day. It gives those guys a chance to be mentally ahead. Right now, I think my guys understand the base offense that we have right now, even the young ones.
CF: You've been all over the map during your career. Is that not the norm?
KP:Some places I've been we were strictly concerned about that season. We weren't really worried about the younger guys. Those guys were scout team players and we'll have time later on to work with them. Here, it's been a different process. We try to bring those guys along as fast as we can because when we get into spring practice, we want those guys to have a great idea of what they are doing. Now, it makes things a lot better during the spring. 
NOTE: Check out CycloneFanatic.com on Wednesday morning for part two of our interview with Iowa State running back's coach Kenith Pope.