By Chris Williams and Brent Blum of CycloneFanatic.comFollow the guys on Twitter @ChrisMWilliams and @BrentBlum
Williams: We just witnessed one wacky week inside of Hilton Coliseum did we not?
I'll be honest Blum. On Monday, I would have guessed that the Iowa State men's and women's basketball teams would have been able to sleep walk through home games against Missouri (1-14) and Texas Tech (1-14). But as "Leather" Chris Berman would say, "THAT'S WHY THE PLAY THE GAMES."
Holy crap Blum. The women needed overtime to top the Tigers and the men did something that I didn't think was even possible – trail Tech at halftime.
Still, let's give credit where it is due. Neither team played what I would call a good game, but they won Big 12 contests in February. That's how you know you're a good team. On the men's side, it's been a while since that has been the case in Ames. Even Iowa State's last NCAA Tournament team managed to lose at home to Nebraska back in 2005.
Tech got some confidence early on Wednesday night but the Clones did what tournament teams should do. Slapped the Red Raiders across the face and blew them out by a 44-22 margin in the second half. A 21-7 second half rebounding margin was just nasty. Maybe that first half and a royal butt chewing by Fred Hoiberg was something that this team needed heading into arguably the most difficult stretch of the schedule. Your thoughts?
Blum: Wow. Talk about a nerve-wracking week. I had a few too many Hampton flash-backs. Oh and props for the "Leather" Berman reference. The games the men and women played this week are probably my least favorite to watch. Everyone expects the team to win by a significant margin. A win doesn't "get" you anything, but a loss is catastrophic — I guess that what it's like being an Iowa football fan. (Gotta poke my Black and Gold friends every once in a blue moon.)
It is not an enviable position and both teams opened the games with a nervous flatness that they had to fight through. And they did just that.
Chris Babb was the game-changer for the men. It is a blast watching that guy do work on the defensive end. Once you end up on "Babb Island," you are not coming out unscathed. He suffocated Ty Nurse in the second half and totally disrupted the Tech flow. He does such a good job of redirecting the man he is chasing into tough spots and uses his body to his advantage extremely well. He has to be Iowa State's best wing defender since Shawn Bankhead roamed Hilton during the from Tim Floyd "Renegade" teams. Watching individual defense is somewhat abstract and akin to watching offensive line play in football, but give it a shot sometime and you will get a huge appreciation for how hard Babb works. Sure it would be nice to see Babb knock down a shot, but Fred Hoiberg will gladly forgive the 0-6 shooting for the way Babb defends. And yes, there is no doubt the sluggish shooting and effort on defense are somewhat connected.
Before we go any further, I need your opinion on Tech's Luke Adams. I appreciate the walk-on's effort, but that little flopping display he attempted in the second half was embarrassing and actually could/should have been a technical foul for "unsporting" behavior. Even Keiton Page was disappointed in his antics.  He gives 6-foot and under guys like me a bad name with that nonsense!
Williams: I'm not even sure that you can refer to what Luke Adams did as a "flop." That was the flop of all flops of all flops. That was an absolute debacle. If Luke Adams was on scholarship, he should have had it stripped for that pathetic display of acting. My Clarinda High School theatre class threw down better performances back in the early 2000's.
I feel like all I've been doing for the past month is writing about Chris Babb, but that's how much I appreciate great defense. Last night was just one small chapter in a long book describing Babb's dominance. Without Babb's D, is this an NCAA Tournament team? I say no.
Up next is Kansas State. The Wildcats have won two straight, both road games at Baylor and Missouri. K-State has always played solid defense but all of the sudden, they know how to score the basketball as well. I've said this a few times now Blum. This is the LAST team that you want to be matched up against in Kansas City. The last. Unfortunately, it's starting to look like that will be the case for Iowa State.
The Cyclones will be dogs in their next two games, probably three. In your opinion, what is the very minimum that Iowa State has to do to be locked into the field of 68?
Blum: Give yourself some credit with the acting skills, the fanatics need to realize you starred in a couple legitimate commercials back in the day. It happened, I saw the tape!
K-State had probably the best single performance of any Big 12 team with their Tuesday win over Missouri. It was a dominant win against the No. 3 ranked team in their house. The Wildcats shot a ridiculously efficient 54 percent from the floor and held the conference's best offensive team in Mizzou to 38 percent shooting. They had control without and never got rattled when the Tigers made a push in the 2nd half.
K-State knows what they do well and they keep after it. It's reminds me of the sequence in the movie "Remember the Titans:"
Coach Yoast: "Awful Skinny play book, ain't it?"
Coach Boone: "I run 6 plays, split veer. It's like Novocaine. Just give it time, always works."
And like clock-work, the Wildcats had their annual mid-year struggle, but Martin has them rolling come March.
You know the Wildcats are going to come in and beat the heck out of you, set a bunch of screens and attack the glass, it's up to you to match their toughness. And if Rodney McGruder and Will Spradling are making shots, they are extremely difficult to beat. I didn't used to be a Frank Martin fan, but I've come to appreciate their consistency. Effort is never a question with the Wildcats and Martin deserves a lot of credit for that.
I absolutely agree that you dread seeing those dudes in your bracket come tourney time. Playing them is like going to the DOT. Nobody enjoys the experience and you end up hours later with a headache and a scowl on your face.
With a Texas or an Oklahoma State, there is a chance you may catch them giving haphazard effort, but with K-State they will scrap till they are knocked out.
For Iowa State to get "locked" in the tourney, they need one more conference win, preferably in the regular season. Lately I have been having nightmares about Iowa State losing out and being firmly on the bubble come Selection Sunday, only to see Northwestern and South Florida selected instead. I've woken up in cold sweats more than once. I have problems, but am I nuts? Please tell me it will be OK.
Williams: My finest acting role ever was in an instructional video that got handed out to different corporations regarding the crime of sexual harassment in the workplace. I was casted not as the harasser, but the harassee. My role was to let this one gal treat me like an object. I had the final line of the video, where I leaned over a desk and said, "Sexual harassment. It's real. And you DON'T HAVE TO TAKE IT."
I collected my check from that project and retired promptly from the acting game for reasons that should be brutally obvious.
I couldn't agree with you more about Frank Martin.
I am a man who can admit when he was wrong. I was wrong about this guy. While he does still scare me worse than the Michael Jackson music video "Thriller" did during my childhood, Martin is one hell of a basketball coach. And you're right Blum. His teams are always "there" in March. I've got a hunch that this team will be one to be reckoned with in the NCAA Tournament. When I write that it's the last team that Iowa State wants to see on its schedule, that's not only the case for the Cyclones. I have a feeling that a lot of coaches feel that way.
Brent, I think that the same can be said for Iowa State though. Hypothetically, let's say that the Cyclones end up in that dreaded 8-9 game. If you're a 1-seed, do you REALLY want to see Royce White in the second round? I'm not claiming that Iowa State has top-seed type of talent, but White is one of the most unique basketball players that college basketball has seen in years. Iowa State has four guys who can shoot the three as well as anybody when they are on. Just thinking out loud here…
No. You're not crazy. If Iowa State would drop its last four, I would be very nervous on Selection Sunday.
BUT, remember that this team has been looked past all year long. The coaches picked Iowa State to finish eighth in the Big 12. The Cyclones still have a shot to finish third. This team defies odds. That's all they know. I think that Iowa State will at the very least win one of its next three and you can finally rest again at night. Feel better?
Blum: I would pay good money to get my hands on that sexual harassment video. I imagine our good pal Chris Hassel could have a field day on Sound-Off with that thing. For what it's worth, my acting skills peaked in kindergarten when I was one of the three bears in the Goldilocks story…it's amazing Spielberg didn't pick up on those skills. I COULDA BEEN SOMEBODY!
I do feel slightly better about the Cyclones chances. Thanks for the reassurance. If Dr. Phil ever hangs it up, I think you'd fit in well–by the way, I was home from work early one afternoon this week and caught Dr. Phil's show for the first time in a couple years…When did that show become Jerry Springer Lite?!? I was taken aback. All that was missing was bald bouncers and people throwing chairs. Bizarre.
But back to basketball, if I am Kentucky or Michigan State and I have my choice between these schools:
Iowa State, St. Louis, Virginia, California, Alabama or Memphis…
I want ZERO part of Iowa State. They would scare me to death as a high seed.
Check this out..
Team A shot 22.9 threes per game. Shot 37 percent from deep. Had six different guys make 30 or more threes during the year. Finished regular season 22-10.
Team B shot 22.1 threes per game. Shot 35 percent from deep. Had five different guys make 35 or more threes during the year. Finished regular season 22-9.
Team C shot 23.0 threes per game. Shot 38 percent from deep. Had four different guys make 50 or more threes during the year. Finished regular season 21-10.
Team A= 2011 VCU (11 seed–made Final 4). Team B= 2011 Butler (8 seed–made Finals) Team C= 2012 Iowa State.
The similarities are eerie. Those two teams caught fire at the right time and rode a hot streak into the Final Four. I'm not predicting the same for Iowa State, but teams that shoot threes in bunches can be very dangerous.
The basic premise being great coaches like Izzo and Calipari can shut down your two or three best players, but no team can cover all areas of the floor at once. And Iowa State, when riding a hot streak, is incredibly tough to guard for that reason. I am so pumped to see what kind of damage Hoiberg's crew can do. Somebody calm me down CW!
Williams: Oh boy. You're onto something and the Cyclone Nation might not be able to recover from those statistics. Well done.
For the record, no, I have not seen Dr. Phil as of late. But you did mention Springer. Did you know that his former bouncer, Steve, now has his own program? When you work from home like I do, you notice this type of crap from time to time.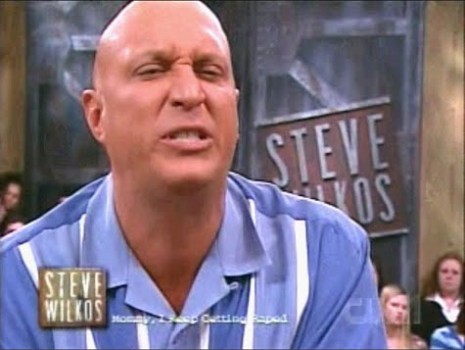 Moving on…
I'm short on time so I need to get to two final topics before we wrap this thing up.
1) You will be attending your first ever George Strait concert tonight. To this very hour, I have no idea how I (along with your special lady) talked you into signing up for this but I cannot wait. This will be the fourth time I've seen King George live. King George is like a bottle of Templeton. He gets better with age.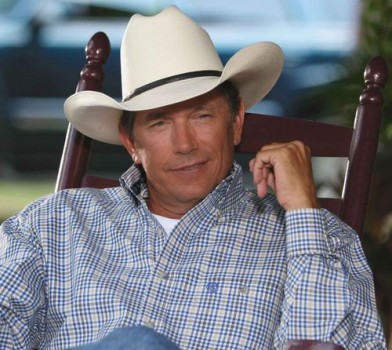 2) Big 12 picks for the weekend…
Kansas State 64, Iowa State 60 — As we've discussed, the Cyclones are catching the Wildcats at the WRONG time.
Baylor 70, Oklahoma 63 — The Bears win their next two to set up a big one in Ames on March 3.
Oklahoma State 61, Texas A&M 50 — Does anybody really care? Cowboys are a different team at home…
Texas 73, Texas Tech 61 — Horns bounce back from Monday's second half meltdown…
Kansas 75, Missouri 63 — Frank Haith could have a problem on his hands…The Tigers didn't show much fire at all on Tuesday. They'll be ready for the NCAA's but KU will rock & chalk its way to another Big 12 title.
Blum: Steve the Bouncer has a show! My word…next thing you know, somebody will think it's a good idea to follow the unpopular Kardashian and an NBA bench player around…oh wait.
I have no idea how I will handle myself at the George Strait concert. I don't own a cowboy hat, oversized belt-buckle or any type of boots for that matter. I already feel like Shawn Taggart on the defensive end of the floor–lost and afraid. Needless to say, a couple beverages may need to be had to feel at home. Throw Chris Williams in the mix and this is either going to be awesome or a disaster and no room in-between. Wish me luck everyone…I will need it.
If I make it to Saturday…here are my picks.
K-State 68 Iowa State 67. Gonna be a battle
Baylor 75 Oklahoma 63.
Oklahoma State 65 Texas A&M 54.
Texas 71 Texas Tech 64.
Kansas 75 Missouri 71.
Next time we do this, the calendar will be flipped to March…booyah!