By Chris Williams, CycloneFanatic.com PublisherFollow Chris on Twitter @ChrisMWilliams
What: Iowa State (21-8) @ No. 7 (Missouri 25-4, 12-4)
When: Tuesday, Feb. 29 at 7 p.m.
Where: Mizzou Arena in Columbia, Mo.
TV: Big 12 Network/ESPN3
Road dogs. That's what they refer to themselves as.
With two games left in the regular season, the Iowa State Cyclones (21-8, 11-5) are 6-6 when playing away from the friendly confines of Hilton Coliseum (two neutral court games included). Iowa State's latest victim was a previously smoldering Kansas State team last Saturday in Manhattan.
Why exactly has this group of Cyclones had so much success away from Ames? One of the many reasons is toughness.
During a 74-65 loss at Drake last November, Iowa State didn't have much of it.
After Kansas State opened Saturday's second half on a 20-1 run, the Cyclones proved otherwise, flexed their muscles and showed just how much they have grown along the way.
"You have to have toughness when you go on the road. You have to get in it together," said Iowa State head coach Fred Hoiberg about his team's win at Kansas State. "This is a group early in the year that may have folded and probably wouldn't have had a chance to win that game late. But they found a way to come together. They were huddled. They were talking to each other out there."
Yes, these NCAA Tournament bound (relax people) Cyclones have grown up since that fateful November night in Des Moines.
Meanwhile, the seventh-ranked Missouri Tigers have dropped two straight games and appear to be trending downward at the worst time. Even so, the Tigers have only lost one game at home all season. Wednesday will mark Senior Night in Columbia.
Does Iowa State have what it takes to make it three blemishes in a row for the fast-paced Tigers?
Let's break it down.
Iowa State's probable starters: 
G: Chris Allen, 6-3 Sr. – 12.4 PPG, 2.4 RPG
G: Scott Christopherson, 6-3 Sr. – 12.1 PPG, 3.1 RPG
G: Chris Babb, 6-5 Jr. – 8.2 PPG, 4.2 RPG
F: Melvin Ejim, 6-6 So. – 9.1 PPG, 6.6 RPG
F: Royce White, 6-8 So. – 12.8 PPG, 9.2 RPG
Missouri's probable starters:
G: Phil Pressey, 5-10 So. 9.8 PPG, 6.2 APG
G: Matt Pressey, 6-2 Sr. – 6.3 PPG, 3.1 RPG
G: Kim English, 6-6 Sr. – 13.9 PPG, 4.1 RPG
G: Marcus Denmon, 6-3 Sr. – 18.2 PPG, 5.1 RPG
F: Ricardo Ratliffe, 6-8 Sr. – 13.8 PPG, 7.4 RPG
BREAKING DOWN THE CYCLONES
LINK: Randy Peterson from the Des Moines Register on Chris Babb and his thoughts on the NCAA Tournament. 
LINK: Iowa State has some unfinished business to take care of against Missouri, writes Bobby La Gesse of the Ames Tribune.
LINK: Iowa State being an underdog…It fits. More from Rob Gray and the Cedar Rapids Gazette.
BABB VS. DENMON: It's been written and talked about so much this year for a reason.
Chris Babb's defense is as fun to watch as anything within this Iowa State basketball team. As he's done all season long, Babb put on a defensive clinic during Iowa State's 69-76 loss to Missouri on Jan. 11. That's when he held the Big 12's second leading scorer (18.2 points per game), Marcus Denmon, to a 1-for-5 performance and only six points.
Babb has been shutting down the Big 12's best every night out for the Cyclones but his maturity is what has made it most impressive. Babb has been a lockdown defender even when he isn't making shots on the other end.
"I think that kind of motivates me a little more," said Babb. "If I'm not scoring, then he's not going to score. I like to challenge myself. I try to not let that affect me. I was always taught that it's okay to have bad days offensively but there's no reason to have a bad day defensively. I just keep that in the back of my head."
Babb vs. Denmon looks to be another classic matchup on Wednesday.
BUBU IS BACK: Matching up with the scrappy Tigers is always tough to do but Iowa State will have a reinforcement in Bubu Palo this time around.
"We missed having him out there (in the first meeting), said Babb. "That's just another great role player who comes off the bench and does what he needs to do. He brings energy. He's really fast and really quick and we'll definitely need that against the guards that they have. We're kind of out-manned with their guard play. They're really small and really quick."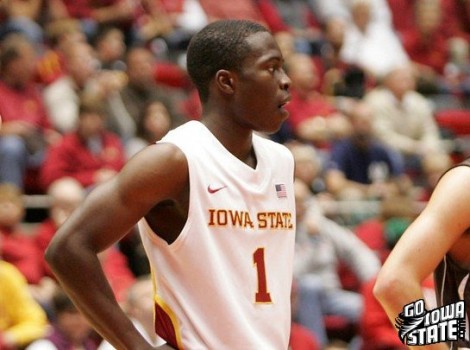 QUOTABLE: Fred Hoiberg on Missouri's play since Iowa State saw them in January:
"They are still really fast. They still shoot it really well. They're still really good." –  "You don't go into Allen Fieldhouse and have a 20 point lead by not doing things the right way."
BREAKING DOWN THE TIGERS
— Is the fact that Missouri is on a two-game losing streak a good or bad thing for Iowa State?
On one hand, the Tigers will likely be an emotionally charged basketball team in this one. Throw in the fact that nine Missouri seniors will be honored on Senior Night and it's probably safe to assume that Iowa State will get this team's best shot.
On the other hand, remember that this Missouri team has gone only seven deep for the majority of the season. Are the Tigers finally running out of gas?
— Iowa State will have to rebound the basketball better if it plans on upsetting the Tigers on Wednesday evening. Missouri, a team that plays primarily nwith a four-guard lineup, is the Big 12's second to last ranked rebounding team but still dominated the glass the first time these schools met by a 38-27 margin.
— Despite the two-game skid, Missouri is still the Big 12's highest scoring team by a wide margin. The Tigers are averaging 79.7 points per game. The next highest Big 12 team in that category is Kansas at 74.9.
Point is, if Iowa State wants to pull of this upset, the Cyclones will have to hit shots at a consistent pace. Missouri doesn't have many "off" nights at home.
Tiger to watch: That's Ricardo Ratliffe. The 6-foot-8 forward was efficient in a 6-of-8 outing, scoring 12 points with eight rebounds in Missouri's January win in Hilton Coliseum.
Ratliffe's strong second half made quite the impression on Iowa State guard Scott Christopherson.
"Ricardo Ratliff is probably the most underrated big man in the country," said Christopherson. "He's a physical specimen. He does so many things as far as being able to set good screens and dive to the basket that open things up for their perimeter players."
Here's an interesting comparison for you.
"He's very similar to Royce (White)," said Christopherson. "He does a lot of things that open up lanes for their guards."
There's no doubt that Missouri boasts a roster full of fantastic guards. But Mizzou's big men are who beat Iowa State in round one. Note that in that game, Steve Moore came off the bench to record a career-high 10 points along with Ratliff's sound evening of basketball.
Keys to a Cyclone victory: From the mouth of Fred Hoiberg…
"Pick and role coverage is going to have to be huge. Transition defense will be huge. Keeping the guys off of the boards, which is how they beat us here, is going to be huge. They do so many different things that can hurt you. We did a really good job I thought in our actions the last time that we played them. But we just couldn't keep them off the glass."
In layman's terms…Rebounding will be critical to a Cyclone victory.
Also…
"You can't go down there and shoot off of one pass," said Hoiberg. "That plays right into their hands and allows them to play in transition."
Be smart with the basketball.
Iowa State went 13-for-25 from the free throw line in the first meeting. The Cyclones won't be able to leave that many points on the floor and return to Ames with a victory on Wednesday.
PREDICTION 
As much as I'd like to go out on a limb and pick Iowa State to upset a top 10 team on the road, I won't do it against Missouri, a matchup that might be the toughest in the Big 12 for the Cyclones.
Here's the deal though. If Iowa State takes care of its business on the glass and is hitting threes like it has the ability to do, then who knows what will happen. After all, the Tigers are the Big 12's worst defense when it comes to defending the 3-point shot, which happens to be Iowa State's bread and butter.
We've already discussed the "toughness" factor with this basketball team. The Cyclones have it and I look for them to attempt to do what Kansas State did last week. That's push the Tigers around and control the game, even though it is in Columbia. Even so, I see Iowa State falling just short in this one against a Missouri team that I feel is just too good to lose three games in a row.
THE PICK 
Missouri 78, Iowa State 72