By Chris Williams, CycloneFanatic.com PublisherFollow Chris on Twitter @ChrisMWilliams
What: Iowa State (12-3, 2-0) vs. No. 9 Missouri (14-1, 1-1)
When: Wednesday, Jan. 11 at 7 p.m.
Where: Hilton Coliseum
TV/Radio: WOI (Des Moines), KCRG 9.2 (Cedar Rapids/Waterloo), KPTH-DT2 (Sioux City)
Tonight is a big game.
After dismantling a Texas A&M team that many picked to win the Big 12 Conference by 24 points on Saturday and starting off league play with a 2-0 record, Iowa State basketball is suddenly back college basketball's map.
Is this Iowa State team for real? Will the Cyclones improve to 3-0 in the Big 12 for the first time in over a decade?
Let's break this game down.
Iowa State's probable starters:
G: Chris Allen, 6-3 Sr. – 12.4 PPG, 2.9 APG
G: Scott Christopherson, 6-3 Sr. – 10.6 PPG, 2.7 RPG
G: Chris Babb, 6-5 Jr. – 10.5 PPG, 4.7 RPG
F: Royce White, 6-8 So. – 12.9 PPG, 9.3 RPG
C: Percy Gibson, 6-9 Fr. – 4.9 PPG, 2.9 APG
Missouri's probable starters:
G: Phil Pressey, 5-10 So. – 9.0 PPG, 6.2 APG
G: Matt Pressey, 6-2 Sr. – 8.3 PPG, 4.2 RPG
G: Kim English, 6-6 Sr. – 15.4 PPG, 4.5 RPG
G: Marcus Denmon, 6-3 Sr. – 18.7 PPG, 5.0 RPG
F: Ricardo Ratliffe, 6-8 Sr. 13.3 PPG, 6.9 RPG
BREAKING DOWN THE TIGERS
Texas A&M is known for its stingy defense. There's no doubt to if the Missouri Tigers can D up, but this roster is known for its explosive offense that is ranked as one of the best in all of college basketball.
Preparation for Iowa State's second and third games of the Big 12 campaign could not have been more opposite.
"They are obviously a very talented group," said Iowa State head coach Fred Hoiberg. "They are very fast. Maybe as fast as anybody in college basketball. They have very experienced guards. It's going to be an extremely tough game.
The Tigers are currently ranked second nationally in field goal percentage (51 percent), second in scoring margin (+22.5), second in assist-turnover ratio (1.63), fourth in scoring offense (84.4) and fifth in turnovers per game (10.1).
After a 14-0 start to the season, the Missouri ran into its first bump in the road on Saturday in a 75-59 loss to Kansas State. According to Hoiberg, Frank Martin's traditionally tough Wildcats got awfully physical with the Tigers.
"Missouri was playing as well as anybody in the country heading into that K-State game," said Hoiberg. "They just ran into a buzz saw on Saturday. They are very unselfish. They get into the paint, penetrate and pick."
So how will this Missouri team respond to its first loss of the season, with another tough road trip looming? Missouri coach Frank Haith isn't sure.
"You constantly talk to your team about staying together because you're going to be hit with adversity on the road," said Haith. "The flow of the game is not always going to go your way. When you get hit with that, recovering quickly, because recovering at home in front of the crowd is easier, but on the road the crowd gets into it. That's when you have to have toughness, stay together and trust each other. We didn't exhibit that totally the other night. That's something you have to be able to do to win on the road."
Tiger to Watch: That's Missouri's 6-foot-3 shooting guard Marcus Denmon, who leads the Tigers in scoring at 18.7 points per game. Also, keep an eye on Missouri's sixth-man, junior guard Michael Dixon who is averaging 16.8 points in his past six games.
Key Matchups: During Monday's press conference, Fred Hoiberg said that it is likely that he'll continue to match junior Chris Babb up against the opposition's best player. If that's the case, the Babb on Denmon will be one to watch.
"He takes pride in guarding the other team's best player," said Hoiberg.
Babb held Texas A&M's Khris Middleton to a 3-for-12 performance on Saturday.
"The thing that he has really grown on as the season has continued to go is just how much better he has gotten if he's not making shots, just continuing to defend on that other end of the floor," said Hoiberg. "Continuing to sprint back on transition and get in front of his guy to make him take tough shots. That's the big message that I've had to our guys. If the offense isn't going, make it up in other areas."
Whatever Babb does does against Denmon, putting the Missouri senior at the free throw line is something that he should avoid at all costs. Denmon, a 92 percent free throw shooter on the season, is the best in the country at the charity stripe.
Missouri creates matchup problems for any team that they play. Because of this, expect Royce White to have to guard somebody out on the perimeter this evening. For a bulk of the game, that guy will likely be one of the nation's best 3-point shooters, Kim English.
"I remember watching him play last year. He's really good off of the bounce and has a good perimeter jump shot," said White. "Defensively, I'll have to guard a little bit differently that way."
White compared tonight's matchup to when he guarded Central Michigan's Trey Ziegler back on Dec. 18.
"I'm used to guarding guys on the perimeter," said White. "I actually like that challenge because it makes me buckle down more on defense."
QUOTABLE
On Monday, I asked Fred Hoiberg to compared this Frank Haith coached Missouri team to the one led by Mike Anderson a year ago.
"They've played with great confidence under both coaches. They will get out and pressure you defensively. They don't get out and press quite as much full court. It might have to do with their lack of depth right now. They play the same way as far as really pushing the ball in transition. It's going to be the biggest key for us in the game, getting back in transition and matching up. Royce will probably start off on a perimeter player. They start English at the four. He's 6-4, 6-5 and shoots the heck out of the ball from the perimeter. It's going to be different."
Frank Haith on Royce White…
"He's a tough matchup. When you have a guy this size that plays the way he plays, he's a matchup problem. I have not coached a guy or seen a guy in college basketball like this. He thrives on getting assists for his guys and he has big hands, he's strong and great ball skills, with tremendous vision. He has a feel for the game and he anticipates plays and he is a pretty good player. You have to keep him off-balance. The one thing for him, if he were to control the game we would have problems, he can't get 10-15 points, 10 assist and accounting for 5-40 points of theirs. You have to limit that and not let him have those passing lanes."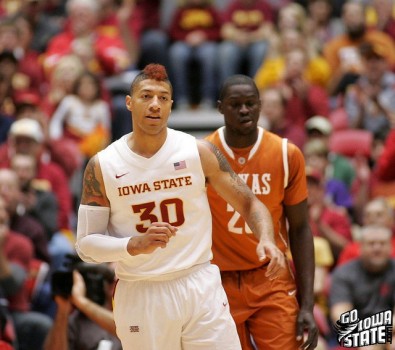 Missouri's Best Win: That's the thing about this group of Tigers. Sure, they're 14-1 but Missouri doesn't have any wins that stand out to me. They have plenty of lop-sided victories to choose from, but non-conference victories over Villanova, Illinois, Notre Dame and California look more impressive on paper than anything, as all four programs are down this season. I'll give the "neutral court" (the game was in Kansas City), 92-52 rout of Cal the nod in this category though.
Missouri's Worst Loss: Well, they've only had one. Saturday's 75-59 loss to Kansas State takes the cake here.
KEYS TO A CYCLONE VICTORY
— According to Fred Hoiberg, it's transition defense.
"It's going to be the biggest key for us in the game, getting back in transition and matching up."
— According to Royce White, it's rebounding.
"Offensively, I have to rebound," said White. "I think that's what the game will come down to. Rebounding. We should out-rebound those guys because we play a bigger lineup."
White is onto something with the rebounding, but others have been tricked into that way of thinking before. Despite their lack of size, Missouri is a decent rebounding basketball team. The Tigers out-rebounded Oklahoma 38-23 in a 87-49 win on Jan. 3
— I've got one more key to add to the conversation. That's free throw shooting. This is one area where the Tigers have a clear-cut advantage heading into this evening's contest. Iowa State shoots 68 percent as a team from the charity stripe, while the Tigers are ranked seventh in the nation, knocking down 77 percent of their free throws on the year.
In what will likely be a close basketball game, free throws could be a factor down the stretch.
NOTEBOOK
— After its 2-0 start to the Big 12 season, Iowa State received one vote in both the AP and Coaches poll this week.
— Iowa State and Missouri have gone head-to-head 231 times. Missouri has a 147-84 lead in the series ans has won seven in a row over the Cyclones. However, Iowa State has the edge in games played in Ames at 58-47.
— The last time that Iowa State defeated a ranked opponent at home was over No. 25 Colorado on Feb. 5, 2006.
— Missouri leads the Big 12 averaging 9.47 steals per game.
— Missouri's point guard, Phil Pressey, leads the Big 12 assists, steals and assist-turnover ratio.
PREDICTION
A good friend of mine told me yesterday that this game feels a lot to him like the Texas game this year in football for Iowa State. Big time expectations were followed up by major disappointment.
Here's how I view tonight's game. We have no idea how Missouri will respond to its first loss of the season. The fact that there are so many seniors on this guard oriented lineup make me believe that the Tigers will bounce back just fine.
What's that mean? Iowa State has to play an awesome basketball game to start the 2011-12 Big 12 season off with a 3-0 record. Kansas State went at Missouri with pure physicality. Iowa State doesn't have the personnel to do that.
The Cyclones absolutely have to get off to a fast start to keep the crowd into this game.
I think that my friend is wrong with his analysis.
I think that some sort of a light has come on with this team and because of that, I'm picking Iowa State to snag the close, home victory over a top 10 basketball team in Missouri.
THE PICK
Iowa State 75, Missouri 73