By Chris Williams, CycloneFanatic.com PublisherFollow Chris on Twitter @ChrisMWilliams 
CycloneFanatic.com's coverage of Iowa State women's basketball is brought to you by our good friends at Wilson Toyota of Ames, located at 2212 S. Duff Ave. in Ames. 

Tomorrow will be a Senior Night unlike any that Bill Fennelly has ever seen before.
Throughout his 17 years as Iowa State's head women's basketball coach, Fennelly has never experienced a Senior Night where a jam-packed Hilton Coliseum did not honor a fourth-year player.
When the Cyclones (17-10, 8-8) go head-to-head with Kansas State (18-10, 9-7) on Wednesday, junior college transfers Chassidy Cole and Lauren Mansfield will take the floor in their home regular season finale.
"It's kind of the nature of the way college sports has gone," said Fennelly. "Transfers and people moving around. It's a little unique but you do what you have to do to put a team together and win."
Iowa State fans are a bit spoiled. The Cyclone Nation has become accustomed to the Lyndsey Medders', Alison Lacey's and Kelsey Bolte's of the world. That's the breed of senior who is at the very least, in the All-American conversation.
Neither Cole or Mansfield fit that category. Neither will likely find herself on a First-Team All-Conference list either. But don't look past their accomplishments.
Cole, who is known as an outstanding defensive stopper, will more than likely play in her third straight NCAA Tournament this March.
Mansfield, who came on strong with a handful of monster games during Iowa State's furious February (the Cyclones are 6-2 this month), is closing in on her second straight berth in the Big Dance. Do that math. This duo is batting 1.000 when it comes to playing in the game's biggest event.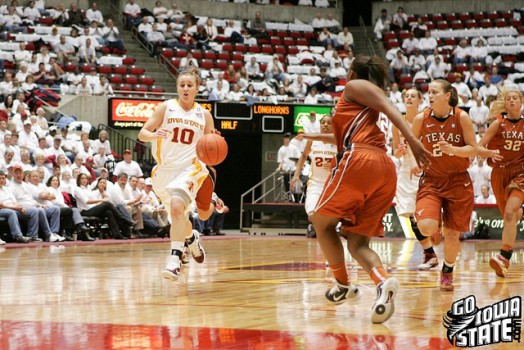 "They filled a position of great need for our team," said Fennelly. "Both of those kids have done a lot of good things here and hopefully there's more coming."
Fennelly can't this, but I can. After starting off the Big 12 season 0-5, Iowa State is now 17-10 and in my opinion, a lock to host the first and second rounds of the NCAA Tournament.
Cole and Mansfield both took unconventional routes to arrive in Ames. But because of their contributions and leadership during a tough stretch, Fennelly's program is likely on its way to playing in its sixth straight NCAA Tournament.
I'd say that their careers have been pretty valuable.
Tip time tonight is at 7 p.m. You can watch the game on Mediacom Connections channel 22.