By Chris Williams, CycloneFanatic.com PublisherFollow Chris on Twitter @ChrisMWilliams 
Believe it or not, this is the first CF Mailbag of 2012.
On a scale of 1-10, how much have you missed this professional piece of journalism gold ? Okay, don't answer that…
Let's start things off with a question from Hoopitup.
Hoopitup writes: We've got our football and men's basketball programs both headed in the right direction. We've got ISU guys in there who are doing a great job. Would we ever need to worry about either leaving for their "dream job," or do they both consider this their "dream job"?
CW: I can't honestly answer that question because I'm not Paul Rhoads or Fred Hoiberg. I don't want to put words in their mouths…
I honestly have no clue what it would take for either one of them to leave. All that I know is that Hoiberg is an Ames guy, an Iowa State legend and appears to be leading the Cyclones to the NCAA Tournament in his second season on the job. Fred Hoiberg can win a national championship in Ames, Iowa. Heck, Butler nearly accomplished that feat two seasons in a row. His job is much easier than the football one and as long as Fred wants to coach college basketball, I'd be surprised if he ever left Iowa State. Having said that, things happen and there are no guarantees in life.
As far as Paul Rhoads goes, well, he's had opportunities to leave and is still at Iowa State with a brand new 10-year contract. That's got to make you feel pretty good.
Rhoads has said numerous times that one of the things he likes so much about Iowa State is the fact that he's building a winning program here. The best thing that Iowa State has going for it when it comes to keeping Rhoads is its administration and dedication to winning. Don't look past the importance of this new football-only facility and other upgrades. Those are symbols of commitment from Jamie Pollard and other higher ups at Iowa State.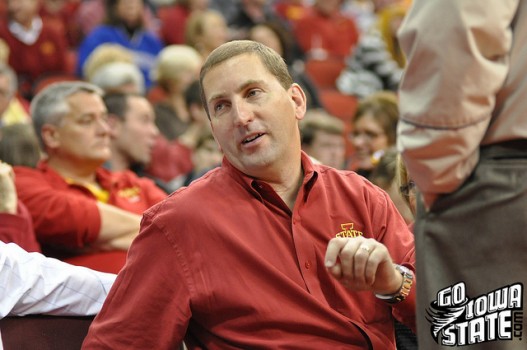 Instead of worrying about what could happen, I'd encourage you to enjoy what is happening right now at Iowa State. I've covered the Cyclones since 2004 and I've never seen this athletic department in as good of shape as it is right now.
EYEoftheSTORM writes: CW, what sort of record do you believe the Cyclones football team will achieve this season? Also, most importantly although its a long ways out, which game will be CPR's upset special this year? The OU game? Or even shocking the Hawks in Iowa City…Whats your take?
CW: This is all hard to predict right now considering the schedule hasn't been released. Still – I think this will be Paul Rhoads' best team that he's had at Iowa State and at the very least, another bowl game should be very reachable in my opinion.
While it won't be easy by any means, the schedule should be easier than the gauntlet that Iowa State saw in 2011.
Upset special? I'm not sure that winning in Iowa City would be that much of a shocker in 2012, would it? Don't get me wrong. Iowa will be favored in that game and it won't be easy by any means, but to use the word "shocking" is taking it too far in my opinion. Iowa State and its fanbase should expect to win that football game.
Oklahoma at home…That's got upset written all over it, although Landry Jones is coming back to play another year for Bob Stoops. As always, the Sooners will be stout. But Iowa State has beaten every Big 12 "south" team over the last two years, other than Oklahoma.
Yep. The Sooners are due for the Paul Rhoads "Special.' Chalk it up. You heard it here first, all thanks to my good friend EYEoftheSTORM.
Azepp writes: The remaining road schedule does not look favorable for us with games at Baylor, KSU, and Mizzou. What would you guess are the odds of us picking up another road win and who might that win come against?
Mizzou has been pretty much untouchable at home, but I'd love to go in there and hand them a loss in their last Big XII home game at Mizzou Arena.
CW: My favorite thing about this group of Cyclones is that they can beat any opponent on their schedule on any night. Listen – This group went into Allen Fieldhouse and damn near beat Kansas. If they can do that, they can win a game in Manhattan, Waco or potentially even Columbia (that one will be tough though).
Did you watch Baylor last night? Really Scott Drew? Really? Nice zone…I dare the Bears to play that zone against Iowa State. No. I double-dog dare them.
For real though, Iowa State hit 15 3-pointers in Norman last Saturday. That's what this team is capable of. Fifteen! Do that and you can beat anybody on any night. Period.
Keep watching. These Cyclones are capable of doing some big things. This works both ways though. Other than Texas Tech, I'm not sure if there is a "sure thing W" left on the schedule either.
KFitzy87 writes: Do you know if Tyrus said anything more during his fist pump to warrant a technical or was it given solely due to eye contact with the other player?
CW: I'm not sure. It was a junk call in my opinion but I wasn't there so don't put too much into what I say. Actually, I thought that the technical foul that was called on Le'Bryan Nash was garbage too. I have no clue what that was about on Tuesday night.
Clonefan32 writes: What do you think is the MBB team's "magic number" to get in to the tournament?
CW: If Iowa State gets to 10-8 in the Big 12, the Cyclones should be fine. Having said that, I thought that Colorado was a lock last year (one of the all-time screw jobs in college sports in my opinion). Placing fourth or better in the Big 12 is the key. There is no way that the Big 12 won't get four teams in the dance.
Wesley writes: Will the gals make the NCAA tournament?
CW: Yes. Bill Fennelly's team has won five of six and is currently 5-6 in the Big 12 in a tie for sixth in the league. The Big 12 will get seven women's teams in the NCAA Tournament. I think that when you consider the fact that NCAA Tournament first and second round games are taking place in Ames, Iowa State could go 8-10 in the league and still be in. The Cyclones still have four home games left too, so they'll likely fare better than that.
Barring any disasters, it should be a fun month for the Cyclone Nation.