By Chris Williams, PublisherFollow Chris on Twitter @ChrisMWilliams
Just a quick heads up. If you asked me a question about realignment for this week's mailbag, I've left it out of the column for obvious reasons. Whatever you asked me is now dated. But as of now, that's a good thing for Iowa State. Realignment is never over folks so stay tuned.
Let's get things started with a Cyclone football question from Pyrocyz.
Pyrocyz writes: What do you feel the team needs to work on (other than getting healthy) during the bye week?
CW: Fundamentals and the mental aspect of the game. Iowa State has turned the ball over twice as many times as its first three opponents and on top of that has been penalized for twice as many yards. That brings me to this question…
Khaal53 writes: Is Iowa State a good football team that has overcome turnovers and penalties or are they a mistake prone team that has been fortunate to find three wins?
CW: Great question. Maybe a little bit of both? All I know is this. Past Iowa State teams wouldn't have won those games against Iowa or UConn. For real. Iowa State teams of the past lose those games. Period. Some way, some how, the Cyclones won a triple-overtime game against their rival and completed a fourth quarter road comeback against a quality BCS program.
That tells me that there is something different about this team. I don't know what it is, but something is there. Paul Rhoads has said from day one that this is his best team that he's had at Iowa State. Maybe it's time to take his word for it?
It's been good enough so far but with that being said, it's no secret that Iowa State needs to clean things up with a nasty Big 12 schedule on the horizon.
Cystheman writes: ISU to WWE – Who would be who and why? ex: CPR = The Undertaker. JP, Bill Finnley, CFH.
CW: Oh boy. You have no idea the size of the can of worms that you just opened up. Here we go.
Jamie Pollard – HHH – He's the COO. Everybody answers to him. Thou shall not cross "The Game."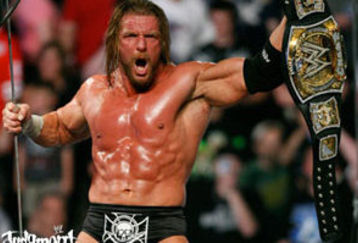 Paul Rhoads – Hulk Hogan – Not Hollywood. Hulk. Why? Because everybody liked Hogan back in the day. Try to find somebody within Iowa State's fan base who doesn't like Rhoads? You can't.
Fred Hoiberg – Randy Orton – "The Mayor" is a much nicer guy than Orton, but they get things done the same way. Neither talk much. They do their talking on the court, or in the ring that is. Orton's finishing move, the RKO, is one or the quickest maneuvers in the WWE. With his plan of taking transfers and fearless recruiting, Hoiberg is poised to creating one of the quickest turnarounds that we've ever seen at Iowa State.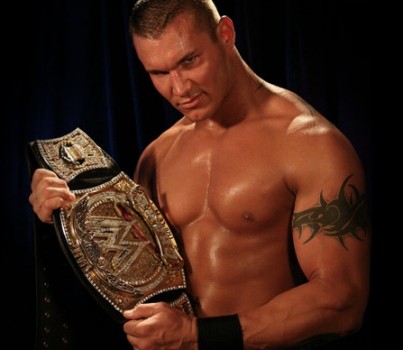 Bill Fennelly – CM Punk – He says what he wants, when he wants, even if it isn't the popular thing to say. He's brash. But most importantly, he's respected. I've written for years that Fennelly is the cornerstone of Iowa State's athletic department. Take CM Punk away from the WWE right now and you've got a flat product. The same can be said for Fennelly, who represents all of the positives that Iowa State is about.
T.J. Otzelberger – The Miz – Otz might be the best interview in the Iowa State athletic department. Miz has the best mic skills in the WWE. On top of that, both are sharp dressed men.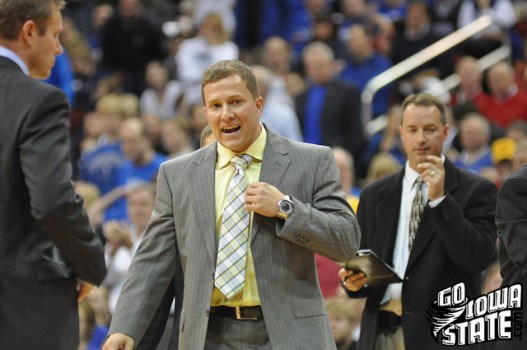 "Voice of the Cyclones," John Walters – Jim Ross – No-brainer here. Walters, like Ross is to the WWE, is the "Godfather" of Iowa State media.
Eric Heft – Jerry "The King" Lawler
Tron Smith – Mr. T – Duh.
Wally Burnham – The Undertaker – Iowa State's defensive coordinator gets better with age. He's still one of the best in the game.
That's all I've got for now. This was fun. Thanks for the question Cystheman.
Triggermv writes: I drove 20 hours nonstop each way to the UConn game this past weekend and noticed one big difference between UConn's game time atmosphere and ISU's. That was UConn's official in-game DJ. I've definitely never seen a team DJ before and definitely didn't imagine there would be one which would overshadow the band (Maybe just an East Coast thing). What are your thoughts on a team DJ? I will say this, while neither the DJ or the band got the response from the fans that I think the ISU band does, he did play some killer songs.
CW: I wasn't there but I checked with my main man Brent Blum about this. He said that "DJ UConn" was pretty intense. Here's a direct quote from Blum himself.
"Think Sips on a Saturday night. It was a bit obnoxious and I love club music."
Classic.
Isubeatle writes: I've seen a lot of people saw that we have a really good shot at beating Texas at JTS. While I'm optimistic, are we being too confident going into this game and setting ourselves up for a huge let down?
CW: Iowa State is 3-0. Texas is 3-0. Iowa State won in Austin last year. The Horns haven't necessarily been world-beaters so far in 2011. Iowa State is winning games that it never would have won in the past. Do you blame people for being excited? My advice is to enjoy the ride. If the Clones end up getting punked, then so be it. But being afraid of challenges is no way to live life in my opinion. Let the coaches worry about stuff like that! I don't see anybody being over confident. Obviously, Texas has a ton of talent. There's no way that the Cyclones will enter that game an overconfident bunch.
Iforecy writes: Has there been any word as to whether or not Pompey going to play at all this year or will he end up redshirting?
CW: The way I understand it, he will redshirt. It's tough for any defensive tackle to play as a true freshman. Add to the fact that he came into camp injured and it didn't help his cause.
CyBer writes: Who is your favorite person to interview and why?
CW: I assume that you're speaking of the football team correct? Two players immediately come to my mind. Those men are Ter'Ran Benton and Leonard Johnson. Both men say what is on their mind in a very well thought out way. Funny guys too. Not much coach speak with these two.