By Chris Williams, CycloneFanatic.com PublisherFollow Chris on Twitter @ChrisMWilliams
There are weeks when I sit down to write my Monday Musings where there just isn't much gas in the tank, you know? Writers block is in full effect. There isn't much going on…
That is not the case today. I could write 4,000 words right now (for your sake, I will not though).
Let's start off with some hoops…
ON IOWA STATE BASKETBALL…
— For the first time in my life, I attended a game at the famous Allen Fieldhouse on Saturday. After that experience, I'm confused as to how Kansas ever misses out on a recruit. The energy inside of that building was unlike anything that I've ever witnessed in person. Hundreds of students waiting in line to two hours before the game, the trophies, the pregame atmosphere and the Rock Chalk Jayhawk. It all adds up to equal one of the most awe-inspiring sporting venues in America.
— I took a lot of positives out of Iowa State's two losses to top 10 teams this past week. In the home loss to Missouri, the Cyclones simply beat themselves. Missouri did the little things right. Iowa State didn't. On Saturday, Iowa State had the Jayhawks right where they wanted them. However, that "Phog Allen" train got rolling in the second half. Once that beast gets going, it's damn hard to stop.
— I got quite a few texts/emails from fanatics bagging on Chris Allen after Saturday's game. People seem to be upset with the senior's shot selection. I get it. Allen has forced quite a bit this year. But he does have the ability to hit those shots. He's also one of the few guys on Iowa State's roster who can create his own shot. Allen's defense was worse than his shot selection on Saturday in my opinion. Allen has some big games in him. He wasn't the lone reason that the Cyclones lost on Saturday. I have a feeling that Allen will have multiple big games down the stretch for this team.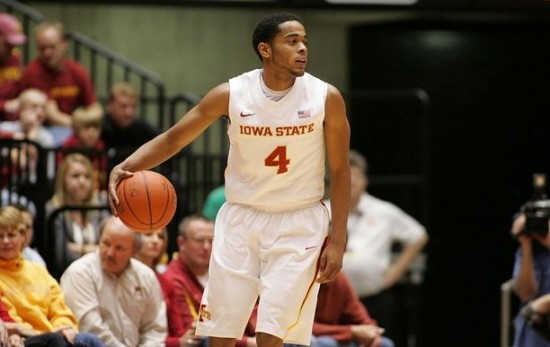 — While leaving Lawrence on Saturday, I was tuned into the Kansas Jayhawk Radio Network. I heard Kansas head coach Bill Self say that the Cyclones were the toughest team that the Jayhawks have been forced to guard all season long…He does realize that his team has played the likes of North Carolina, Ohio State and Duke right? Coach speak? Maybe, but it's a mighty fine compliment for Iowa State.
— The sliver lining from last week is this. In two games vs. two top 10 teams, Iowa State had a chance to win each of them. Some might say that they should have won both. The talent is there. The Big 12 is way down. This team has come a heck of a long way since that debacle at Drake in early November. Being in the NCAA Tournament conversation when March gets here is not crazy talk anymore. Having said that, Iowa State still doesn't have what the committee could consider a "good" win.
— Want to talk NCAA Tournament? Iowa State needs to go 2-0 this week. Oklahoma State (who was embarrassed by Baylor over the weekend) comes to town on Wednesday. If the Cyclones play like they did against Mizzou or Kansas, that's a double-digit win in my opinion. Then it's a road trip to Texas Tech (without question the league's worst team) on Saturday.
— Here's what I'm hearing about Korie Lucious…He's one of the most vocal players in Iowa State's program right now. From the sound of things, when Lucious talks, others listen. It has to be hard for a guy who is redshirting to mix it up too much right now, but I'll be surprised if Lucious isn't one of (if not THE) team leader in 2012-13.
ON IOWA STATE FOOTBALL…
— Here's what I like most about Courtney Messingham being Iowa State's new offensive coordinator. As Paul Rhoads put it in an interview last week, the two go way back. Chemistry should never be a problem between these two. Nor should communication. I have a feeling that this is going to work out well…
— I've probably been asked this question 20 times in the last week: If Rhoads knew that he was going to hire Messingham, why did he allow Tom Herman to coach in the bowl game?
That's a pretty easy answer in my opinion. The current formula (that included Herman) got Iowa State to a bowl game in 2011. With a freshman quarterback, do you really want to change things up, put a new voice in his ear and assign Messingham play calling duties on the fly like that?
— I like the pipeline that Iowa State's ace football recruiter Shane Burnham is developing with Bradenton (Fla.) Manatee. Last year it was Quenton Pompey and Quenton Bundrage. On Sunday, linebacker Darius White committed to the Cyclones.
— Iowa State recently released this "virtual tour" of the new football facility that will open this fall. Check it out if you have a few minutes.
RANDOMS
— Here's a big shout out to one of the best guys in the business and a man I am proud to call a friend, the Voice of the Cyclones/ABC5 sports director John Walters for winning Broadcaster of the Year in the state of Iowa last week. "J-Walt" had a unthinkably tough job when he had to replace the legendary Pete Taylor. There aren't many men in this world who would have been up to that challenge. While we all still and always will miss Pete, John has carried on Taylor's legacy of professionalism and class but at the same time, brought his own unique style into the mix as well.
— Here's how you know you're married to a vet. You come home from a weekend road trip and find a pet hospital set up in your office…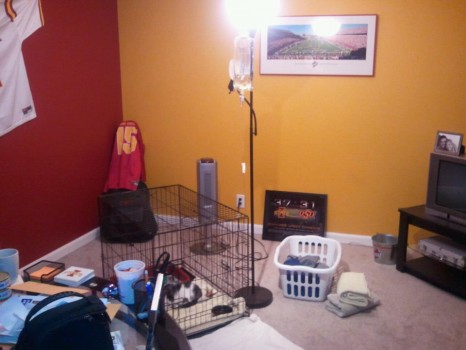 Looking for a new pet for your home? Little "Patty" is a kitten that was recently abandoned by an individual who is a poor excuse of the human race. She's sick right now but Dr. Ashley is determined to get her back to normal. Patty needs a home. If you're interested in doing an awesome thing and adopting a homeless animal from the Furry Friends Animal Refuge in West Des Moines, contact me at chris.m.will@gmail.com.