By Chris Williams, CycloneFanatic.com Publisher
Follow Chris on Twitter @ChrisMWilliams
What: Iowa State vs. Rutgers – The 2011 New Era Pinstripe Bowl
Where: Yankee Stadium in New York City
When: Friday, Dec. 30 at 2:30 p.m. CST
TV/Radio: ESPN – Chris Fowler, (pxp); Jesse Palmer (color); Tom Rinaldi (sideline) — Cyclone Radio Network
***Tune into the YES Network on Friday at 12:50 (CST) for a Pinstripe Bowl Preview Show. I'll be co-hosting the program with a Rutgers writer and two representatives from the New York Yankees***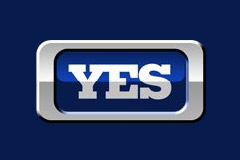 Iowa State and Rutgers are like two twins that were separated at birth. The two football programs that will match up in the 2011 New Era Pinstripe Bowl are eerily similar.
Back in July, Iowa State was looking ahead to playing one of the toughest schedules in all of college football. To anybody outside of Ames, a bowl game was a pipe dream. For the second time in three years under head coach Paul Rhoads, the Cyclones defied what the "experts" predicted.
The same can be said for the 2011 Rutgers Scarlet Knights. The media picked Greg Schiano's squad to finish dead last in a feeble Big East Conference. Rutgers was a close loss or two away from winning the Big East and representing its league in the Orange Bowl.
On Friday afternoon, two overachieving programs headed up by defensive-minded and very loyal head coaches will meet up in the grandest city that the United States of America has to offer.
Here's the breakdown for the 2011 Pinstripe Bowl.
ADVANTAGE IOWA STATE
Cyclone defense > Rutgers offense – I like this overall matchup for a variety of reasons.
The first is because of how well Iowa State's defense ended the regular season. With depth emerging on the defensive line, the Cyclone defense was arguably the best in the Big 12 over the last month of the season.
Rutgers still hasn't named a starting quarterback for Friday's game. In addition to that, this is a Scarlet Knight offense that struggles mightily running the football. Rutgers is ranked 115th nationally in rush offense averaging only 2.6 yards per carry on the ground.
I'll elaborate on this more later in the preview, but the Leonard Johnson factor will allow Iowa State to match up with standout wide receiver Mohamed Sanu and focus more men on pressuring the young signal callers and stopping the run.
ISU O-Line > Rutgers D-Line – They say that size isn't everything right? That's true, but it certainly doesn't hurt either. When it comes to pure bulk, Iowa State's massive offensive line has a significant advantage over Rutgers' big men up front on defense. The average weight of Iowa State's five starting offensive linemen is 315.2 pounds. The average weight of Rutgers' four starting defensive linemen is 266.25 pounds.
With a healthy line and running back James White back at 100 percent, I fully expect Iowa State to run the ball early and often against this Rutgers defense that's strength is defending the pass.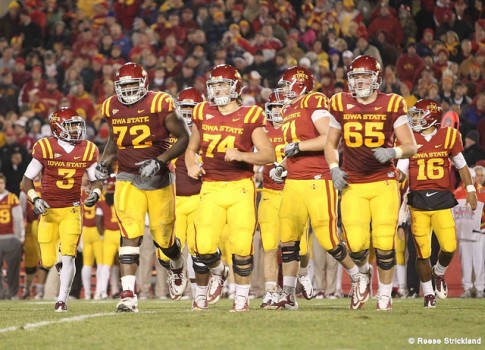 Confidence – Despite the fact that Iowa State lost its last two games of the regular season, it's fair to say that the Cyclones ended the year playing their best football. In a game where Rutgers had everything in the world to play for (including a share of a Big East championship and Orange Bowl berth), the Scarlet Knights went on the road and lost to 5-7 UConn by 18 points in its finale on Nov. 26.
Advantage, Iowa State.
ADVANTAGE RUTGERS
Special Teams – Iowa State's kicking issues have been well documented in 2011. Kickers Zach Guyer and Grant Mahoney have combined to miss four PAT's and six field goals this season. Even though Guyer has gotten on track towards the end of the season (the senior made eight of his last nine field goals), the heat that Rutgers will bring to the table on Friday is a concern. The Scarlet Knights have blocked eight kicks this season (three PAT's, two FG's and three punts). In addition to that, the Scarlet Knights have blocked 56 kicks since the year 2002. The only school in America to have blocked more kicks during that time span is Fresno State with 67. Special teams play, specifically, blocking kicks of all kinds, is a trademark of a Greg Schiano coached football team.
Keep an eye on Rutgers linebacker Jamal Merrell on Friday. He blocked three kicks by himself during the regular season.
Expect both Iowa State and Rutgers to bring it on kick return. The Cyclones are ranked 25th nationally, averaging 23.69 yards per return. Meanwhile, Rutgers is ranked 17th in that category, averaging 24.24 per return. Sophomore wide receiver Jeremy Deering returned a kickoff for 98-yards for a touchdown against South Florida. Deering is the nation's fourth best kick returner on the season, averaging over 31 yards per opportunity.
Turnovers – One of Iowa State's major weaknesses happens to be strength for the Scarlet Knights. Rutgers has forced 31 turnovers this season, a number that puts them in the top five nationally. Meanwhile, the Cyclones have turned the football over 32 times this season. Iowa State ended the regular season ranked 100th nationally in turnover margin.
Atmosphere – Football is football. At the end of the day, talent, coaching and execution are really what matter. But in bowl situations, intangibles surrounding the game do sometimes affect the outcome. Not that this is a HUGE deal, but the mere fact that Rutgers has played and won in Yankee Stadium already this season does give the Scarlet Knights an edge. Rutgers defeated Army 27-12 on Nov. 12 in Yankee Stadium. While it has nothing to do with the present day Rutgers team, the Scarlet Knights have played in Yankee Stadium 10 different times in program history. Before this year's win over Army, the last time Rutgers played in the historic ballpark was in 1948. Rutgers' all-time record at Yankee Stadium is 2-7-1.
KEY MATCHUP
Leonard Johnson vs. Mohamed Sanu: Rutgers wide receiver Mohamed Sanu is coming off of a record breaking regular season. The junior recorded 109 receptions for 1,144 yards and seven touchdowns in 2011, which shattered former Pitt wide receiver Larry Fitzgerald's Big East record of 92 receptions. Those 109 catches rank him fifth nationally. He's gone over the 100-yard mark seven times in 2011, while tacking on six games with double-digit receptions. When it comes to Rutgers' passing attack, Sanu is their offense. Period. No other Rutgers player caught more than 31 passes in 2011.
How will Iowa State defend Sanu? That's a big question heading into Friday's Pinstripe Bowl.
Wally Burnham and Paul Rhoads trusted senior cornerback Leonard Johnson vs. the man who is arguably the best receiver in all of college football, Oklahoma State's Justin Blackmon. While I fully anticipate Burnham to give Johnson plenty of safety help, this is a one-on-one matchup that could dictate the outcome of what I'm guessing will be a low scoring football game.
THREE KEYS TO A CYCLONE VICTORY
Turnovers – As I wrote up above, Rutgers is one of the best teams in the country when it comes to forcing turnovers. This has plagued Iowa State all season long. At the very least, Iowa State's defense needs to force a few turnovers to equal things out in a category that on paper, favors the Scarlet Knights.
Pressure the QB – Regardless of who the quarterback is, if Iowa State can put pressure on the quarterback, Mohamed Sanu can only do so much. Part of what made Leonard Johnson and Iowa State's entire secondary so effective in the Oklahoma State win was the fact that Brandon Weeden was constantly running for his life. If the defensive line can somehow mimic that performance on Friday, Rutgers will have a hard time putting points on the board.
The kicking game – In what I think will be a close football game, Iowa State cannot afford to botch any PAT's of field goals. The Cyclones need to be flawless in this area of the game.
PREDICTION
I think it is easy for Iowa State fans to fall into the trap of the whole Big 12 vs. Big East argument. Yes, Iowa State played a much more difficult schedule than Rutgers but no, that doesn't guarantee anything when it comes to a bowl game.
I'll be surprised if Rutgers' aggressive defense doesn't force at least a couple of Iowa State turnovers. I'll also be surprised if Iowa State isn't able to run the ball at will on the Scarlet Knights.
As I noted earlier, I like Iowa State's defense in favor of the Scarlet Knight's offense.
But still, this is a well-coached football team that is a couple of plays away from being 10-2 on the season.
I'm taking Iowa State to win though based off of two factors. The first is talent. I believe that Iowa State has better players than Rutgers. The second is momentum. This football program has a ton of it right now. Give me the Cyclones in a low scoring, cold weather, Pinstripe Bowl classic.
THE PICK
Iowa State 20, Rutgers 17