By Austen Arnaud, CycloneFanatic.com Football Analyst Follow Austen on Twitter @ADArnaud4
Manage the Game – On offense, this is very key. Iowa State has to put itself in good position at all times against a very opportunistic Rutgers defense. They are among the best in the country in forcing turnovers, which isn't great for the Cyclones considering the turnover woes that this team had at times this season. Jared Barnett will not be asked to do anything extraordinary or spectacular, but he will be asked to manage the football game. This means getting the offense out of bad plays, taking care of the football and executing his assignment at a high level. I believe that Jared knows this. Coach Rhoads used to continually remind me to play within myself and the really helps a kid's psyche level, knowing that your coach believes in you and know you can win if you take care of the little things.
Establish the Run – This key coincides with the previous one pertaining to managing the game.  The more Iowa State can be effective on the ground, obviously the better position they will put themselves in. This will be an interesting stat to watch. Iowa State nearly doubles the amount of rushing yards per game than Rutgers does. Rutgers struggles to get 100 yards per game on the ground, in comparison to Iowa State's 181 yards a game. This key will be easier said than done though, as Rutgers' defense allows just less than 19 points to its opponents.  I don't care what kind of competition you play, that is a very good defense.
Special Teams – In my opinion, this game will be low scoring and a defensive struggle. Most of the time, special teams play  decides these games. I believe Zach Guyer will have a few opportunities that he must capitalize upon in the kicking game for the Cyclones to come out victorious.  Not only will Guyer have to be on his game, but more importantly Kirby Van Der Kamp as well.  I hope just as much the next Cyclone fan that we don't see Kirby at all on Friday, however that is very unlikely. Field position will be huge In Friday's game and Kirby has got to be efficient. This hasn't been the sophomore season Kirby had hoped for but he is still a kid with a ton of talent. I have all the confidence in the world that he will play well.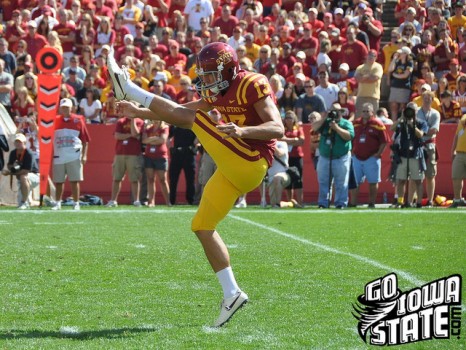 Competition – A lot of Cyclone fans thought process will be "Well, we beat UConn and UConn beat Rutgers by three touchdowns so therefore, they can't be that great."  This statement holds little merit in my opinion. However, if you look at the difference in schedules between the two, there is no doubt an Iowa State plays in the tougher conference and played a better non-conference slate of games. Rutgers played one top 25 team in West Virgnia.  Iowa State played against seven top 25 opponents. The advantage here goes to Iowa State. When you play the best competition in the country week in and week out, that only helps your team in preparing for a team like Rutgers who comes from a weaker conference. However, the Scarlet Knights are a few plays short (UNC, Louisville) of being a 10-2 football team that would be representing the Big East in a BCS game.
Limiting Big Plays – Our defense will be asked to defend one of the better receivers in the country in Mohamed Sanu.  Sanu had 109 receptions this year. The next best Rutgers receiver is Quron Pratt who had 31 catches. They will go to Sanu early and often. I'm not too concerned about covering Sanu. Leonard Johnson and Jeremy Reeves have had great years and have covered better receivers than Sanu. What concerns me is being able to get off the field on defense. Rutgers is a type of team that will hang around all game and seems to always have a chance to win games because of their defense. Our defense needs to get to whichever quarterback is in the game and get him rattled. I don't care what anyone says but when you are splitting time at quarterback, your confidence isn't always the best because you are continually looking over your shoulder. If Iowa State can rattle these young quarterbacks and limit Sanu's touches, I don't see how this Rutgers offense is going to be able to score consistently against the Cyclones.