AMES — I'm generally not one to give bold, outlandish predictions. When it comes to Iowa State athletics, I'm conservative by nature. I've "picked" Iowa State to go 6-6 in each of the last three seasons. You haven't heard any of that 8-4 talk from me. 
Here's one for you on a chilly central Iowa Monday and know that as I type this, I'm thinking about knocking on wood.
I like Iowa State to win out. I like Iowa State to finish year four of the Paul Rhoads era at 7-5. Why exactly? 
A gut feeling has a lot to do with it. I mean – the loss of Jake Knott has hurt worse than most of you (and myself included) probably thought that it would. Iowa State's defense has given up 1,202 yards in the two games that No. 20 didn't take the field. 
Iowa State's offense hasn't been much better. The Cyclones didn't break the 300 total yard barrier in either of the losses.
As a result, Iowa State has been out-scored in its last two games 68-27.
So with all of that knowledge in mind, why in the world would I go on the record predicting two season-ending Iowa State triumphs at this point in time? Here are a few reasons. 
— First is the obvious…While Saturday's road trip to Kansas is a game that has scared the dickens out of me for weeks and West Virginia's offense can put up points on anybody at any time, the competition level is about to drop considerably. Don't take this as a dig on the Jayhawks and the Mountaineers either. Consider this more of a high-five towards our friends at Oklahoma and Texas. Those are two underrated programs (I'm talking in 2012) in the entire landscape of college football (as are most teams in the Big 12 this season). Here we are in mid-November and Oklahoma's two losses have come to Kansas State and Notre Dame, both National Championship contenders. And Texas…The Longhorns took their lumps early in the season but appear to be hitting on all cylinders right now. Those blue chippers are finally playing like blue chippers. If I'm Kansas State and I see "Texas" on my upcoming schedule for Dec. 1, I've got a big ole lump in the back of my throat.
— My second reason for all of this not-so crazy talk is a bit hidden. It's a hint of progress that might not be showing up on the scoreboard, but is definitively being made within Iowa State's offense. It all began in a 35-21 win over Baylor three weeks ago. Steele Jantz started at quarterback and played a smart football game. At that point, we all though, "Well that was against Baylor's defense. How will he fare next week?" Jantz was not great, but good vs. Oklahoma. He made some tough throws and got little to no help from a struggling group of wide receivers. Most importantly though, Jantz played a smart game against a great defense. Against Texas, I think that Jantz took a step back, but not a devastating one though. He missed some easy throws but against an ultra-aggressive Texas line, ran for his life for the most of the day. The trend though stayed in tact…Not horrible decision making from Jantz, which we've seen a lot of over the majority of his career. At this point, I'm a buyer in Jantz, meaning that I think he's made some serious progress from the mental standpoint of the game.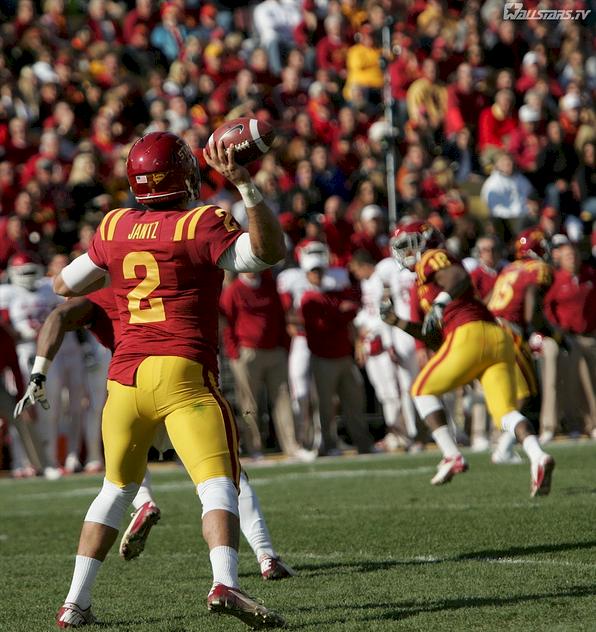 — Iowa State's running game is slowly improving. The Cyclones ran for 144 yards on Saturday and could have run for more had they not gotten down early by a significant margin. Kansas and West Virginia's defenses are currently ranked 103rd and 110th in America. 
— Earlier, I mentioned how many yards Iowa State's defense has given up over the last two weeks. What I didn't mention was the fact that the Cyclones have held every opponent on the schedule under its scoring average so far this season. While Kansas is the nation's 21st ranked rush offense, the Jayhawks passing game is ranked 112th. It's a one-dimensional offense that Wally Burnhamn should have a great game plan for. 
— Enough Kool-Aid drinking huh Williams? Get to the point already!
My point is this: While I fully expect the pesky Kansas Jayhawks to give the Cyclones a hell of a game this weekend, Iowa State goes from facing the second and third best teams in the league to the worst, followed by a Black Friday match-up against West Virginia's insanely bad defense.
I've alluded to those signs of improvement. What I'm banking on is everything finally coming together against Kansas on Saturday evening in Lawrence. If that happens, part two of my prediction will take care of itself.
More football…
*** I got a chance to watch 2013 Iowa State commitment Joel Lanning(QB out of Ankeny) during Friday's state semi-final win over Southeast Polk. I wrote about Lanning last week too. I'm fascinated about this young man. Now I've only seen him play a couple of times but Lanning certainly has an arm strong enough to play quarterback at Iowa State. But his size is intriguing too. He could play a number of positions at the next level. Quarterback, tight end, linebacker, safety, you name it. Just stay tuned. The kid is a winner. I think he'll have a nice career in Ames. 
*** So Kansas State is college football's No. 1 team right now. Name a team that played Kansas State tougher than Iowa State this season……………..(I'm still waiting)……………..
What's so frustrating about that is if Iowa State even would have had an average day against the Wildcats, that's a "W" for the Cyclones. 
Now having said that, I hope that Kansas State wins out. I love the way that program goes about its business. 
#TeamBig12 (Yeah – I just used a hashtag in a column – Twitter has officially taken over the world)
*** More on Kansas…So the Jayhawks took a good Texas Tech team to double-overtime on Saturday. WIll the Jayhawks be extra fired up after that loss for the Cyclones or flat-out mentally exhaused and ready for 2012 to come to an end? I honestly have no clue. 
On Iowa State hoops…
*** I'm sorry. 
I haven't and will not have time to whip up a preview for tonight's Iowa State vs. Alabama A&M tussle at Hilton Colisuem. Here's the skinny though…
— Most pick Alabama A&M to finish anywhere from fifth on back in the SWAC. For comparison's sake, Southern, the team that Iowa State beat on Friday night, was the preseason favorite to win that league. Iowa State is 19-0 in history vs. SWAC teams. 
— My score prediction for last Friday's game was an 84-59 Cyclone victory. Iowa State won the game by an 82-59 final. I blame Fred Hoiberg for calling off the dogs. 
— Don't come away from the above point thinking I am sport. Luck. Pure luck. 
— Score prediction for tonight: Iowa State 90, Alabama A&M 58
That is all. See you in Hilton tonight everybody.