By Chris Williams, CycloneFanatic.com PublisherFollow Chris on Twitter @ChrisMWilliams
Happy Columbus Day Cyclone Nation!
No fancy intro this week. I'll start today's musings with some basketball thoughts (the season is just around the corner) followed by my weekend Three Up, Three Down.
ON IOWA STATE BASKETBALL…
— I picked up the Sporting News' college basketball preview last week. While I admittedly haven't dug too deep into the publication yet, I thought I'd share that it has Iowa State finishing eighth in the Big 12 for the upcoming season. That's fine. It is ridiculous as to how wide-open this league is folks. Every single team has questions. For instance…
– Baylor has big time talent but Scott Drew is the head coach there. That's a liability in its own right.
– Kansas has four starters to replace. You know that the Jayhawks will be a top tier team in the league, but will they be elite? That's questionable.
– Missouri's new head coach (Frank Haith) won 38 percent of his games over the span of seven seasons at Miami. There's been that little scandal hanging over Haith's head ever since he got too Columbia too. That's not to mention that one of Missouri's best players, Laurence Bowers recently tore his ACL and is out for the season.
– Texas A&M is breaking in a new coach in Billy Kennedy.
– Travis Ford has some intriguing, but middle-of-the-pack talent at Oklahoma State.
– Rick Barnes has the chore of replacing Tristan Thompson, Jordan Hamilton and Cory Joseph at Texas.
– Kansas State no longer has Jacob Pullen. He's been the cornerstone of that program since Frank Martin took over.
– Oklahoma and Texas Tech have new coaches and are at the start of rebuilding processes.
Smell what I'm cooking? Going from 3-13 (Iowa State's conference record last year) to the NCAA Tournament is an unheard of thing to do. But it isn't as if other Big 12 programs don't have any issues either. This league is wide-open I tell you. Wide-stinking-open.
— The Big 12's coaches voted Royce White as the conferences Preseason Newcomer of the Year last week. It was a good choice but if you ask me, Chris Allen has a better chance of actually winning the award this winter.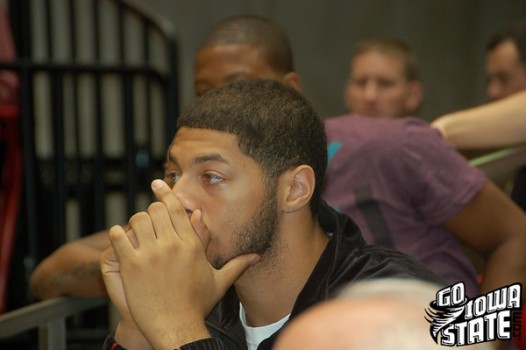 — ESPN.com's Andy Katz certainly isn't impressed with Iowa State's non-conference schedule for the upcoming season. In this column, he gives Fred Hoiberg's non-conference slate a 2 ranking on a 1 to 10 scale.
— Stay tuned for an Ian Smith feature on Iowa State women's basketball sophomore Hallie Christofferson later this week here at CycloneFanatic.com. Christofferson is one of my favorite stories in all of Iowa State athletics. Back when I was the sports director at KMA Radio in Shenandoah from 2007-2009, I did play-by-play of a couple of Christofferson's high school games. In fact, I've seen way too many 1A girls basketball games in my lifetime. That's what makes Hallie so fascinating to me though. It's hard enough for a 4A prospect to make the jump to the Big 12. Trust me when I tell you that the difference in 1A girls basketball to even 3A is colossal. The fact that Christofferson made such an easy transition to division one from Exira High School is nothing short of amazing. On media day last week, head coach Bill Fennelly hinted that Christofferson could eventually be one of the best ever to wear an Iowa State uniform.
=== THREE UP ===
The Big 12 – I love the fact that the Big 12 invited TCU to join its conference last week. The Horned Frogs bring instant football credibility to the table. It makes sense geographically. It's just a really good fit. Last week was refreshing. For the first time since the realignment craze in college athletics began, the Big 12 was on offense, not defense. Unfortunately, this story is far from being over. This should be another busy week on the realignment front. Follow it all week long HERE, on my running realignment blog.
Air Force – In a story published by the Denver Post on Sunday, Air Force athletics director Hans Mueh discussed how his school was not interested in joining the Big 12.
"We were approached by the Big 12, and I told them we're not a good fit for that conference. In the Big 12, geography makes sense, the economics make sense, but recruiting makes no sense for us. I can't recruit against Texas, Oklahoma, Oklahoma State," Mueh said.
"That's why I turned down the Big 12. I can't do that to my kids, because they'll get beat up. I'd love the extra $12 million or whatever it would be per year from the TV money. And I know how I'd spend the money. I'd build a new soccer stadium, and I'd build a new baseball facility, all in one year. But I can't do that."
Bravo. For the first time that I remember, a decision has been made in college athletics based off of well-being for student-athletes and not money.
I realize that being a service academy, priorities and other circumstances are much different than that of another school. But quotes like that are still nice to read every once in a while.
Bill Snyder – I am done doubting this guy. Kansas State is 5-0 for the first time since 2000 after beating Missouri on Saturday. All of the sudden, Iowa State's final game of the season appears to be a lot more daunting. Kansas State has a trap game next weekend though in a road trip to Lubbock. The Wildcats get Kansas after that but will then enter a four game stretch consisting of Oklahoma, at Oklahoma State, Texas A&M and at Texas.
=== THREE DOWN ===
Kansas' defense – After losing to Oklahoma State by a 70-28 final on Saturday, the Jayhaws are giving up an average of 49.40 points per game this season. Now don't get me wrong here. I wasn't expecting much from Turner Gill's crew on Saturday, but surrendering 56 first half points to anybody is inexcusable.
UConn and Iowa – Neither of these programs are making Iowa State's non-conference resume look impressive. The Huskies were blown out by West Virginia on Saturday while the Hawkeyes only scored three points against Penn State.
Bo Pelini –