By Chris Williams, CycloneFanatic.com PublisherFollow Chris on Twitter @ChrisMWilliams
Iowa State's 41-7 win over Texas Tech on Saturday night was brilliant.
Too big of a word? I don't think so. From offense, to defense, to special teams and beyond, the Cyclones played their best game of the season on Saturday. Finally, all of those inconsistent pieces came together on the same Saturday. We all saw the result.
Below are some quick thoughts on the game, along with my weekly awards for one of the biggest wins in Paul Rhoads' two and a half years as Iowa State's head coach.
*** During Saturday night's installment of Cyclone Reaction on the Cyclone Radio Network, former Iowa State wide receiver Jack Whitver and I had this conversation. Which win was bigger? Nebraska in 2009, Texas in 2010 or Saturday night's rout of Texas Tech?
I went with the Tech game for these reasons. That 2009 Nebraska team was as vanilla as they come. The 2010 Texas Longhorns ended the season with a 5-7 record. Don't get me wrong – Both wins were huge and were significant blocks to the program that Rhoads is still building in Ames.
But Texas Tech beat the top-ranked team in America a week ago and snapped Oklahoma's 39-game home winning streak at the same time.
Iowa State punked the nation's fifth-ranked offense on their home turf. It was total domination in every phase of the game.
Some big stats to back up that big word before I move on…
Time of possession: Iowa State 40:09, Texas Tech 20:00
Second half time of possession: Iowa State 22:08, Texas Tech 8:01
Total offense: Iowa State 512, Texas Tech 290
*** Paul Rhoads has his old boss, Tommy Tuberville's number. The two have gone head-to-head as head coaches twice and the Cyclones have outscored Tech 93-45.
*** Don't look now, but the Cyclones are back in bowl conversation. Obviously, Iowa State has to take care of business at home against Kansas next week. If that happens, Iowa State would be 5-4 with three games to play against two top five teams (in my opinion) in Oklahoma State and Oklahoma. Then, there's the season finale against Kansas State. Iowa State will be underdogs in all three of those games but remember, the Cyclones were 17.5 point dogs on Saturday in Lubbock.
Onto the hardware…
=== THREE UP ===
Running game – I wrote all week long that I thought Iowa State would really attack Texas Tech's 105th ranked rush defense with a heavy dose of the zone-read. That turned out to be correct, as the Cyclones shredded Tech's defense for an astounding 368 rushing yards in the win. What's even more impressive about this stat is that Iowa State was only eight yards away from having three players rush for 100 or more. Take away a sack that Jared Barnett took and that would have been the case. James White ran for 141, Duran Hollis had 101 and Barnett ran for 92 yards on the night. Iowa State's offensive line might have played its best game of the season (more on that later) and the running backs capitalized, averaging 5.5 yards per carry.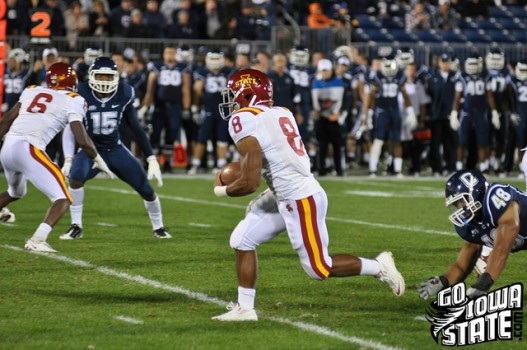 Tackling – Even when the Red Raiders did move the football (which didn't happen often), I thought that Iowa State tackled extremely well. My educated guess is that when the coaching staff reviews this game tape, they won't be able to find many too missed tackles on the night.
Coaching – Expect the unexpected. Saturday night's shocker was an example of vintage Paul Rhoads.
Starting a freshman quarterback on the road against a top five offense that has a ton of mojo…No problem.
— I thought that Tom Herman called a heck of a game. It's amazing how things open up when you can run the football huh? Wally Burnham deserves props too. But for the first time in over a month, Iowa State's offense was able to respond when the defense stepped up and made a play. Both sides of the ball set the tone in the first five minutes of the game and we all saw what happened from there.
=== THREE DOWN ===
Running back depth – It's really hard to find three negatives from this football game. One did stand out to me though. That's the fact that Duran Hollis went down in the second half with what the Cyclone Radio Network thought was a hip pointer. Those can get a little dicey. Let's just pretend that Hollis can't play next week against Kansas (this is a hypothetical). If that were to be the case, Iowa State would go into that game with only two scholarship running backs available to play, with Shontrelle Johnson on the shelf and out for the season. It's a good thing that running back was the deepest position on Iowa State's roster heading into the season. The Cyclones are legitimately having to go four deep. The best thing is that all four are very capable Big 12 backs.
Non-conference schedule – It was a tough week for Iowa State's three non-conference opponents. It all started on Wednesday night when UConn went on the road and lost to a pretty average Pitt team by a 35-20 final. Then on Saturday, Northern Iowa lost to North Dakota State while the Iowa Hawkeyes might have lost to the worst (arguably) BCS team in America, Minnesota by a 22-21 final.
Sunflower State – I don't like kicking folks when they are down and the last thing that I want to do is get the Cyclone Nation cocky heading into next week's game against Kansas, but the Jayhawks' effort against Texas on Saturday was nothing short of pathetic. Some of these numbers from that game are unbelievable. For instance…
— Total Offense: Texas 590, Kansas 46
— First Downs: Texas 35, Kansas 3
— Kansas averaged -0.1 yards per rush.
Kansas State didn't represent the Sunflower State very well on Saturday either. Losing to Oklahoma isn't something that any program in America should be ashamed of. But Kansas State entered this contest 7-0 and the eighth ranked team in America. To lose by 58-17 final at home is troubling. In fact, I had a classic "THEY ARE WHO WE THOUGHT THEY WERE" (thank you Dennis Green) moment while watching this debacle on the second half.
It doesn't get any easier for wild Bill Snyder's Wildcats from here, as they'll go to Oklahoma State next week. Texas A&M and a road trip to Texas also await Kansas State, who will wrap up their season on Dec. 3 at home against the Cyclones.
Having said all of that, raise your hand if you actually expected Kansas State to be 7-1 at this point in the season.
Anybody out there?
That's that I thought.
=== GAME BALL ===
Jared Barnett – Here's a cool stat from Iowa State's postgame media notes.
— The last five ISU quarterbacks to make their starting debut as a freshman have all won (Jared Barnett; Jerome Tiller at Nebraska, 2009; Bret Meyer vs. UNI, 2004; Austin Flynn vs. UNI, 2003; Todd Bandhauer vs. Oklahoma State, 1995).
I'm not sure how you can give the game ball to anybody but Barnett for Saturday night's upset. In his first start, Barnett was one cool cat. He's as poised of a freshman as you'll ever see. I'm not ready to crown him as the savior of Iowa State football or anything like that, but Jared Barnett has been very impressive so far in his career as a Cyclone.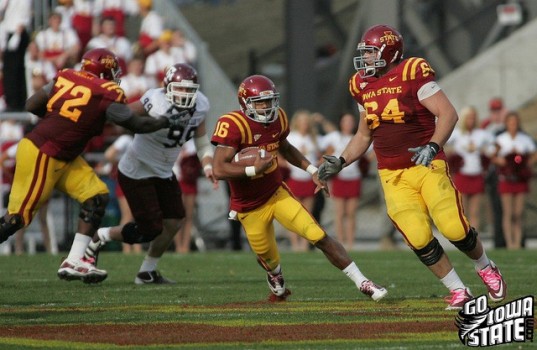 === HELMET STICKERS ===
For the record, I'm giving the entire program a massive helmet sticker for that win. From the equipment guys to the coaches to the players themselves. Helmet stickers galore! Here area few guys who stood out to me though…
The offensive line – Total domination. Here's a specific shout out to Jacob Gannon, the redshirt freshman who came in and played very well at left guard after Ethan Tuftee left with a knee injury.
James White – Rushed for 138 yards and a touchdown. With four games left in the season, White has a legitimate chance to reach 1,000 yards on the season. After Saturday's win, he's not up to 582 on the season with seven touchdowns. 
Duran Hollis – The freshman ripped open a 71-yard touchdown run in the third quarter, which was his second of the season.
Jeff Woody – The sophomore's three-yard touchdown run in the first quarter was his second of the season. Woody's 36 yards were a season-high. More importantly, Woody made some critical blocks for Iowa State. He might not be the flash guy that James White has been thus far, but Woody does little things very well and is a critical member of Iowa State's offense.
Josh Lenz – It's safe to say that Josh Lenz is Jared Barnett's favorite target. The junior led Iowa State in receiving for the second game in a row on Saturday by racking up four receptions and 74 yards.
Zach Guyer – Do I dare say that Iowa State has its kicking game figured out? Heck no. BUT, Zach Guyer has played some consistent football over the last three games, going 4-for-4 on field goals. He's now a respectable 5-for-7 on the season. Again, I'm not sold on Iowa State's kicking game, but Guyer's head appears to be on straight. That's half the battle with a kicker right?
Jansen Watson – The sophomore cornerback was a freak on special teams Saturday, recording four tackles against the Red Raiders. Matt Morton got props for his place on special teams against Texas A&M. Watson was the standout in this one.
The entire defense – Iowa State's tackle numbers were way down in this game and that's a very good thing. That's what happens when you keep the opposing offense off of the field. A.J. Klein led the way with eight tackles but other than that, I really can't point out specifics on the defensive side of the football. The line got pressure on Seth Doege. The linebackers were solid like usual. Iowa State's secondary was fantastic. Ter'Ran Benton and Jeremy Reeves both had interceptions.
Consider the following stats and you'll see why I'm giving stickers to the entire D and not select guys.
— Texas Tech was averaging 539 yards of total offense per game heading into Saturday. The Cyclones held them to 290.
— Texas Tech was averaging 43.43 points per game heading into Saturday. The Cyclones held them to seven.
— The Cyclones forced three Tech turnovers.