By Chris Williams, CycloneFanatic.com PublisherFollow Chris on Twitter @ChrisMWilliams
It was as bad of a first quarter as I have ever seen.
Steele Jantz's stat line was one from a Cyclone horror picture. The defending Big 12 Offensive Player of the Week was 0-for-4, with three interceptions! Until Friday night, I didn't know that was even possible.
No problem. These Cyclones are cool. They are calm. It is hard to get them rattled.
After making their third fourth quarter comeback of the season, you can go ahead and start referring to the 3-0 Iowa State Cyclones as the comeback kids.
The Cyclone defeted the defending Big East champion UConn Huskies by a 24-20 final on Friday night, but before I get into my traditional report card column on the game, I need to point out a few eye-popping statistics.
— Through three games, Iowa State has turned the football over 10 times. Combined, Iowa State's first three opponents have turned the football over five times.
— Through three games, Iowa State has committed 30 penalties for 256 yards. Iowa State's opponents have committed 23 penalties for 156 yards.
So to make a long story short, Iowa State has turned the ball over twice as many times as its opponents, and racked up twice the amount of penalty yards as well.
How is this team 3-0? Let's dig in!
My GAME BALL goes to…
Darius Reynolds – Who is this "Money" guy and what has he done with Darius Reynolds?
While Jake Knott certainly was in the running for this week's game ball after Friday night's defensive effort, Iowa State wouldn't have won that game without a couple of different incredible individual plays from Darius Reynolds.
Whether if it was Reynolds jumping up and grabbing that jump ball on 3rd and 19 in the second quarter or when he hurdled two defenders and pranced into the endzone late in the game, "Money" stepped up when his team needed him the most. He's done that two games in a row.
Reynolds ended the night with four receptions for 128 yards and two touchdowns. I'll touch more on his play, along with the rest of Iowa State's wide receivers in "Three Up."
Handing out some HELMET STICKERS…
Jake Knott – All Cris Carter did was catch touchdowns. All Jake Knott does is hit people. Iowa State's junior linebacker notched 11 tackles on Friday, while forcing a fumble along the way. Through three games, Knott leads the team with 33 tackles on the season.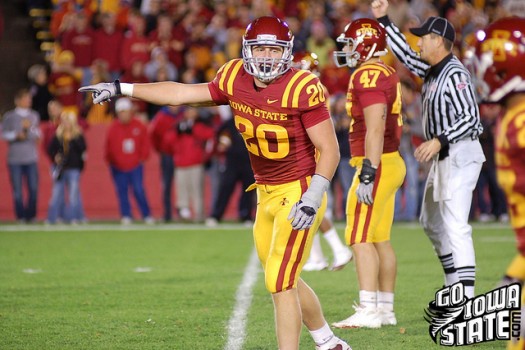 Patrick Neal – Had a career-high eight tackles, a half a sack and 1.5 tackles for a loss in the win. Through three games, an argument can be made that Neal is one of Iowa State's most improved defensive players.
Matt Tau'fo'ou – He's gotten helmet stickers two weeks in a row now. I love the aura of toughness that Tau'fo'ou brings to the table. He wrapped up seven tackles on Friday night.
A.J. Klein – Solid. Solid. Solid. Solid. Solid. Eight tackles, one for a loss.
The entire defense – Forget about trying to name individuals. If you suited up and played defense for Iowa State on Friday night, you get a helmet sticker.
Cy – It was a tough night for Iowa State's mascot. I'll elaborate on this in Monday Musings. We're thinking about you Cy.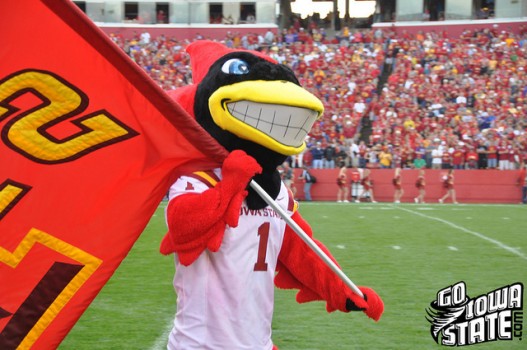 Matt Morton – How about giving a special teams gunner some love? Morton, a reserve linebacker, racked up three tackles on the night while forcing a key fumble in the win. Morton is a mad man on the kickoff team.
Kirby Van Der Kamp – We knew coming into the season that sophomore Kirby was going to be one of the best punters in the Big 12. So far, he's been one of the best in the nation. Van Der Kamp punted eight times on Friday night and pinned UConn inside the 20 on four of them.
Shontrelle Johnson & James White – I found it interesting that these two running backs split carries in the victory. Each got 14. Johnson ran for 65 yards, while White tallied 44 and a touchdown. Both looked good.
Steele Jantz – His numbers weren't good, but after getting dinged up at the end of the first half, Jantz toughed it out and helped lead his team to a road win. He gets a helmet sticker for that.
Josh Lenz – This guy could make a run for MVP honors throughout the first three games of the season. Lenz caught six passes for 58 yards in the win, while throwing for a touchdown as well. He's a monster on special teams too.
Zach Guyer – The senior didn't miss a kick in the win, converting on a 36-yard third quarter field goal attempt and all of his PAT's. That was the first field goal of Guyer's career.
THREE UP
Wide receivers – This group was a major topic of conversation coming into the season.
Can Iowa State finally develop some play makers at wide receivers?
I doubted this group all offseason long. I'm now eating crow. In case you're wondering, it tastes delicious.
From "Money," to Lenz, to Aaron Horne and Darius Darks. Iowa State has legitimate playmakers at wide receiver now. This entire unit has stepped up in a big way. They're hitting a gear that I didn't know they had in them.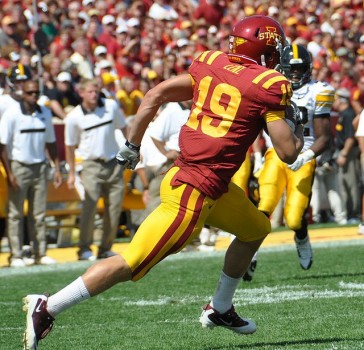 Defensive pressure – Iowa State's defensive line made UConn's vanilla offense look really bad on Friday night. It wasn't all the line though. The Cyclones racked up a coverage sack or two in the win, thanks to fantastic work that was done by the secondary. Iowa State recorded six tackles for losses in the game. Also note that UConn only averaged 2.6 yards per rush.
Bye week – Iowa State's first bye week of 2011 couldn't come at a better time. Think about all of the players who are currently dinged up for the Cyclones.
Steele Jantz (sprained foot), Kelechi Osemele (ankle), Stephen Ruempolhamer (knee), Jake Knott (arm), Darius Reynolds (toe), etc.
These aren't role players we're talking about here folks. These are the who's who of the Iowa State football program. The week off will do everybody well.
THREE DOWN
Turnovers – Steele Jantz threw three interceptions in the first quarter on Friday night. He's now thrown six on the season, averaging two per game. You don't have to be Kirk Herbstreit to know that the Cyclones need to clean this up when Big 12 play rolls around in two weeks.
Penalties – I touched on this earlier. Iowa State's 11 penalties for 91 yards is a bad stat. But when you opponent only gets called for one penalty for five yards, it makes things a heck of a lot worse. I'm not sure how that is even possible, but that's beside the point. The Cyclones have given up twice as many penalty yards as their three opponents this season. Like the turnovers, that needs to get cleaned up in a hurry.
ESPN 2 announcers – The worldwide leader brought its "P" team to UConn on Friday night. "Steeler" Jantz was fantastic!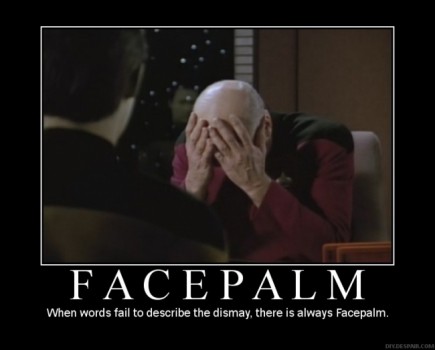 === CYCLONE NOTEBOOK ===

— According to Brent Blum, Iowa State has won three straight games by four points or less for the first time in school history.
More notes, courtesy of Iowa State athletics communications.
TEAM NOTES
— Iowa State is 3-0 for the first time since 2005.
— ISU has trailed in the fourth quarter in each game this season.
— ISU's combined winning margin in its first three contests is eight points.
— ISU is 2-2-1 against current members of the Big East.
— Not including postseason, ISU is 48-20 in non-Saturday games.
— ISU is 22-9 all-time on Fridays.
— This was only the second Friday game for ISU since 1960 (Sept. 23, 2005, at Army).
— ISU is 5-4 all-time on Sept. 16.
— This was the first time Iowa State wore white-over-white since Nov. 11, 2006 (at Colorado).
IOWA STATE IN THE RHOADS ERA
— 13-1 when allowing fewer than 24 points.
— 14-5 when holding the opponent to 10 or fewer points in the first half.
— 9-3 in night games.
— 13-2 when leading after three quarters.
INDIVIDUAL NOTES
Stephen Ruempolhamer
— Grabbed his first career interception.
— Notched his fourth career fumble recovery.
Jacques Washington
— Recorded his first career sack.
James White
— Third rushing touchdown of the season (third of his career). *26-yard second-quarter run is the longest of his career (20 yards vs. Iowa last week). *Recorded a career-high 44 rushing yards.
Darius Reynolds
— 48-yard reception in the second quarter is a career long (40 yards vs. Iowa last week).
— Tallied a career-high 128 receiving yards (85 vs. Iowa last week).
— Most receiving yards by a Cyclone since Oct. 25, 2008 (R.J. Sumrall, 143 yards vs. Texas A&M).
— Matched a career best with two receiving touchdowns.
Shontrelle Johnson
— 27-yard run in the third quarter is ISU's season-long.
Josh Lenz
— Completed a 40-yard touchdown on his first career pass attempt.
— First TD pass by a non-quarterback since Nov. 21, 2009 (Alexander Robinson to Jake Williams, at Missouri).
Zach Guyer
— 36-yard field goal in the third quarter is his first career make.
Walter Woods
— First career fumble recovery.
Jake Knott
— Recorded his 10th career game with 10+ tackles (11 stops tonight).
Jeremy Reeves
— Tied a career high with 10 tackles (10 vs. Texas Tech, Oct. 2, 2010).
Patrick Neal
— Made a career-high eight stops (six at Texas, Oct. 23, 2010).