By Chris Williams, CycloneFanatic.com PublisherFollow Chris on Twitter @ChrisMWilliams
It's mail time!
It's Iowa week and believe it or not, nobody wants to talk about the Hawks.
Let's get all of these conference realignment questions out of the way early…
Erikbj writes: How much is the realignment talk hurting ISU's current recruiting? Has to be something that other coaches are telling our recruits that major newspaper says ISU and Baylor are going to be out in the cold…
CW: To some extent, you're probably right. It can't be easy recruiting a kid from Texas right now. If the day comes when Iowa State isn't in the Big 12, this program will have to recruit differently, depending on where the Cyclones play the bulk of their games.
The good thing is, the schools that Iowa State and Baylor recruit against the most aren't BCS schools anyway. Of course that isn't always the case, but it goes down like that quite a bit of the time.
I had a conversation with a friend about this over the weekend. Just imagine if somehow, Iowa State ended up in the Big East, how everything would change. Iowa State heavily recruits California and Texas in the present day. Even if the Big 12 does stay together, the instability of the league can be used against Iowa State, or anybody for that matter. The Kansas schools and Missouri are in the same boat.
These are uneasy times my friend.
Isufan writes: When will all this realignment business end? Some of us need to be able to sleep again.
CW: My advice is to not hold your breath. This particular round will end sometime soon. But it's only a matter of time until it fires right back up again. It's not worth losing sleep over though. There's nothing you can do to control it…
RedBlooded writes: Why would the Big East want two Kansas schools and not ISU? Wouldn't there be more money in it for them if ISU was there instead of KSU?
CW: Probably, but not much. There aren't many television sets in Iowa and the political backlash of splitting those two schools up might not be worth it for the Big East, or those institutions.
Here's the deal though. I still think that Iowa State would have a spot in the Big East regardless. Even if the Big East prefers the Kansas schools and Missouri or Baylor, somebody will be poached from the Big East. If it's West Virginia to the SEC or (name your school) to the ACC, SOMEBODY will leave. Like the Big 12, that league isn't stable either.
The thing that I love about the Big East is that they have a television package up for bids.
Clonegrad07 writes: Alright… 3 prong question:
DREAM SCENARIO for ISU in conference re-alignment?
CW: The Big Ten. The geography makes a ton of sense. The league is as stable as they come. The money is there. Second-to-none exposure. It'd be perfect.
Best outcome for ISU in conference re-alignment? (That's actually possible)
CW: A new look Big 12 (with 12 teams) or the Big Ten. I realize that the Big Ten is a long shot but if super conferences do form, there would at least be a chance. Up until last Friday, I loved the thought of a new look Big 12. Think about adding say, BYU, Air Force and TCU to the mix. It'd be a fantastic scenario for Iowa State. The problem is, that OU president opened his mouth and everything blew up.
Worst case situation for ISU in conference re-alignment (That could happen…)
CW: Being left out out of a BCS conference. No need to analyze this.
Mfleske writes: I know this is looking more and more unlikely, but assuming that the remaining 9 teams end up staying, what needs to happen to make the Big 12 stable? Is it just adding some decent teams or does something else have to change?
CW: After yesterday, I think that the damage has been done. I'm not sure if this league can ever be stable. I think that it can exist. But stable? I'm not sure…
Equal revenue sharing would be a good place to start though…
Enough realignment chatter…
——————————————————————————————————————-
MNCyGuy writes: CW, Can we consider the use of the Monday Night Raw theme song during pre-game a good sign that the Corn Belt is being heavily considered for the new Cy-Hawk "trophy"?
CW: What a fantastic question. If I had an award to give out today for awesomeness, you'd win it MNCyGuy.
Absolutely. In fact, this question reminded me about a crusade that Andrew Downs (from 1460 KXNO) and I are getting ready to go on. We need to launch a youth movement within this state in support of the Corn Belt for the new Cy-Hawk Trophy.
Who's with me now? Who's with me? Don't be shy…
As I wrote a few weeks ago, I don't even need to see the other ideas. NOTHING is better than the Corn Belt. Nothing.
Next.
Burn587 writes: Where do you think Rennie stacks up in terms of QB's we will see this year?
CW: Thanks for the question Burn. I took it upon myself to ask an expert in this field about your question. Austen Arnaud says that Rennie will be a low to middle of the pack quarterback that Iowa State will see this season.
"Not a great thrower but athletically, he's great," Arnaud said.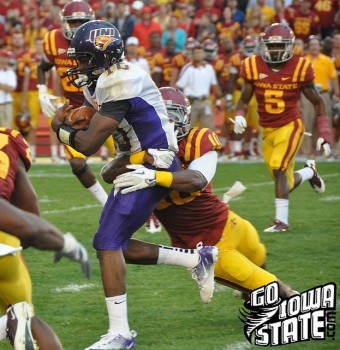 Jburke writes: What has to happen on Saturday for us to come out with the 'W'? I know the lack of running game production outside of Jantz is something that has to change, which encompasses both OL and RB positions. What else do you think has to happen?
CW: Iowa State has to be better on first down. Against Northern Iowa, the Cyclones failed to gain a single yard on first down 11 times. That's not good.
Other keys: Starting fast, field position and turnovers. Those are true in every game though.
I'm anxious to see how Iowa State handles Iowa's running attack. The Cyclones need to force Iowa to beat them through the air. Marcus Coker can't have a field day. That's another aspect to this matchup that I can't wait to watch. Coker has fumbling problems. Iowa State's defense creates a lot of turnovers. This could be key….
Hopefully, Iowa State's offense will enter Saturday's game with some momentum. Based off the end of the Northern Iowa game, I'd say there's a decent chance of that happening.
Cloneu writes: What is your favorite play from an ISU/Iowa game? I would go with Seneca's rollout pass from the endzone to Whitver in 2002.
CW: I completely agree with you. I don't even have to think about that one. Jack is a good friend of mine (and co-host of Cyclone Reaction) too so that helps.
Cyclonespiker 33 writes: Although I'm sure there will still be booze a flowin Saturday morning, this college student has a strict rule against drinking before 11 a.m. What is a solid replacement?
CW: I don't understand your stance on the 11 a.m. thing, but I do respect it. Back when I was in college, we'd use peppermint schnaps as mouthwash!
If I were you, I'd just make a HUGE breakfast before heading to Trice. Bacon, eggs, sausage, you name it.
Then load up on coffee. I'm talking like five pots of coffee. Drink it like you'll never get to drink it again.
I love coffee. I go through at least a pot a day. In fact, I'm on cup number seven right now. Can you tell?
CyCloned writes: Ben Bruns was very critical of the OL play in the UNI game, calling it the worst he has seen at ISU. Is he over reacting a little, and do you expect the OL play to take leaps and bounds with KO and Hicks playing side by side?
CW: When it comes to Ben's analysis of the offensive line, I won't question it. Ben has forgotten more about that position than most people will ever know.
As for your second question, yes. Taking Osemele and Hicks (two future NFL players) away from that line is a major loss. They are without question Iowa State's two best linemen. The line will play better on Saturday. Don't sweat it.
ISUFan22 writes: I know people gave the gameball to Jantz, Lenz, etc. But IMO, Kirby Van Der Kamp and to an extent the entire special teams unit really deserves a huge slice of the credit for a slim victory. ISU frequently had good field position while UNI did not.
Without that (if the field position battle was even or favored UNI), I think we lose by 10+ points – agree or disagree?
CW: Agree. Van Der Kamp might go down as the best punter in Iowa State history when his career comes to an end. Even so, I don't think his performance was game ball worthy. Your argument is sound, but what Jantz did in the last five minutes of that game was special. That's why I went that route. Jake Knott could have won the award too.
In a word (or two), the men's basketball game at Hilton this season that no one will want to miss is…
CW: The Iowa game, for sure.
Another? How about the Big 12 opener against Texas? Everybody is 0-0 at that point. Sky is still the limit. Hilton will be jacked.